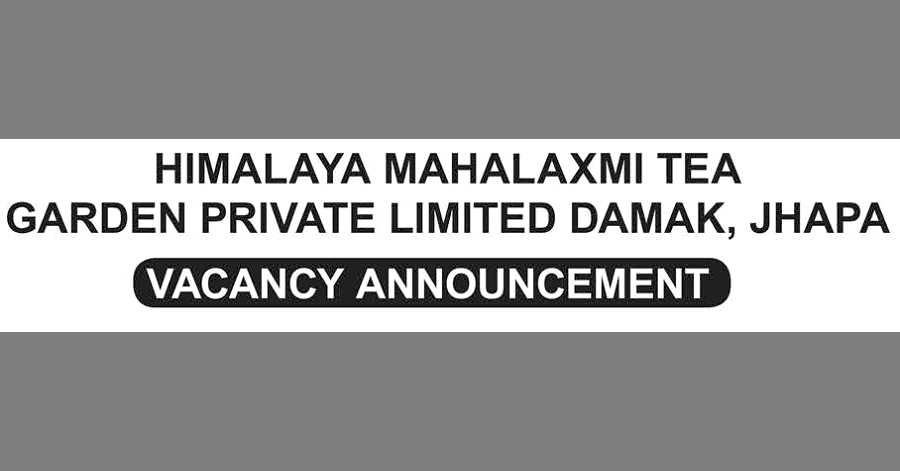 HIMALAYA MAHALAXMI TEA GARDEN PRIVATE LIMITED DAMAK, JHAPA VACANCY ANNOUNCEMENT
Himalaya Mahalaxmi Tea Garden Pvt. Limited owns and operates a reputed Tea Estate and Tea Production Factory in Damak, Jhapa, Province No. 1, Nepal. The Tea Estate is seeking to recruit competent, determined, self-motivated, result-oriented, dynamic, confident, ambitious, and enthusiastic candidates for the following positions based in Jhapa for its operational and administrative activities. The prospective candidates must meet the following criteria:
1. FACTORY ASSISTANT MANAGER - 1 (One)
Managing the whole factory in Tea Gardens manufacturing operations, quality assurance, strict monitoring of hygiene & maintenance, budgeting & cost control process improvements, procurement & stores management, safety management, cross-functional coordination, team building leadership, training & development certifications and must fully be aware of CTC & Orthodox machineries for the Factory Operations and optimizing effective production.
MINIMUM REQUIREMENTS:
EDUCATION:

· Bachelor of Science Degree

EXPERIENCE:

· At least 5 to 10 years of experience of independently handling a tea garden factory or having field knowledge and experience of independently handling a tea production division.

KNOWLEDGE/ABILITIES:

· Must have the knowledge to produce quality tea and should have set up and implementation knowledge of the standard operating procedure for all production operations, as well as ensure laid down policy and procedure of factory administration work, are correctly followed.

· Vast knowledge of tea machinery, HACCP, ISO

· Expertise in rolling alignment, crashing, and milling

· Labor welfare and conflict management ability
2. SALES MANAGER - 1 (One)
EDUCATION:

- Bachelor's Degree specializing in Sales and Marketing

EXPERIENCE:

- At least 5 to 10 years of work experience in Sales and Marketing of Tea in National and International Market. Should have knowledge of the geographical market, capable of handling different markets across Nepal, India, Bangladesh, and internationally and team leadership.

KNOWLEDGE/ ABILITIES:

- Must have experience in marketing Tea and Agro Crops in the Nepali market, the Indian market, and the international market

- The candidate should have excelled in communication, negotiation, problem-solving, and decision-making skills.

- The candidate should be fluent in written and spoken English and should have knowledge of Microsoft Office Tools.
3. MANAGER ADMINISTRATION - 1 (One)
EDUCATION:

- Bachelor Degree

EXPERIENCE:

- At least 5 years of work experience in Public or Corporate Administration, HR, and Liaison.

KNOWLEDGE/ ABILITIES

- Should possess excellent communication skills and be able to maintain relations between Public & Government Organizations.

- Knowledge of Microsoft Office Tools and other computer skills.
Only shortlisted candidates will be called for an interview. The Company reserves the right to qualify or disqualify applications without assigning any reasons whatsoever and no phone call shall be entertained in this regard.
Candidate must promote the desired work culture around the five core values of trust, integrity, respect, one team, and service adherence with a positive attitude and ability to work independently & take initiative.
Interested and qualified candidates should email their application mentioning the post they are applying for, expected salary along with their updated Curriculum Vitae (CV), cover letter, and a recent passport-sized photo to [email protected], latest by 26 June 2022.
Jhapa
Job Vacancy