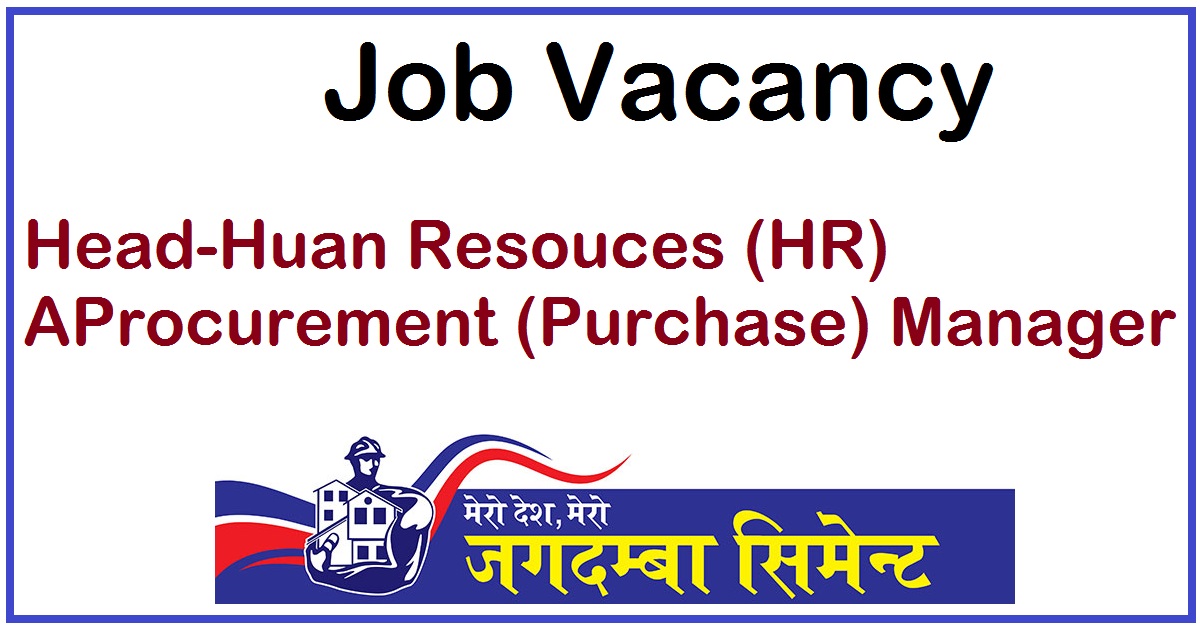 We are the largest and leading cement company in Nepal. We consistently provide top quality cement and uninterrupted supply to meet our consumer demand. Our brands Jagdamba, Ultra-Premium, Force and more are all vital to our success. We work for our consumers to provide the best recognition through our products.
Position: Head-Human Resouces (HR)
we are looking for a suitable candidate to spearhead our human resources development functions.
Qualifications:
Candidate must possess minimum Bachelor's Degree or equivalent in Human Resources or Business or Organization Development.
Candidate must have minimum 5 years of progressive leadership experience in Human Resources position in reputed organizations.
Candidate must possess knowledge & experience in labor law, organizational planning, recruitment & training, employee safety & welfare
performance management & improvement systems, and policy development & documents.
Position: Procurement (Purchase) Manager
We are looking for a suitable candidate to assist us in purchases, logistics, and documentation.
Qualifications:
Minimum Bachelor's Degree in Business or Accounting (MBA preferred) or BSc. Degree in Supply Chain Management, Logistics.
3-5 years experience in procurement/purchasing in a reputed organization.
Candidate should be able to devise and use fruitful procurement and sourcing strategies benefitting the company.
Candidate should be able to negotiate with external vendors, finalize purchase details or orders and deliveries, examine contracts, and handle logistics and documentation.
Candidate should have aptitude in decision-making, analyzing data and work as an effective team player.
Suitable candidates are encouraged to send their updated CV and a PP size photo via email to this address: [email protected]. Selected
Candidates will be working in our corporate office located at Neupane Tower, Tinkune. Kathmandu. If you have the zest to work in one of Nepal's leading company then act immediately.
Jagdamba Cement