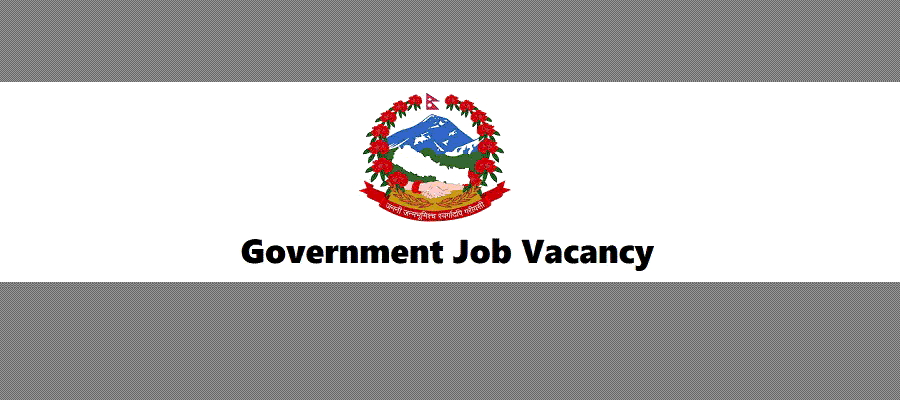 Government of Nepal, Ministry of Health and Population, Kanti Children's Hospital (Kanti Bal Aspatal), Maharajgunj, Kathmandu: In order to expand the Intensive Care Unit (ICU) service of Kanti Children's Hospital for the fiscal year 079/80, the posts as per the details of approved temporary posts have to be filled immediately on contract service; According to the decision of the Vacancy Committee dated 05-16-2079, eligible Nepali citizens should submit their application in the format prescribed by the Public Service Commission within 15 (fortnight) days (2079-05-31) from the date of publication of this notice.
Position: Staff Nurse, Level V, Health, General Nursing - 20 (Twenty)
Eligibility:
(a) Must be a Nepalese citizen.
(B) Minimum qualification: Must have completed the qualification specified for the posts in the relevant group and sub-group as per schedule-6 of Nepal Health Service Regulations, 2055 from a teaching association or university recognized by the Government of Nepal.
(C) Age Limit: Should have completed 18 years and not exceeding 45 years by the last date of application.
(d) Registration and renewal should also be done in the relevant business council. Must not be disqualified by prevailing law.
(2) How to apply: Eligible candidates should fill in the prescribed application form and submit it to the hospital's application collection center with a cash receipt of Rs.400 (four hundred) deposited in account no.
(Note: Sample application form can be downloaded from this hospital website www.kantichildrenhospital.gov.np)
(3) Date of submission of application: Within 15 days from the date of publication of the advertisement for the first time during office hours. If the last day of application is a public holiday, then the next day within office hours.
(4) Documents to be attached with the application: fill out the application form and paste the passport size photograph in the specified place on the form, personal details of the candidate, copy of the required minimum educational qualification certificate, copy of the certificate registered with the relevant council (with renewal) and attested copy of Nepali citizenship by the candidate himself. must be submitted.
(5) Contact Date and Place: 2079-06-02, Hospital Administration.
(6) Selection Process: Written and Interview.
(7) Syllabus: It will be as per the syllabus prescribed for the concerned service, group and post of the Public Service Commission.
(8) Service period: 2080 will be till Ashad's end (Fiscal Year 2079/80).
(9) Services, facilities, and other items shall be as mentioned in the contract agreement.
For more information regarding this, the hospital administration can be contacted at phone number 01-4413396 during office hours.
(First published date 2079-05-17)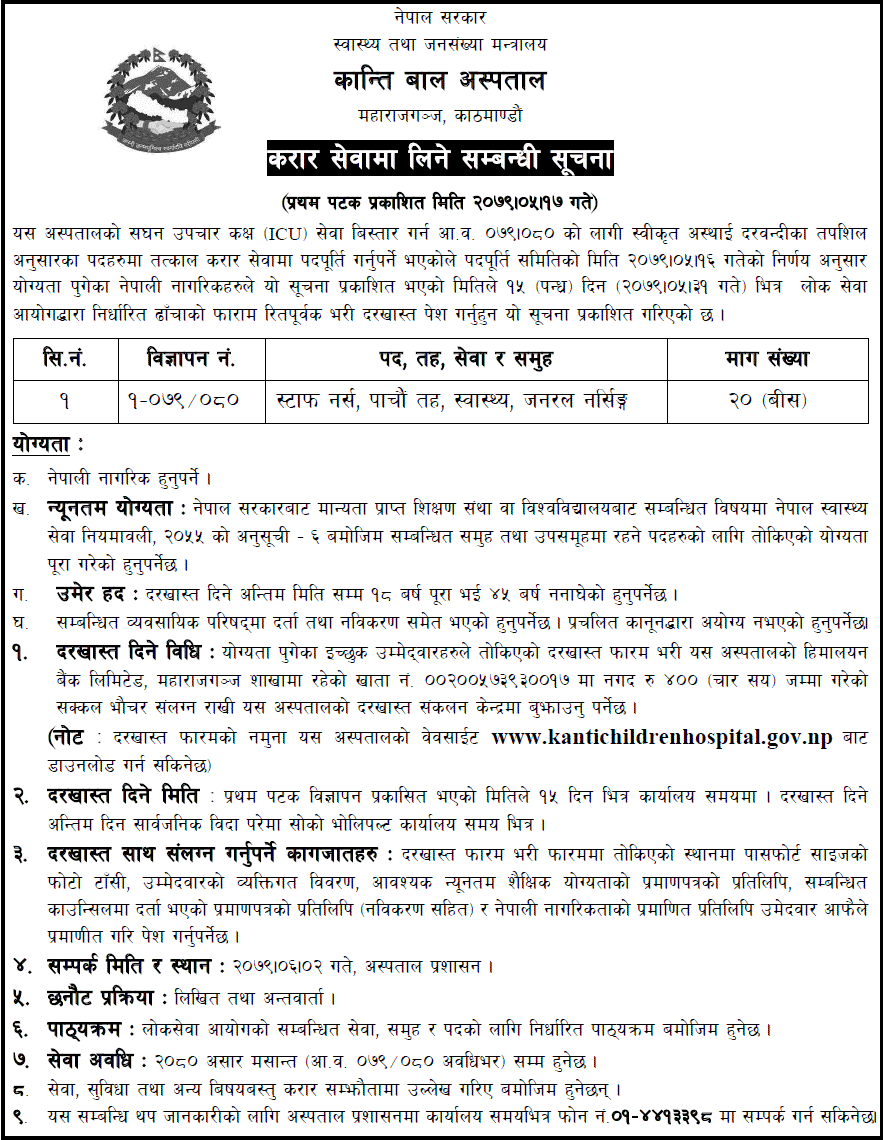 Hospital Job Vacancy
Job Vacancy
Kathmandu
Health Job
Government Job