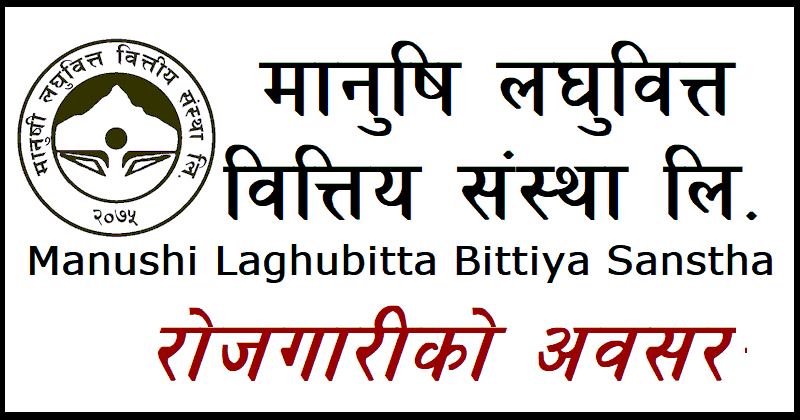 Manushi Laghubitta Bittiya Sanstha Limited Vacancy for Senior Officer: The following posts have to be filled through open competition for the central office of Manushi Laghubitta Bittiya Sanstha Limited, which has a national-level office in Banepa Municipality-13, Bhaisepati, Kavre, having obtained a Class D license from Nepal Rastra Bank. Interested and eligible Nepali citizens are invited to apply within 15 (fifteen) days from the date of publication of this notice.
1. Senior Officer - 1 (One)
Minimum Qualification Required:
Semi Qualified CA or ACCA, at least one year authorized level of accounting and finance management in the central office of any MFI Must have worked in the department.
Note:
1) Age limit: Must have completed 18 years and under 40 years, but in the case of female candidates, the upper age limit will be 5 years more.
2) Type of Examination: Those shortlisted will be selected through interviews.
3) Salary Allowance and Facilities: Financial Institution Rules.
4) Special Preference: Preference will be given to persons with good knowledge of computers (Word, Excel, Email, Internet) and licensed motorcycles.
5) Place of submission of application: Application with recent passport size photograph taken at the central office of Manushi Microfinance Financial Institution Limited or [email protected], copy of your biodata, copy of citizenship certificate, educational qualification, and work experience as required.
6) In case of leave on the last day of application, it can be submitted the next day.
7) Expired or undeveloped applications will be automatically canceled. Only the candidates on the shortlist will be invited for the interview and all the rights related to selection, suspension, cancellation, and selection will be vested in the financial institution.
Vacancy Committee:
Manushi Laghubitta Bittiya Sanstha Limited
An institution with national-level jurisdiction licensed by Nepal Rastra Bank
Phone No: 011-662705, 011-663127
(First published on 2079-03-08)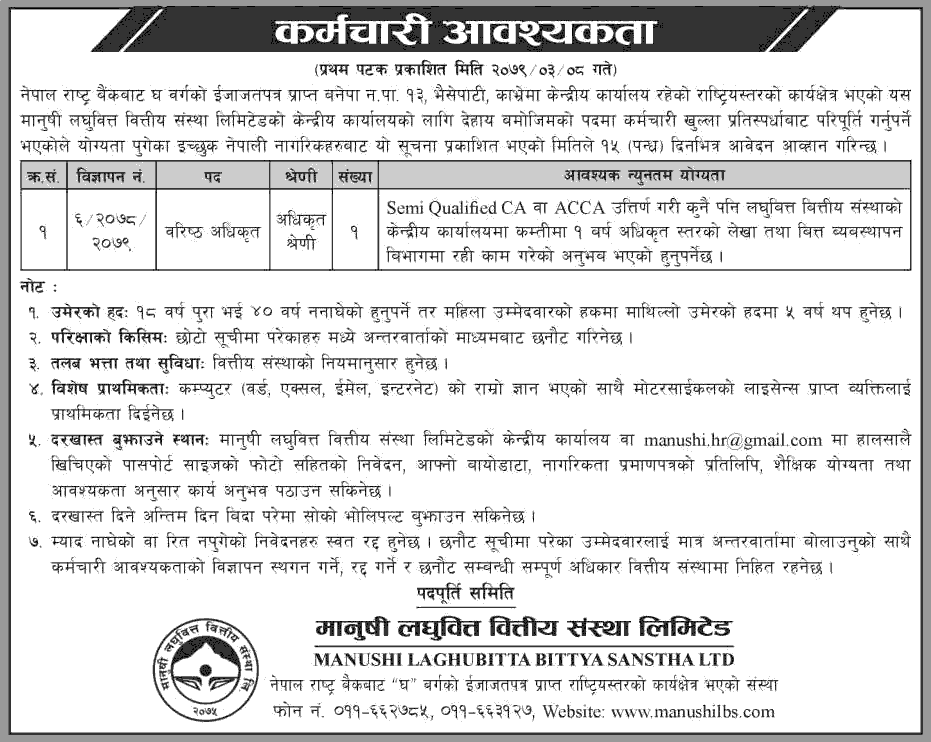 Banking Career
Job Vacancy
Banking Job