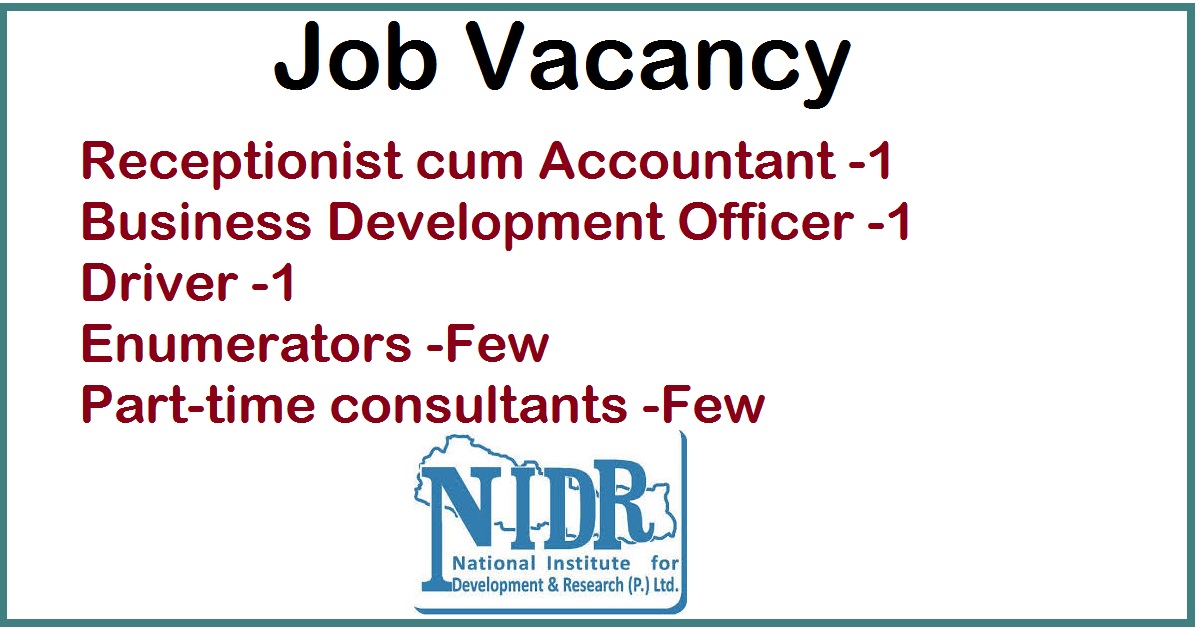 National Institute for Development and Research (NIDR), Shankhamul Road, New Baneshwor, Kathmandu has been working since 2012 in the field of various Population-based and Biological survey/research is looking for following staffs and consultants:
Receptionist cum Accountant (1):
Intermediate Education with at least 3 years works experience in the reputed company (two-wheelers license mandatory).
Business Development Officer (1):
Bachelor's degree in Social Science/Public Health/RD/Management with 3 years experience in proposal and report writing research methodology and project management (two-wheelers license mandatory).
Driver (1):
SLC passed with at least 5 years of experience for driving Car/Jeep with valid license and age more than 30-year-old.
Enumerators (Few):
Bachelor's degree in Sociology, RD, Public Health, Nursing, Laboratory Technology, Management, Education (Fresher also can apply).
Part-time consultants (Few):
Experts (M&F, Health (RCH/FP/IIIV/AIDS) and Nutrition, Capacity Building, Management, Market and Value Chain, Environmental and Climate Change, IT, Development Planning, GESI, Governance, Land Management and GIS, Mining), Geologists, Agriculturists, Educationist, Sociologist, Data Analysts, etc.
Interested candidates can apply with updated CV and Cover Letter by 15th September 2018 at Email: [email protected] with writing subject line First name Position that you are applying. The telephone will not be entertained.