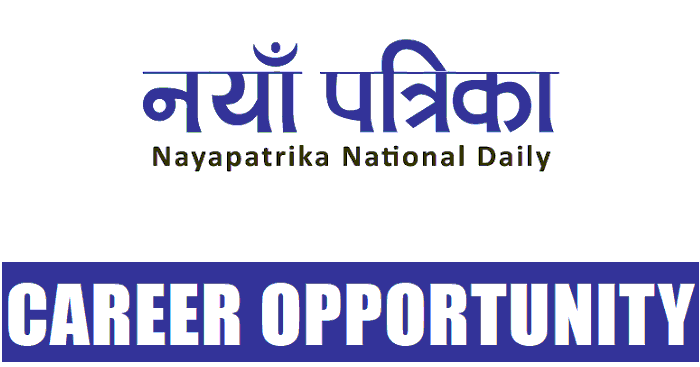 Nayapatrika National Daily CAREER OPPORTUNITY: Nayapatrika National Daily is Nepal's leading private print media as well as first national daily to publish different edition from 7 provinces circulating entire nation. We are committed towards propagating responsible journalism with the value to our stream readers and subscribers as well as providing and effective platforms for the advertisers.
We are looking for dynamic competent candidate for following vacancy position.
Position: Business Development Officer -10 Nos
Smart and proactive go-getter who are passionate about media marketing with strong field/clientele development & management skills. Should have the ability to develop and explore new business from assigned regions are advised to apply for this position.
Qualifications and Requirements :
Bachelor's Degree with a concentration in Marketing with a few years of relevant experience. Freshers can apply for the post.
Excellent presentation skills.
Good communication skills in Nepali and English languages.
Good interpersonal skills and ability to work under pressure.
Candidates must have own vehicle with valid driving license.
TO APPLY
Interested Nepali Citizens having met the above requirements are requested to submit an updated CV at [email protected] or directly drop it at Naya Patrika's head office. Before or by Ashar 7, 2079.
(Only shortlisted candidates will be called for interviews and other selection processes. The company reserves the right to reject any/all applications without citing any reasons, thereof)
NAYA PRAKASHAN PVT. LTD.
Starmall, Putalisadak, Kathmandu
Job Vacancy
Kathmandu