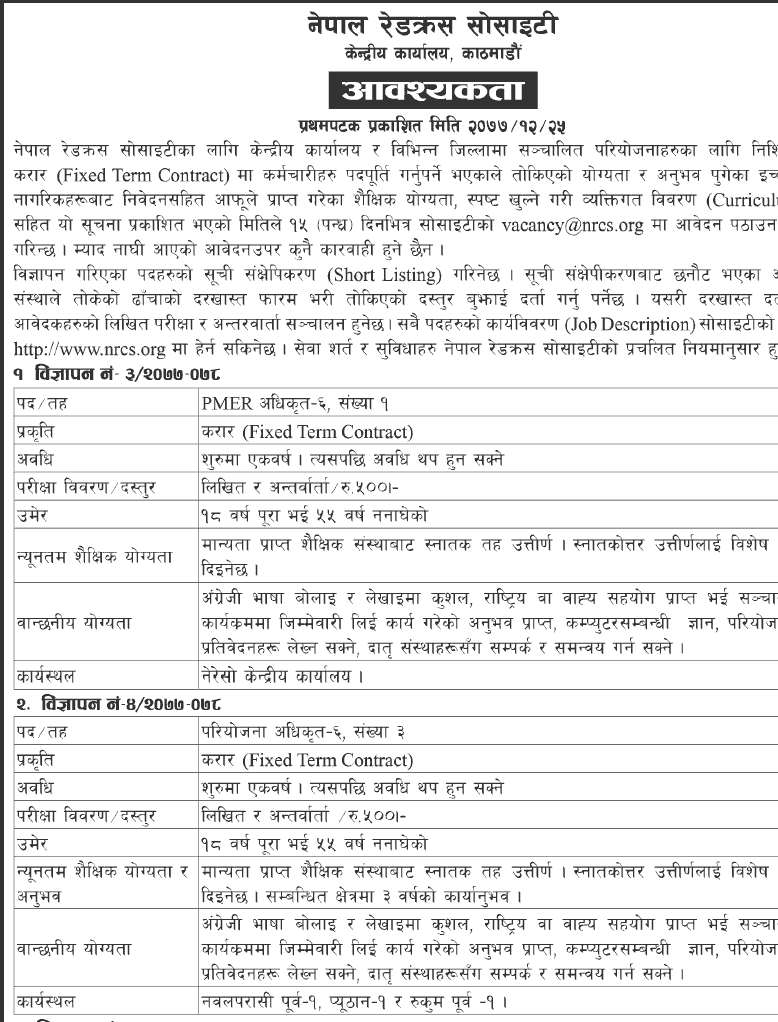 Nepal Red Cross Society Vacancy for PMER Officer, Project Officer, and Program Officer:
Nepal Red Cross Society, Central Office, Kathmandu: Central Office for the Nepal Red Cross Society and for the projects operated in different districts, the employees have to fill the posts on a fixed-term contract; Interested Nepali citizens who have attained the specified qualifications and experience are advised to send the application to the [email protected] of the Society within 15 (fifteen) days from the date of publication of this notice along with the application, educational qualification, clear personal details Curriculum Vitae. No action will be taken on the expired application.
The list of advertised posts will be shortlisted. Applicants selected from the list summary will have to fill in the application form in the format prescribed by the organization and register by paying the prescribed fee. Thus, written examination and interview of the registered applicants will be conducted.
Job descriptions of all the posts can be viewed on the Society's website at www.nrcs.org. Terms of service and facilities will be as per the prevailing rules of the Nepal Red Cross Society.
First published on 2077-12-25
Kailali
Nawalparasi
Pyuthan
Rukum East
Job Vacancy
Kathmandu
NGO Job
Government Job