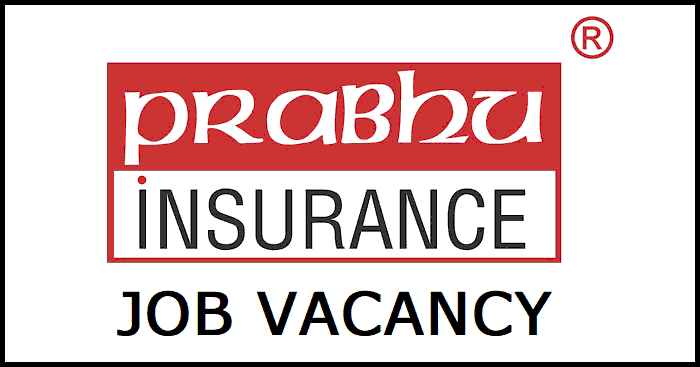 Vacancy Announcement: Prabhu Insurance Limited, one of the leading insurance companies in Nepal seeks applications from the highly-motivated, creative, result-oriented, competent and eligible Nepali citizens for different posts for offices at Kathmandu, Gorkha, Rajbiraj, Bardibas, Gaighat, Kawasoti, Parbat, Chapur, Janakpur, Dharan, Jorpati, Malangawa, Mrethali, and other branches.
1. Position: Officers/Sr. Officers/Asst. Manager
Required No.: Few
Area of Work/ Station: Head Office, Branch Inside and Outside the Valley
Desire Qualification and Experience:
>Must have minimally completed Bachelor, Degree or equivalent from a recognized university.
>Preference will be given to marketing experience
>Should have the ability to establish and maintain effective working relations with people
>Good knowledge in using computers, e-mad, and intern.
>Customer dealings and financial analysis
>Ability to plan, develop, organize, and execute marketing strategies and programs
2. Position: Security Officer
Required No.: 1 (One0
Area of Work/ Station: Head Office, Tinkune
Desired Qualification
>Must have completed Bachelor's Degree or equivalent qualification & experience from a recognized university
>must be an Ex-army or Ex-police
>Maintain the company's reputation with professionalism and legal compliance.
>Guard access points, permitting or refusing entry, restraining trespassers, and directing heavy traffic during the start and end of business hours.
>Collaborate with other security for effective protection red coverage, >Control and monitor surveillance equipment, and perform building and equipment inspection.
> Investigate and take the appropriate lawful action as authorized by the corporate policy on accidents, trespassing, suspicious activities, safety fire incidents.
> 5 years of working experience
3. Position: Junior Technical Assistant (JTA) Agriculture
Required No.: 1 (One)
Desired Qualification
>Passed School leaving Certificate in the Agriculture sector or equivalent experience from a recognized education institution.
>Minimum 2 years of experience in a similar field having in-depth knowledge of programming.
>Demonstrate initiative and good analytical/problem-solving skills
4. Position: Peon/ messenger
Required No.: 1 (One)
Area of Work/ Station: Gurkha
Desired Qualification
>SLC is preferred & experience
> Well-experienced in a similar type of job
Application Guidelines
Interested qualified candidates are to submit their application with bin data and copy of academic certificates, citizenship, and passport size photograph within no days from the date of the advertisement in [email protected]
Salary and benefits will be as per the policy of the Company
The Company shall entertain only those applications received through email.
Only short-listed candidates will be contacted for further selection. The Company reserves the right to reject any or all applications) without stating any reason whatsoever.
Contact Details:
Prabhu Insurance Company Limited
Tinkune, Kathmandu, Nepal
Email: [email protected]
Insurance Job Vacancy
Job Vacancy