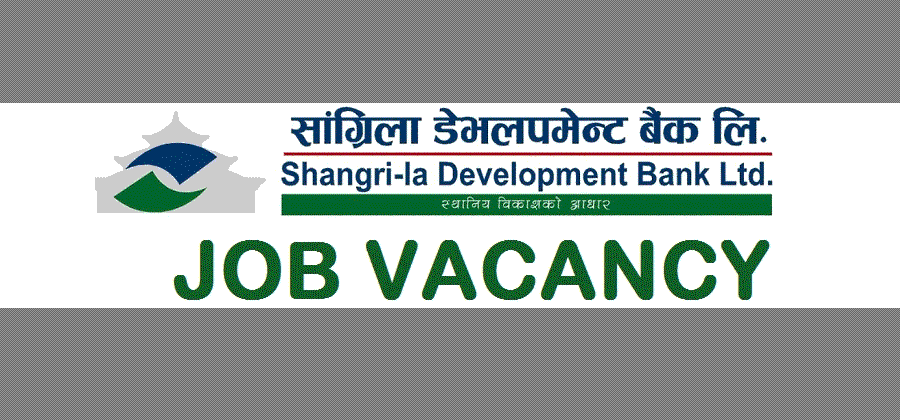 Shangri-la Development Bank Limited, one of the leading 'B' class National Level Development Banks, announces vacancy for Information Security Officer (ISO) at Central Office. Eligible candidates having good interpersonal skills, a high level of self-motivation, and zeal for innovation are highly encouraged to apply for the following position:
Particulars

Details

Job Code

078/79 -10

Position

Supervisor / Jr. Officer (Information Security Officer (ISO)

Locations

Central Office, Baluwatar, Kathmandu

Education Qualification

Minimum Bachelors Degree in Computer Science or similar.

Experiences

Minimum 4 Years relevant experience preferably in BFIs with sound knowledge of Information Security policies and practices

Age

Below 35 Years

Required No.

1

(Note: Candidates should not have crossed the maximum age limit as of Magh 13, 2078.)
To Apply:
Candidate should visit www.shangrilabank.com and click on the Career section and apply by submitting the copy of the following mentioned documents: Cover Letter (mentioning the position applied for), Updated Resume, Transcript of Latest Educational Qualification, Passport Size Photograph and Copy of Citizenship.
The application needs to be received latest by 17:00 Hours of Magh 13, 2078.
Note: The bank reserves the right to reject any application without assigning any reason whatsoever
Shangri-la Development Bank Ltd.
Baluwatar, Kathmandu, Nepal
www.shangrilabank.com
Banking Career
Job Vacancy
Banking Job