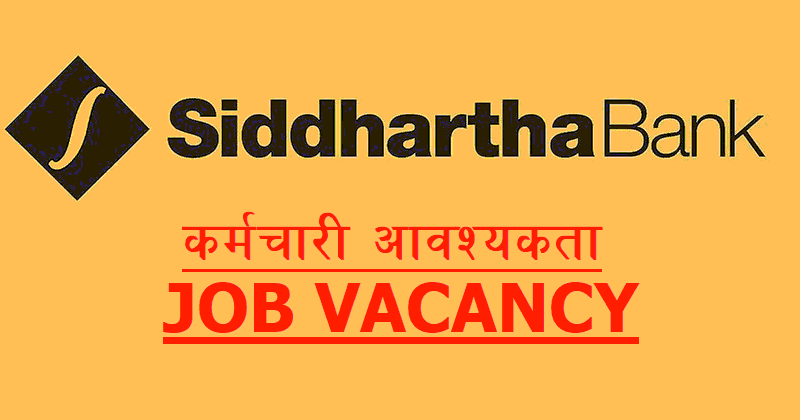 Siddhartha Bank Limited Seeks Head of Information Technology: Job Profile, Requirements, and How to Apply
Siddhartha Bank Limited is a leading banking institution in Nepal, with a strong focus on digital-first services. As part of its ongoing efforts to expand its digital footprint, the bank is looking for a dynamic and team-oriented individual to fill the position of Head of Information Technology.
Position: Head Information Technology (IT)
Level: Deputy Manager / Manager / Senior Manager Level
Required No.: 1
Location: Kathmandu
Job Profile
The Head of Information Technology will be responsible for planning and preparing short-term and long-term ICT strategies, including action plans, and reviewing and updating the bank's ICT policy, SOPs, and profile as per the current need. As the lead for the IT team, the Head of IT will be instrumental in developing and implementing new technology solutions to improve the bank's operations and customer experience.
Minimum Qualifications and Requirements
To be considered for the role of Head of Information Technology, candidates must have a minimum of a Bachelor's degree in Information Technology, Computer Engineering, or Electronics Engineering, with at least 9 years of relevant work experience. Alternatively, candidates with a Master's degree in any of these fields with at least 6 years of relevant experience can also apply. The maximum age limit for applicants is 50 years.
How to Apply
If you meet the minimum qualifications and requirements for the position, you can apply by submitting your application online via the bank's website at www.siddharthabank.com/career.
Alternatively, you can send your application to the bank's email at [email protected].
For any inquiries about the application process, you can reach the bank through their phone number at 01-5970020.
Siddhartha Bank Limited is a forward-thinking institution that is dedicated to embracing technology to enhance its services. If you are a tech-savvy and team-oriented individual with a passion for innovation and digital transformation, then this is an excellent opportunity for you to join a dynamic team and contribute to the bank's growth. Don't hesitate to apply before the deadline for submission, which is 17:00 Hrs, 29 March 2023.
Banking Career
Job Vacancy
Banking Job