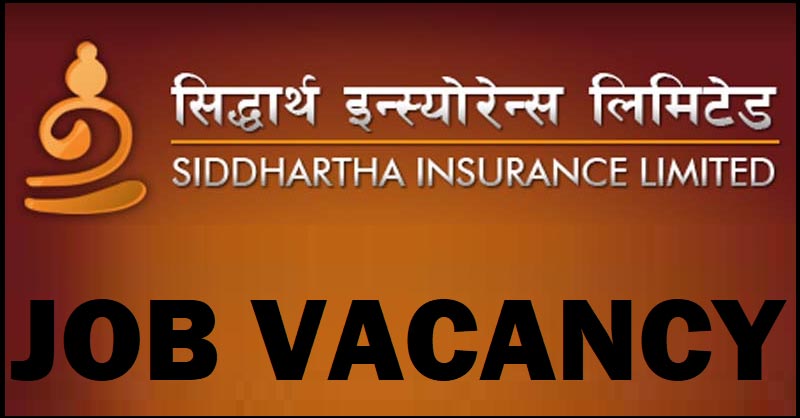 SIDDHARTHA INSURANCE LIMITED, a trusted name in Non — Life Insurance sector invites application from dynamic, enthusiastic and result-oriented candidates based in Nepal who wants to contribute to Nation Building program by associating in the Insurance sector for the following post for different locations:
Position: Branch Incharge
Branch and required no: Bhojpur - 1, Tulsipur (Dang) - 1, Ghorahi ( Dang) - 1, Lamahi (Dang) - 1, Kirtipur (Kathmandu) - 1,
Naxal (Kathmandu) - 1, Kalimati (Kathmandu) - 1
Qualification and Experience Required:
Graduate candidates from a recognized university are a must.
Preference would be given to candidates pursuing MBA from leading university as Tribhuwan University, Kathmandu University, Pokhara University (Ace and Apex colleges).
Candidates with 3 years of relevant marketing skills from nonlife, banking, financial, and reputed trading/ conglomerate groups are encouraged to apply.
Strong interpersonal skills along with holding good public relationships and a two-wheeler license, fluency in written and oral in both Nepali and English Languages are the required attributes.
Remuneration and other benefits shall be as per company rules
How to Apply?
Interested candidates are requested to send their detailed application, updated resume, citizenship certificate and academic/experience certificates along with PP sized photos within 15 days from the date of publication (2274 June 2021) of the vacancy at [email protected]
Only shortlisted candidates shall be called for an interview. The company reserves the right to reject any application without assigning any reasons whatsoever. Telephone enquiry shall not be entertained.
Insurance Job Vacancy
Banking Career
Job Vacancy