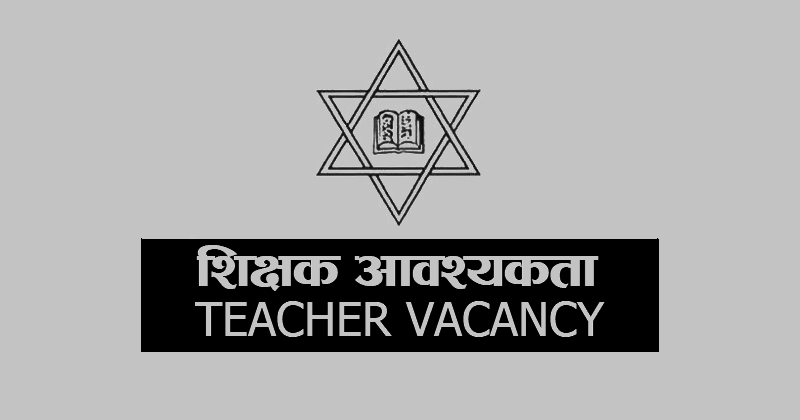 Thakurbaba Municipality Contract Service Notice: Teaching Positions
The Office of the Municipal Executive in Thakurbaba Municipality, located in Sainbar Bardiaya, Lumbini Province, Nepal, has released a notice regarding contract services for various teaching positions in public schools within the municipality. This announcement aims to inform interested individuals about the available opportunities and the required qualifications.
Positions Available: The municipality is seeking candidates for the following teaching positions in public schools:
City Teacher Lower Secondary Mathematics Teacher
City Teacher Lower Secondary English Teacher
City Teacher Lower Secondary Basic (1-5) Teacher
Minimum Qualifications: To be eligible for these positions, candidates must meet the following minimum qualifications:
For Mathematics Teacher:

Certificate of Proficiency in Mathematics or completion of 10+2 or equivalent.

For English Teacher:

Certificate of Proficiency in English or completion of 10+2 or equivalent.

For Basic (1-5) Teacher:

Proficiency Certificate or completion of 10+2 or equivalent.
Application Process: Interested candidates should take note of the following application details:
Application Submission: Applications must be submitted to the Education, Youth, and Sports Branch in Sainwar Bardia.
Application Deadline: The last date for application submission is Saturday, 30th Baisakh 2080.
Application Fee: An application fee of Rs 700 (seven hundred only) is required.
Mode of Selection: The selection process includes a Written Test, Interview, and Practical assessment, as per the requirements.
Age Requirement: Applicants must be at least 18 years old but not exceed 40 years.
Required Documents: Applicants need to prepare and submit the following documents along with their application:
Full copy of the revenue filing receipt
Copy of Nepali Citizenship Certificate
Duplicate copies of educational qualification certificates
Certificate of training and experience
Copy of teaching permit
Application Availability:
Application forms, job descriptions, and further details can be obtained from the municipal office or downloaded from the official municipal website: www.thakurbabamun.gov.np.
This notice serves as an invitation to qualified individuals to apply for the contract teaching positions within Thakurbaba Municipality. Ensure that all the required documents are ready and submitted within the given timeline. For more information and updates, please refer to the official municipal website or contact the municipal office directly.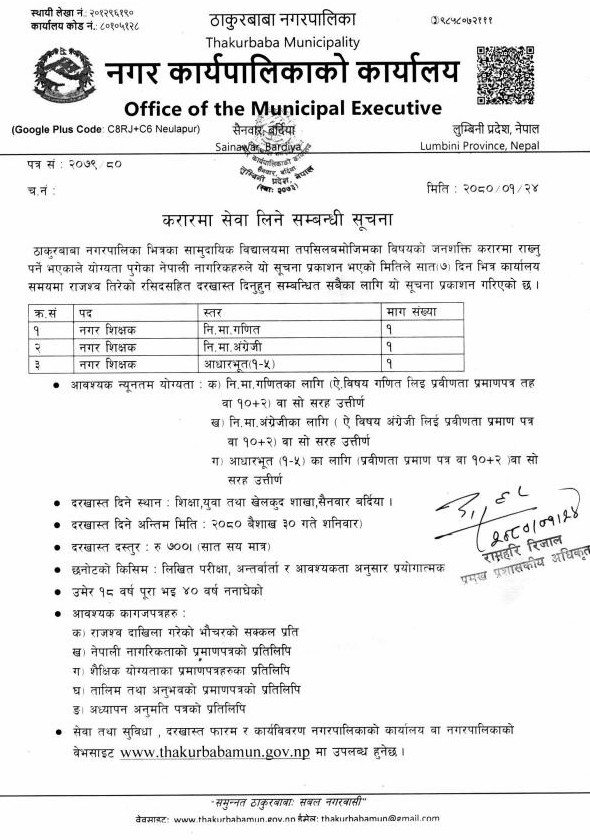 Bardiya
Teaching Jobs
Job Vacancy
School Job