Province Government, Ministry of Social Development, Directorate of Health, Trishuli Hospital, Nuwakot, Bagmati Province invites job applications for the following Health Services on the contract Service:
As per the decision of Trishuli Hospital Operation and Management Committee dated 2078-01-10, the following staff has been demanded to operate and manage Covid-19 Isolation Ward and HDU and ICU. This notice has been published for all the eligible Nepali citizens to submit their application within 7 days from the date of publication of the notice during office hours or on the day of the opened of the office.
Vacancy Details:
| | | |
| --- | --- | --- |
| Position | Req. No. | Application Fees |
| Medical Officer | 5 | 1000 |
| Staff Nurse | 5 | 500 |
| Anesthesia Assistant | 1 | 500 |
| Office Helper | 3 | 300 |
Required Qualification:
Medical Officer: Passed MBBS from a recognized educational Institution and registered with NMC.
Staff Nurse: Passed PCL Nursing from a recognized educational Institution and registered with NNC.
Anesthesia Assistant: Passed Health Assistant (HA) / PCL Nursing from a recognized educational institution and must have a minimum of 3 months of Anesthesia Training.
Office Helper: Class 8 Passed or equivalent.
Account No. 02608507590018 of "Trishuli Hospital Operation and Management Committee" Himalayan Bank Ltd. without refund of examination fee. Deposit at Battar branch / Payment can also be made electronically.
1) Place to Work: Under Trishuli Hospital.
2) Contract service period: Will be till the end of the Ashad 2078.
3) Place of application: Trishuli Hospital, Administration Branch, or Online.
4) Necessary documents to be submitted: Bio-Data, Handwritten Application, Certificate of Educational Qualification and Experience, 2 recent passport size photographs (at the time of interview), Copy of Nepali Citizenship, Certificates of Training, and proof of registration with the concerned Council.
Salary Allowance: Salary and service facility will be decided by mutual agreement.
Selection Process: Interview and Written.
It is mandatory to bring the complete educational certificate during the interview.
The application can be submitted to thvacancyacgmail.com or Trishuli Hospital Administration Branch.
Note: Necessary documents and examination fee vouchers can also be scanned and sent via Email: [email protected].
Contact Details:
Province Government, Ministry of Social Development, Directorate of Health, Trishuli Hospital, Nuwakot, Bagmati Pradesh
Phone No. 010-560231, 560188
Email: [email protected]
Email: [email protected]
Website: www.dthnuwakot.gov.np
First published date: 2078-01-13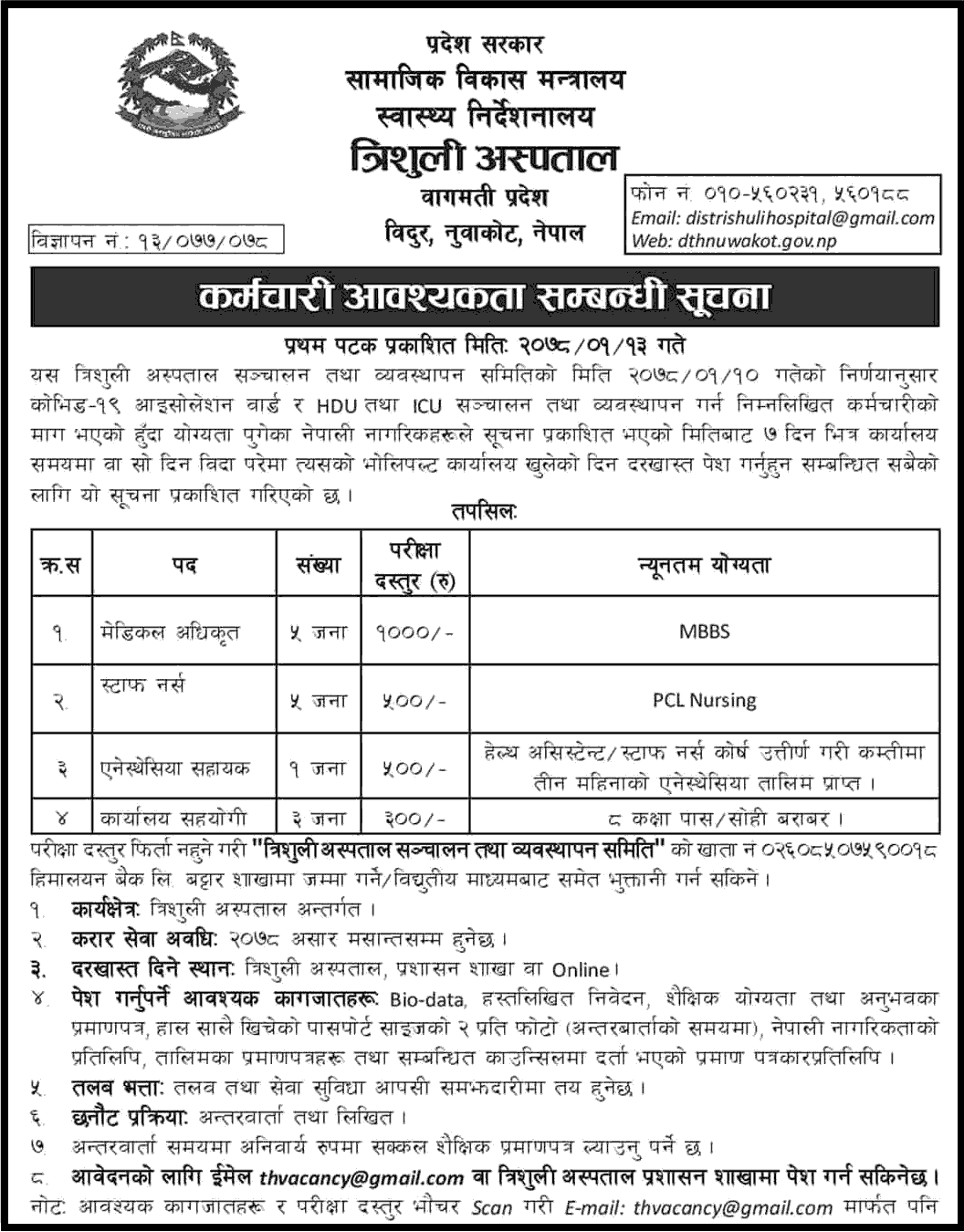 Nuwakot
Bagmati Pradesh
Job Vacancy
Health Job
Government Job