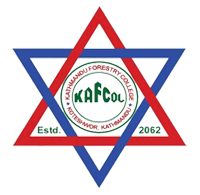 Diploma in Forestry Admission at Kathmandu Forestry College:
According to the information published by CTEVT, the application for admission to Diploma in Forestry has been opened in Kathmandu Forestry College.
Eligibility Criteria:
minimum C grade in two of English, Mathematics, and Science and minimum D + grade in the other one in SEE
Application Deadline:
Students interested in enrolling in this college must submit the application online by 5:00 pm on 2077-6-15 (October 1, 2020).
How to apply:
Log on to the college's website www.kafcol.edu.np and fill out the application form as prescribed.
Additional Information:
For more information in this regard, please contact the college.
Contact Details:
Kathmandu Forestry College
Koteshwar, Kathmandu
Phone: 01-5147211, 9841286201, 9841504771
Website: www.kafcol.edu.np