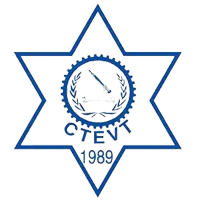 PCL and Diploma Level Vacant Seats in Various Academic Institution in Banke
The Council for Technical Education and Vocational Training (CTEVT) has officially announced the availability of vacant seats for various academic programs for the session 2080/081. From healthcare to engineering, several esteemed colleges in Nepalgunj, Banke are offering limited seats. This is an excellent opportunity for candidates on the alternate/pass list to secure their spots. The last date for application is within 5 days from the publication of this notice.
Why You Should Apply
Quality Education: These institutions are known for their high academic standards and excellent faculty.

Career Opportunities: Courses like Diagnostic Radiography and Civil Engineering open doors to rewarding career paths.

Limited Seats: With a limited number of available seats, this is a golden chance to secure your spot in prestigious programs.
Eligibility Criteria
Candidates who have passed the CTEVT full-fee entrance examination for the certificate level general medicine and diploma in pharmacy are eligible to apply. Also, if you are on the alternate or pass list for any of the following programs, you're encouraged to apply:
Diagnostic Radiography
Medical Lab Technology
Ophthalmic Assistant (OA)
Civil Engineering
Colleges and Available Seats
Kaipal Hospital & College, Nepalgunj-10, Banke
PCL Diagnostic Radiography: 25 Seats
Certificate Level Medical Lab Technology (CMLT): 23 Seats
Certificate Level General Medicine (HA): 4 Seats
College of Applied Health Science
Certificate Level Medical Lab Technology (CMLT): 24 Seats
General Medicine (HA): 6 Seats
College of Allied Technical Sciences, Nepalgunj, Banke
Diploma in Civil Engineering: 39 Seats
Physiotherapy: 36 Seats
College of Ophthalmic Health Sciences, Nepalgunj, Banke
Certificate Level Ophthalmic Assistant (OA): 24 Seats
Midwest Technical College, Nepalgunj, Banke
Diploma in Pharmacy: 6 Seats
Bhari College, Nepalgunj, Banke
Diploma in Pharmacy: 6 Seats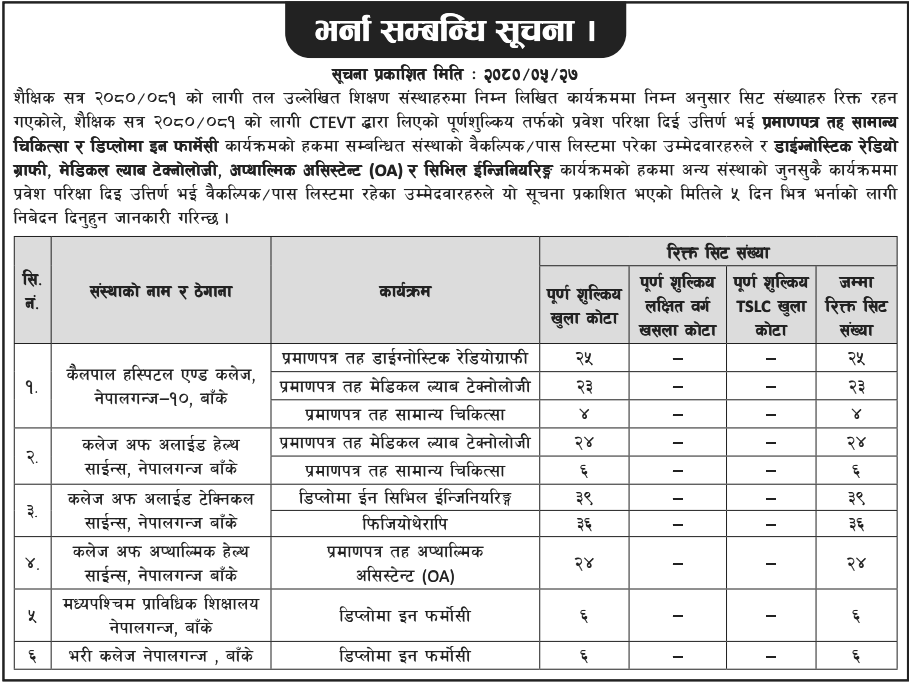 CTEVT