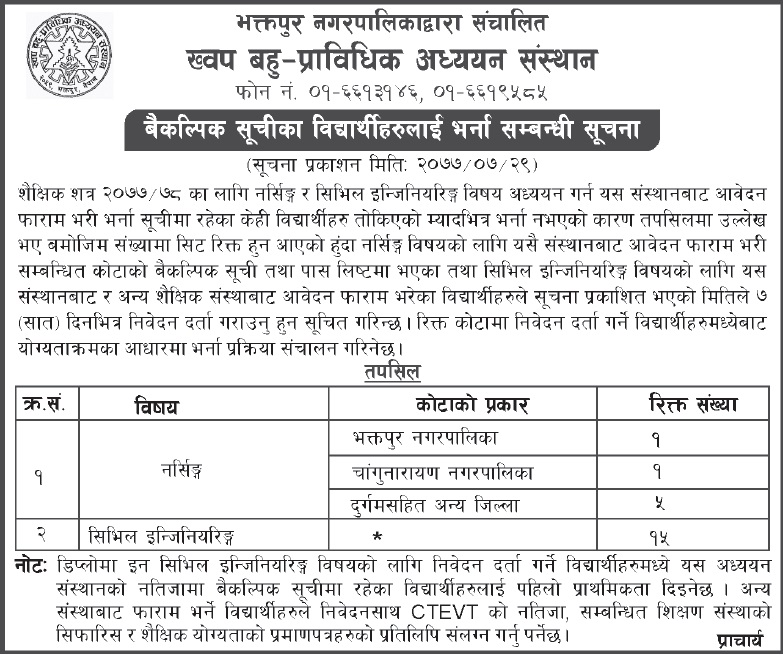 PCL Nursing and Diploma in Civil Engineering Admission - Khwopa Polytechnic Institute:
Due to the non-enrollment of some students who have filled the application form from the Khwopa Polytechnic Institute (operated by Bhaktapur Municipality) and are on the enrollment list to study nursing and civil engineering subjects for the academic year 2077/78.
As the number of seats to be vacated as mentioned in the details; Students who have filled the application form for the nursing subject from this institute, alternative list of related quota and pass list and for civil engineering subject from this institute, and from other educational institution, students are informed to register application within 7 (seven) days from the date of publication of the notice.
The admission process will be conducted on the basis of merit from among the students who apply in the vacant quota.
Details:
PCL Nursing
Bhaktapur Municipality
1 Seat
Changunarayan Municipality
1 Seat
From remote areas and other districts
5 seats
Diploma in Civil Engineering
Please See details on Note *
15 Seats
*Note: Out of the students applying for Diploma in Civil Engineering, first priority will be given to the students who are on the alternative list as a result of this study institute. Students filling out the form from another institution should attach a copy of the CTEVT result, the recommendation of the concerned educational institution, and certificates of educational qualification with the application.
Contact Details:
Khwopa Polytechnic Institute (operated by Bhaktapur Municipality)
Phone no. 01-6613146, 01-6619585
(Notice published date: 2077-07-29)