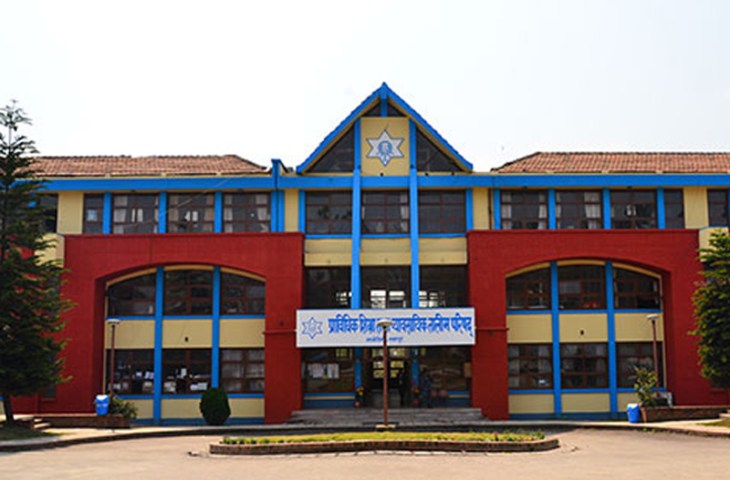 Pre-Diploma Level Entrance Exam and Admission Application Open (Full Fee Paying) 2079: Council of Technical Education and Vocational Training (CTEVT), Examination Control Office, Sanothimi, Bhaktapur, in the academic semester 2079/080, an extremely urgent notice regarding the filling of the application form for conducting the entrance examination for the approved pre-diploma level courses.
In the pre-diploma level educational programs conducted by the Council for Technical Education and Vocational Training (CTEVT) in the academic session 2079/080, technical education in individual, partner, community schools (TECS) programs and private level educational institutions that have received management affiliation/acceptance from the Council in the academic session 2079/080 This notice is for the information of all those concerned to fill the application form properly within the date 26th of Shravan 2079 from the persons who have qualified to select students for the full-fee side according to the "Guidelines for Conducting Pre-Diploma Level Entrance Examination, Scholarship Distribution and Enrollment 2079" issued by the Examination Control Office. has been published.
It is requested that students who have passed the SLC/SEE level will be selected in order of merit according to the program and quotas according to the marks awarded for the educational qualification submitted and the sum of the marks obtained in the entrance examination.
In addition, detailed information regarding this is mentioned in the "Pre-Diploma Level Entrance Examination Conduct, Scholarship Distribution and Admission Guidelines 2079" and it is also requested to study the admission guidelines posted at www.ctevtexam.org.np.
Pre-Diploma Level Courses Offered by CTEVT:
Courses
1) Pre-Diploma in Agriculture (Plant Science)
2) Pre-Diploma in Livestock Production-Animal Health Pre-Diploma
3) Pre-Diploma in Veterinary Science
4) Pre-Diploma in Forestry 5. Pre-Diploma in Civil Engineering
6) Pre-Diploma in Electrical Engineering
7) Pre-Diploma in Electronics Engineering
8) Pre-Diploma in Water Supply and Sanitary Engineering
9) Pre-Diploma in Survey Engineering
10) Pre-Diploma in Computer Engineering
11) Pre-Diploma in Mechanical Engineering
12) Pre-Diploma in Automobile Engineering
13) Pre-Diploma in Refrigeration and Air Conditioning Engineering
14) Pre-Diploma in Hotel Management
15) Pre-Diploma in Culinary Art
16) Pre-Diploma in Entrepreneurship Development
7) Pre-Diploma in Social Mobilization
18) Pre-Diploma in Computer Application and Secretarial Management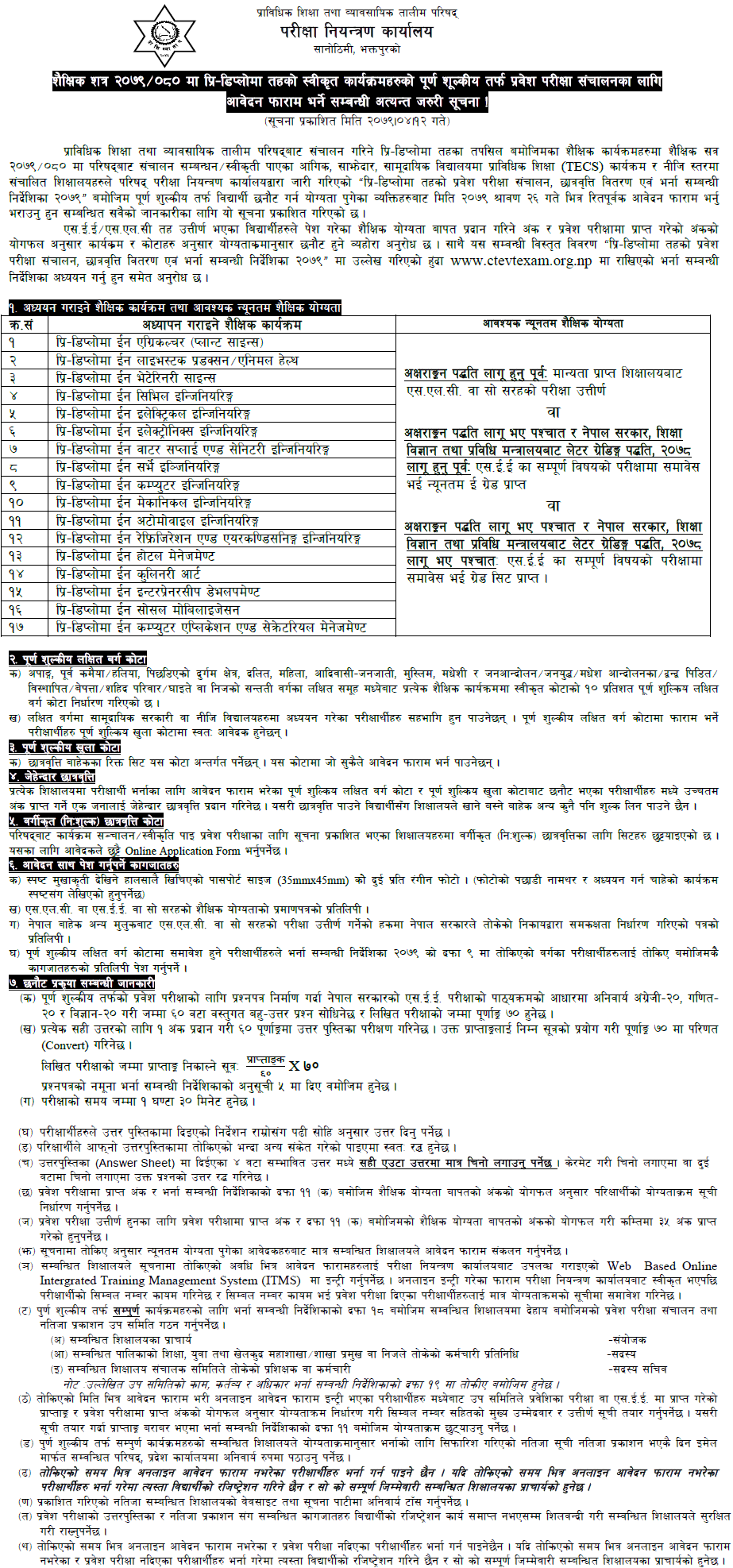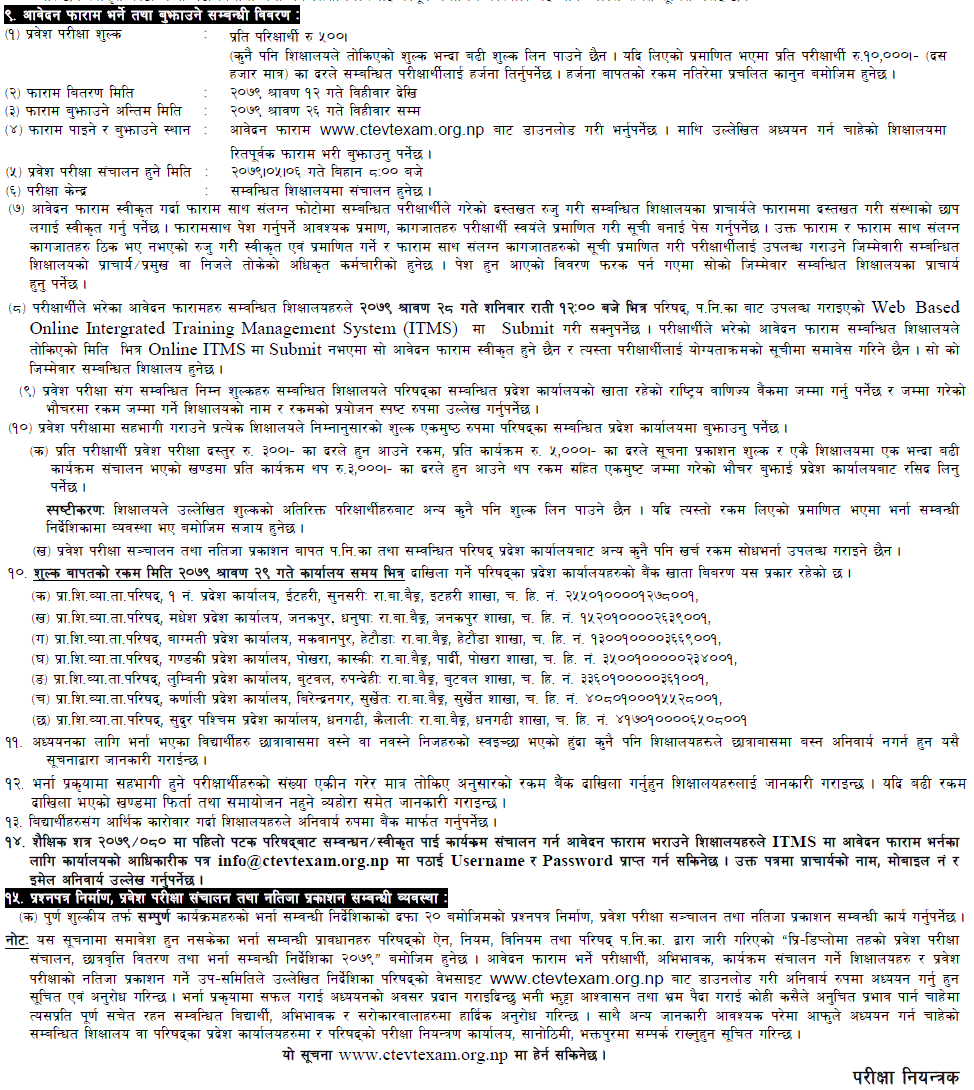 Download Notice:
Pre-Diploma Level Full Fee Paying Entrance_Details_notice_2079-04-12.pdf
Download Application Form:
(Notification published date 2079-04-12)
Also Read:
Diploma and PCL Level Entrance Exam and Admission Application Open (Full Paying) 2079
Admission Open
Pre-Diploma Level
CTEVT