Overview
The Central Department of Education, Tribhuvan University located in Kirtipur, Kathmandu, is the oldest and one of the most prestigious among the 38 Central Departments under Tribhuvan University (TU). It operates under the Faculty of Education and comprises a total of 16 departments, playing a vital role in academic and administrative functions.
Diverse Academic Offerings
Each department at the Central Department of Education caters to a specific area of study, providing a wide range of academic opportunities. These departments cover subjects such as curriculum development, economics education, education planning, English language education, the foundation of education, geography education, health education, history education, mathematics education, Nepali language education, political science education, science education, special needs education, instructional techniques, student welfare and examination, and teaching practice.
Rich in Human Resources and Student Enrollment
The Central Department of Education boasts a significant number of faculty members and students. With 184 staff members, including 132 teachings and 52 non-teaching personnel, the department ensures a conducive learning environment. Additionally, there are 30 part-time and daily wage employees, contributing to the smooth functioning of the department. Currently, the department accommodates 3,554 students from various parts of the nation, representing a diverse student body. Furthermore, students working on their theses are closely associated with the department, fostering an environment of research and academic excellence.
A Leading Central Department
As a central department, each department within the Central Department of Education operates autonomously while upholding the highest standards in teaching, research, syllabus design, and disciplinary matters. The Research Management Cell (RMC) affiliated with the central department publishes journals and bulletins, and organizes engaging programs that facilitate academic growth and intellectual discussions.
Innovation and Adaptation
The Central Department of Education constantly strives to meet the evolving demands of students, parents, society, and the global landscape. Recognizing the importance of technology, the departments are introducing new programs and courses. For example, they offer Computer Science courses in Mathematics Education at the Master's level and GIS courses in the Department of Geography. Embracing modern pedagogical approaches, the department has implemented a semester system at the Master's level. Additionally, plans are underway to introduce a Master's degree program in ICTE and establish an all-equipped resource center. Online courses in English Language Education and Mathematics Education will also be initiated to cater to distance learning students. The department utilizes multimedia projectors and computers to enhance teaching effectiveness.
Fostering Growth and Excellence
The Central Department of Education nurtures a culture of growth, excellence, and distinction in all its departments. With a commitment to research, academic achievements, and innovative teaching methods, the department aims to provide the best education possible. By continuously expanding its programs, adopting modern techniques, and embracing global trends, the department ensures that its students are well-prepared for the challenges and opportunities of the future.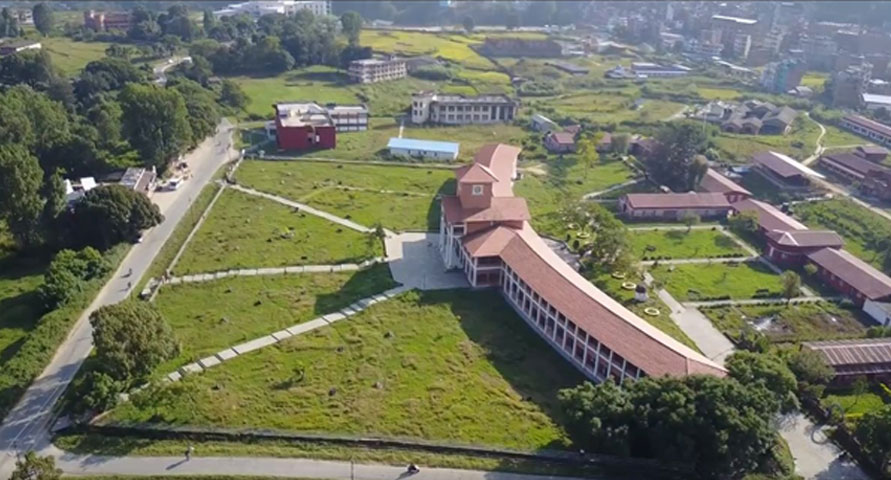 17 Departments at the Central Department of Education
Department of English Language Education
Department of Economics Education
Department of Geography Education
Department of Mathematics Education
Department of Science and Environment Education
Department of Teaching Practice
Department of Education Planning & Management
Department of Curriculum and Evaluation
Department of Health and Population Education
Department of Nepali Language Education
Department of Special Needs Education
Department of Student Welfare & Examination
Department of Foundations of Education
Department of History Education
Department of Political Science Education
Department of Instructions
Department of Physical Education
Vision:
The vision of the Central Department of Education is to establish itself as a center of excellence in teacher education and educational research in Nepal. The department aims to produce highly skilled professionals who can contribute to the transformation and development of education policies, plans, and pedagogies in the country. Additionally, the department strives to foster international academic collaboration and build networks with individuals from diverse cultures and socio-economic backgrounds. It is committed to providing support and opportunities to students from rural areas and marginalized groups through scholarships and necessary assistance to pursue their Master's program.
Mission:
The mission of the Central Department of Education is to serve the country by preparing trained and competent teachers for various levels of education. It also aims to produce educational researchers, planners, curriculum designers, and managers who can contribute to the advancement of the education sector. The department takes pride in its unique identity and structure, being the only department among the 36 central departments of Tribhuvan University with 14 distinct departments.
Geographical Location:
The Central Department of Education is located in the picturesque surroundings of Kirtipur, offering a serene and conducive environment for academic pursuits. Situated in proximity to the Bagh Bhairab temple, the department is bordered by the CEDA office to the north, the management department to the east, the Central Department of Population Studies to the south, and CNAS to the west.
Physical Facilities:
The department provides various physical facilities to enhance the learning experience and create a comfortable atmosphere for students and faculty.
Compound/Garden: The department boasts an ecologically beautiful compound/garden that envelops the premises, creating a serene and calming ambiance for students to engage in their studies.

Multimedia-Equipped Classrooms: Each classroom is equipped with multimedia projectors, enabling teachers to engage students using digital tools and interactive learning materials.

Comfortable Furniture and Lighting: The classrooms are student-friendly, furnished with cozy furniture, proper lighting, and adequate ventilation, ensuring a comfortable learning environment.

Students Interaction: The department promotes student interaction through group presentations, focused group discussions, and other academic talks, fostering collaborative learning and intellectual growth.

Restrooms: The department provides well-maintained restroom facilities to ensure the convenience and comfort of students and staff.

Playground: The department features a scenic playground where students can relax, engage in recreational activities, and enjoy the natural beauty of the surroundings.

Science Laboratory: A dedicated science laboratory is available for students to conduct experiments and engage in hands-on learning, enhancing their scientific knowledge and skills.

Auditorium Hall: The department has a separate auditorium hall for orientation programs, talks, seminars, and education talk series on interdisciplinary subjects, providing a space for intellectual discussions and knowledge sharing.

Library/Curriculum Resource Centre: The department houses a well-equipped library known as the 'Curriculum Resource Centre [CRC],' containing a vast collection of over 4000 books in hard copy. Students have access to a wide range of academic resources, including books, newspapers, and magazines, enabling them to stay updated on current affairs and enhance their knowledge.
Workshops, Seminars, and Training:
The Central Department of Education regularly organizes academic workshops, conferences, and seminars, providing a platform for faculty members, students, and staff to explore emerging issues, engage in discussions, and contribute to the advancement of knowledge in the field of education. These events facilitate professional growth and foster a culture of continuous learning within the department.
Through its vision, mission, and commitment to providing excellent physical facilities, the Central Department of Education strives to create a vibrant and enriching learning environment. By focusing on academic excellence, international collaboration, and inclusive education, the department plays a crucial role in shaping the future of education in Nepal.
Wide Range of Programs
Central Department of Education, Tribhuvan University offers a diverse range of programs in the field of education, catering to the various interests and career aspirations of students. The following are some of the programs offered by the university:
Master of Education in Economics Education: This program focuses on equipping students with advanced knowledge and skills in economics education, preparing them to become effective educators in the field.

Master of Education in Geography Education (M.Ed): This program provides specialized training in geography education, enabling students to develop a deep understanding of geographical concepts and pedagogical approaches.

Master of Education in Health Education (M.Ed): This program aims to develop competent health educators who can promote health literacy, awareness, and healthy behaviors among individuals and communities.

Master of Education in History Education (M.Ed): This program focuses on enhancing students' understanding of historical concepts, methodologies, and instructional strategies, enabling them to become proficient history educators.

Master of Education in Physical Education (M.Ed): This program is designed to equip students with advanced knowledge and skills in physical education, enabling them to promote physical fitness, sportsmanship, and a healthy lifestyle.

MEd in Political Science Education: This program combines the study of political science with education, preparing students to become knowledgeable educators in the field of political science.

Master of Education in Population Education (M.Ed): This program focuses on population education, addressing issues related to population growth, family planning, reproductive health, and sustainable development.

MEd in Science Education: This program provides specialized training in science education, equipping students with the knowledge and skills to teach science effectively and promote scientific inquiry among students.

Bachelor of Special Needs Education (B.Ed. SNE): This undergraduate program focuses on special needs education, preparing students to work with individuals with diverse learning needs and disabilities.

Master of Social Studies Education (MSSEd): This program focuses on social studies education, emphasizing the development of critical thinking, civic engagement, and global awareness among students.

MEd Special Needs Education: This program offers advanced training in special needs education, equipping educators with the knowledge and skills to support the learning and development of individuals with special needs.
These programs at Central Department of Education, Tribhuvan University provide students with comprehensive theoretical knowledge, practical skills, and pedagogical training, enabling them to make meaningful contributions in the field of education and positively impact the lives of learners.