Overview
Khwopa College was established in 1999 as a community-owned higher educational institution located in the ancient town, Dekocha, Bhaktapur, Nepal. Khowpa College takes its name after the name of its ancient and meaningful name Khwopa. This is the one and only community-based service-oriented college in town. That has been governed by the local government, Bhaktapur Municipality.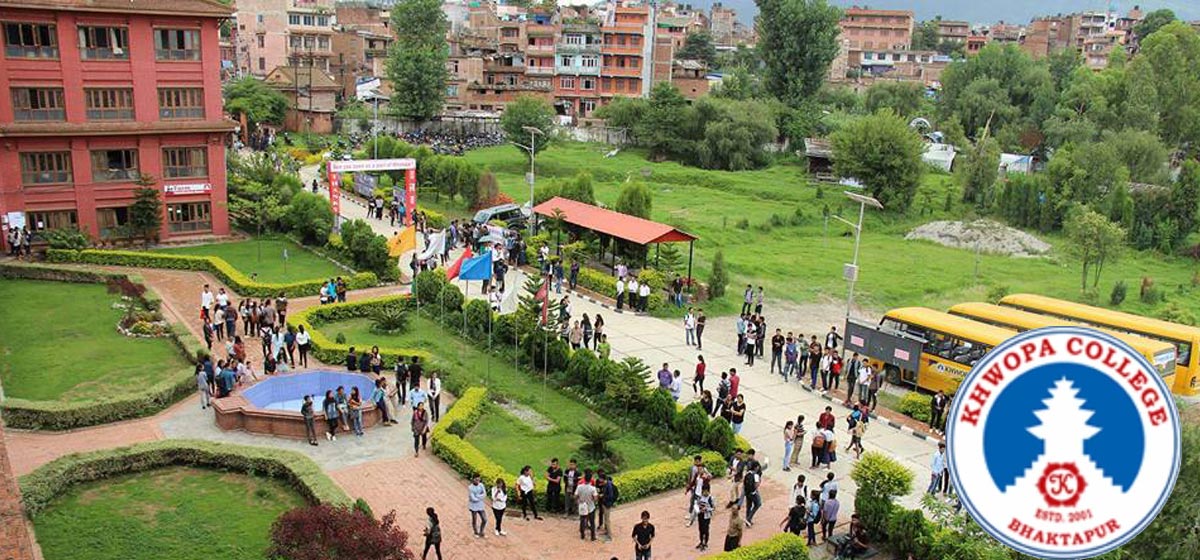 Khwopa College (ख्वप कलेज) is affiliated with Tribhuvan University (TU) for Bachelor's and Master's degree programs. It ensures quality as well as practical education at an affordable - probably cheaper fee rate, is its academic policy. In the present context of the nation, education is expensive and unaffordable for a larger percentage of citizens. So to extend the facility of education as one of the basic needs, this glorious institution has been committed to a specific mission: committed to people and professionalism. Although it has been established in the cultural city, of Bhaktapur. It has already opened its wide gate and has invited students from different sixty-five districts. Still, it is not enough to meet our motive.
Khwopa college is not only the academic platform of the variety of students of various levels but also a good function where lecturers, professors, academicians, and sensible parents can feel better academic serene there. So, we are always conscious of what we can offer the students. The college has provided various facilities like well-equipped libraries, laboratories, well furnished and probably the best classroom and extra co curricula. Good canteens, college buses, sports facilities, latest methodologies of teaching-learning equipment are auxiliaries. Moreover, the faculties of various sectors, visiting professors, medalists, professionals, and academicians, combined efforts have stood college as a model of the academic field. And its result percentage also reflects the quality.
Academic Programs:
Bachelor of Business Studies (BBS), Bachelor of Arts (BA), Bachelor of Science (B.Sc) in Environmental Science, Bachelor of Social Works (BSW), Bachelor of Science (B.Sc) in Physics, Master of Arts (MA) in English, Master of Arts (MA) in Economics, Master of Business Studies (MBS) and M.Sc in Environmental Science.
Location:
Khwopa College is situated in a serene and peaceful location (with an area of 55 Ropani) on the way to Changunarayan. It lies on the north-east of Bhaktapur Municipality at ward no. 5, Dekocha
Contact Details:
Khwopa College, Dekocha, Bhaktapur, Nepal
Phone: +977-1-6610932, 01-6614336, 01-6618031
Email: [email protected]
Website: www.khwopacollege.edu.np