Overview
The naming of the Helambu Rural Municipality (हेलम्बु गाउँपालिका, सिन्धुपाल्चोक) was done by the then Helambu VDC, Bagmati Pradesh. At present, it is connected with ward no. 1 of the rural municipality. Helambu is not just a village, it represents a region. The name of the former Helambu VDC was changed to Helambu by the first elected VDC after the 2049 BS election. Before that, Timbughyangul VDC And Tarkeghyang Panchayat. This means that the name Timbu and Ghangyul can be inferred from the name Timbughyangul. Along with the restructuring of the state, Helambu Gaupalika has been formed by merging the five then VDCs of Helambu, Kiul, Palchowk, Mahankal, and Echok respectively. There are 7 wards in this municipality. In the restructuring, both Mahankal and Echok VDCs have been divided into 2/2 wards.
Helambu municipality is bounded by Rasuwa district on the north, Melamchi municipality on the south, Nuwakot district on the northeast, and Panchpokhari municipality on the west. Although the municipality is inhabited by people of different castes, the Holmo caste is in the majority. Apart from that, Sherpa, Tamang, Chhetri, Bahun, Dalit, and other castes also live there. It can be assumed that the name of this municipality is Helambu village municipality to reveal the identity of Holmo caste.
Helambu is known as a tourist destination. Mountain views, Holmo, Sherpa, Tamang settlements, lifestyle, and rituals have attracted foreign tourists. The area is also a religious tourist destination. There are legends that religious leaders used to meditate in this place at different times and at that time religious leaders also visited this area. Most of the land is covered with hills and beautiful hills. This village covers an area of ​​about 1000 meters above sea level and 5000 meters high. Helambu village is situated in the lap of a hill in Yangri near the beautiful and picturesque Jugal Himal. The upper part is dominated by Holmo and Tamang castes and the lower part is mainly inhabited by Brahmin, Chhetri, Damai, Kami, Sarki, and other castes.
There are important places like Ama Yangri, Melamchighyang, Tarkeghyang, Sermathang, Kakani, Kutumsang, Ghopteghyang in this place. Due to the hospitality of this place, special culture tradition, attractive natural beauty, clean environment, this area is important from a tourist point of view. Most of the wells and tunnels of the famous Melamchi Drinking Water Project are included in this Helambu village municipality. Muhan Melamchi and other rivers like Gohore Khola, Timbu Khola, and other small streams are available in this village municipality, which provides additional facilities for drinking water and irrigation. Most of this area is covered by forests. The main trading centers of this rural municipality are Gyalthum, Chanaute, Timbu, and Kiul Bagar.
The main occupation of the people here is agriculture. It was customary to plant traditional varieties of potatoes and radishes in the upper part of the municipality and it is still practiced today. In animal husbandry, it is customary to raise sheep in the upper part and to raise cattle in the lower part.
Geographical Map of Helambu Gaupalika: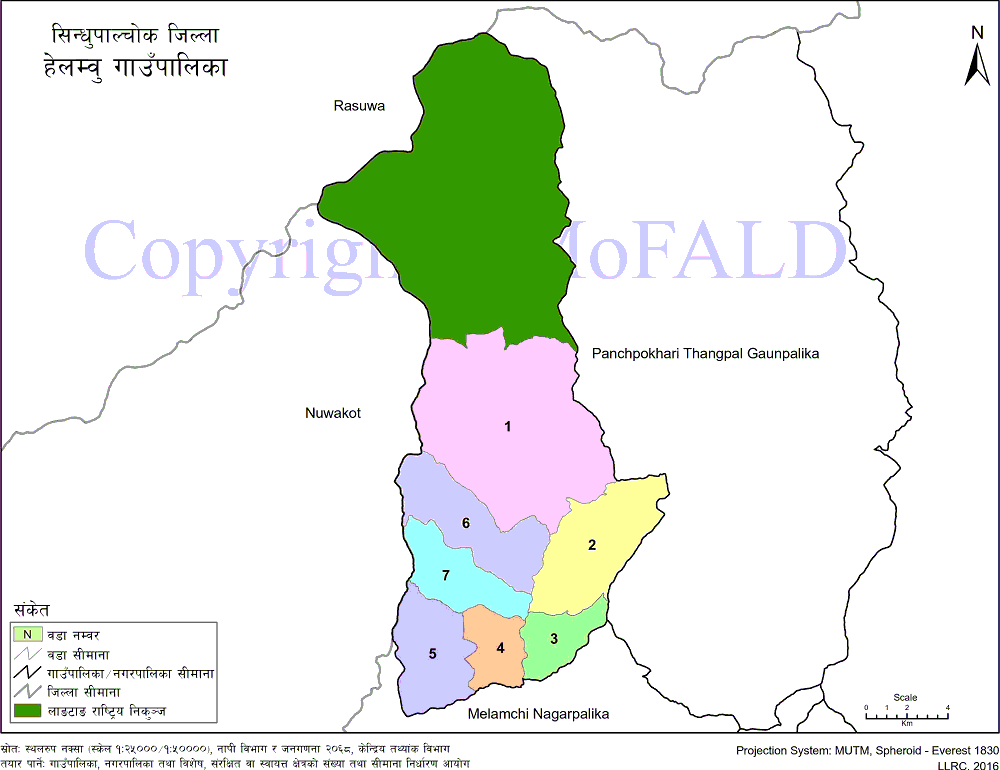 Contact Address:
Location: Helambu, Sindhupalchok, Bagmati Pradesh, Nepal
Telephone: +977- 9851184111, +977-9823726188
Email: [email protected]
Website: www.helambumun.gov.np