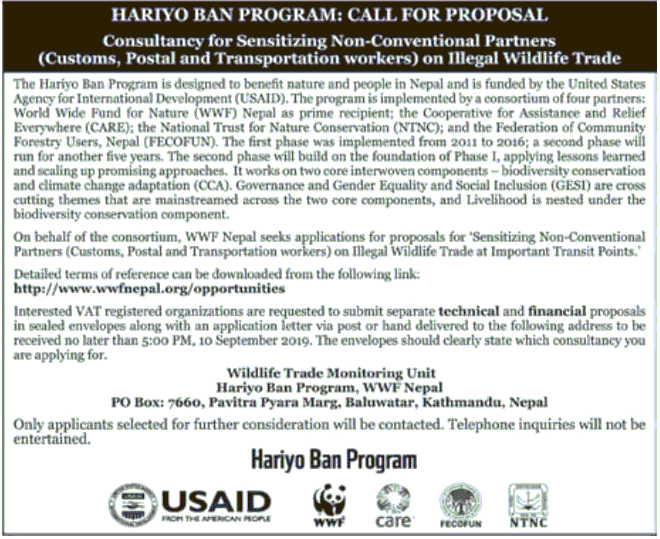 HARIY0 BAN PROGRAM: CALL FOR PROPOSAL
Consultancy for Sensitizing Non-Conventional Partners
(Customs, Postal and Transportation workers) on Illegal Wildlife Trade
The Hariyo Ban Program is designed to benefit nature and people in Nepal and is funded by the United States Agency for International Development (USAID). The program is implemented by a consortium of four partners: World Wide Fund for Nature (WWF) Nepal as the prime recipient; the Cooperative for Assistance and Relief Everywhere (CARE); the National Trust for Nature Conservation (NTNC); and the Federation of Community Forestry Users, Nepal (FECOFUN). The first phase was implemented from sots to oot6; a second phase will run for another five years. The second phase will build on the foundation of Phase I, applying lessons learned and scaling up promising approaches. It works on two core interwoven components - biodiversity conservation and climate change adaptation (CCA). Governance and Gender Equality and Social Inclusion (GESI) are cross-cutting themes that are mainstreamed eaves the two core components, and livelihood is nested under the bind diversity conversation component.
On behalf of the consortium. WWF Nepal seeks applications (or proposals for 'Sensitizing Non-Conventional Partners (Customs, Postal and Transportation workers) on Illegal Wildlife Trade at Important Transit Points.'
Detailed terms of reference can be downloaded from the following: http://www.wwfnepal.org/opportunities/
Interested VAT-registered organizations are requested to submit separate technical and financial proposals in sealed envelopes along with an application letter via post or hand-delivered to the following address to be received no later than 5: oo PM. to September 2019, The envelopes should dearly state which consultancy you are applying for.
Wildlife Trade Monitoring Unit
Wildlife Trade Monitoring Unit
Hariyo Ban Program, WWF Nepal
PO Box: 7660, Pavitra Pyara Marg,
Baluwatar, Kathmandu, Nepal
Only applicants selected for further consideration will be contacted. Telephone inquiries will not be entertained.
Hariyo Ban Program