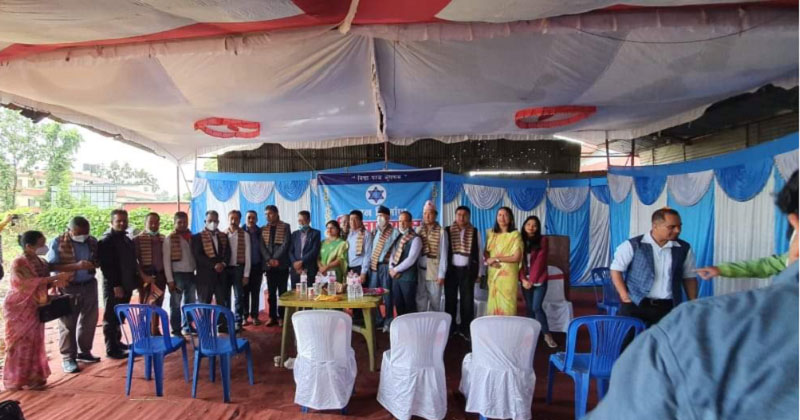 Laid Down Foundation Stone for Construction of New Building of Pokhara Multiple Campus:
The foundation stone of a new building of Pokhara Multiple Campus has been laid. Chief of Pokhara Metropolitan City Man Bahadur GC laid the foundation stone of the building on Wednesday. Construction of a new campus building has started in Pokhara-9 Nayabazar.
Pokhara Multiple, the oldest community campus in Pokhara, has been provided four Ropanis of land under the Pokhara Valley Urban Development for the construction of a new building. Mayor GC said that the land was made available to strengthen the physical infrastructure of the campus which was evicted due to lack of land.
"Everyone will help as the campus is being built in the city center," he said. He said that even though the land allotted to the campus is not enough, it should be made temporary from this land. The campus, established in 2044 BS in Bagar, Pokhara, is currently operating in the building of Mahendra Mavic in Nayabazar. Chairman of the Campus Steering Committee Narendra Man Lalchan has announced assistance of Rs 5 million for the construction of the building. Speaking on the occasion, Chairman Lalchan said that it was his dream to make the campus sustainable. "My dream is to give a strong support to the campus. I am giving Rs 5 million for that, 'he said,' I am interested in education even if I was born and raised in Mustang. '
The campus is constructing a 36-room building at a cost of Rs 65 million. Chairman Lalchan said that other financial assistance would be sought from the metropolis, various wards of the metropolis, businessmen, politicians, and others for the construction of the campus building. According to Campus Chief Shishu Kala Parajuli, the building will be ready within a year.
She said that the old community campus of Pokhara is finally getting stability. According to Parajuli, the campus currently teaches four-year BA and BBS in the humanities and management faculties. There are more than 400 students on campus. Other donors have also announced support for the building. Adviser to the Campus Management Committee, Shankar Devkota, said that the metropolis has already fulfilled its promise to provide land for the campus. He said that an educational institution will get a strong building with the help of the metropolis.