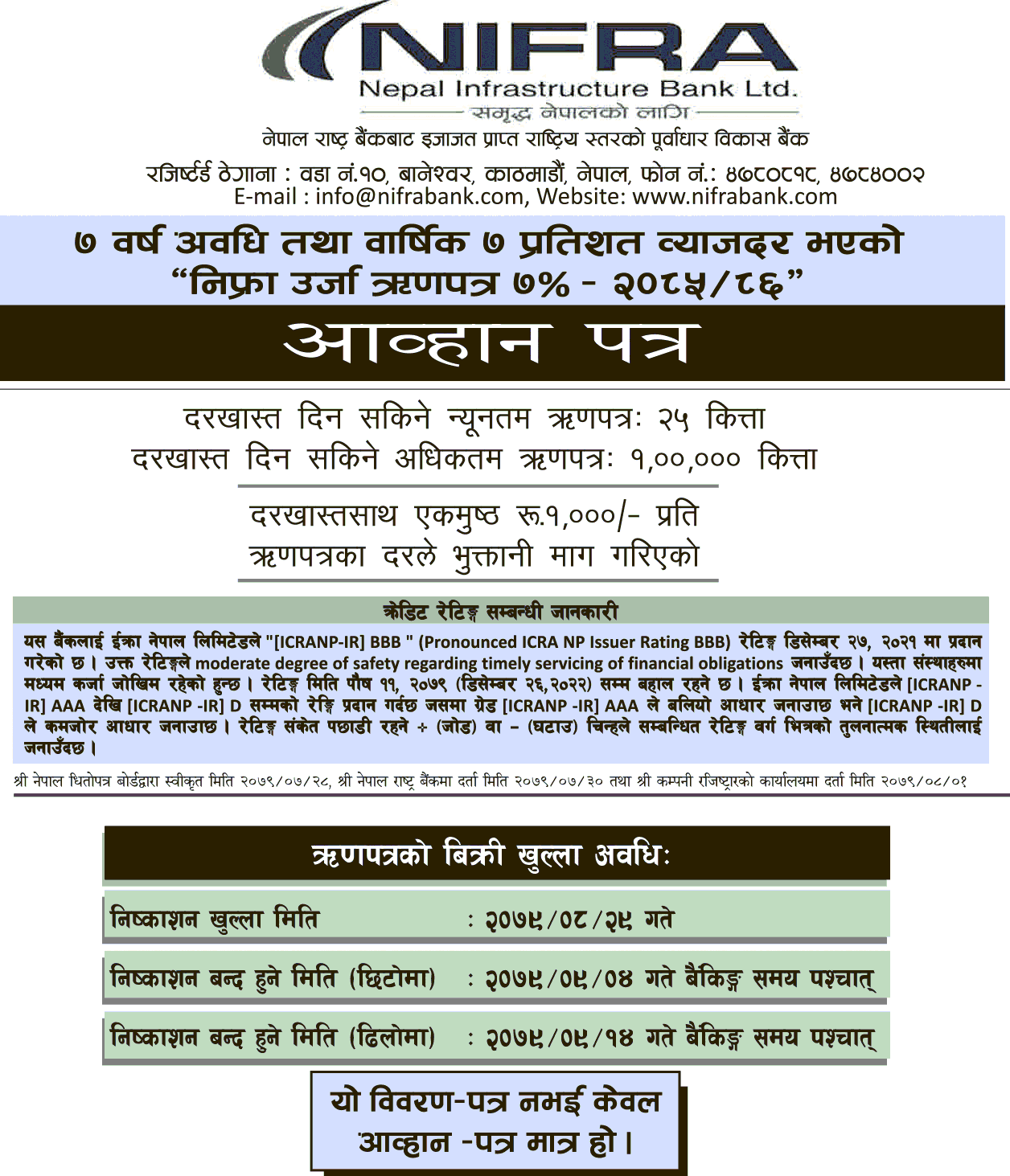 Nepal Infrastructure Bank Limited (NIFRA) is going to issue a debenture from the 29th of Mangsir, 2079 (15th December 2022). The bank is about to issue 'NIFRA Energy debenture 7% 2085/86' for a period of 7 years at an interest rate of 7% per annum.
NIFRA is going to issue 5 million units of debentures of Rs. 1000 each debenture worth Rs. 5 billion. Out of this, 60 percent, or 3 million units worth 3 billion rupees will be sold individually, while the remaining 40 percent, or 2 million units worth Rs. 2 billion rupees will be sold to the general public.
In that bond, the investor has to apply for a minimum of 25 units of debenture and a maximum of 1 lakh units. The close of the issue will be on 4th Poush at the earliest and on 14th Poush at the last.
NIBL Ace Capital Limited is the issuing and selling manager of the bank's securities. Investors can apply through the CASBA system by using MeroShare online created by the banks and financial institutions participating in the ASBA service approved by the Nepal Securities Board and their designated branch offices and CDS and Clearing Limited.
In the credit rating given for the issuance of debenture, Icra Nepal has given the bank IcraNP Issuer Rating Triple B. This indicates moderate credit risk. The interest amount accrued on the bond will be paid after the end of the first financial year and the second half year of each financial year after deducting tax.
Download / View Notice.PDF

Debenture