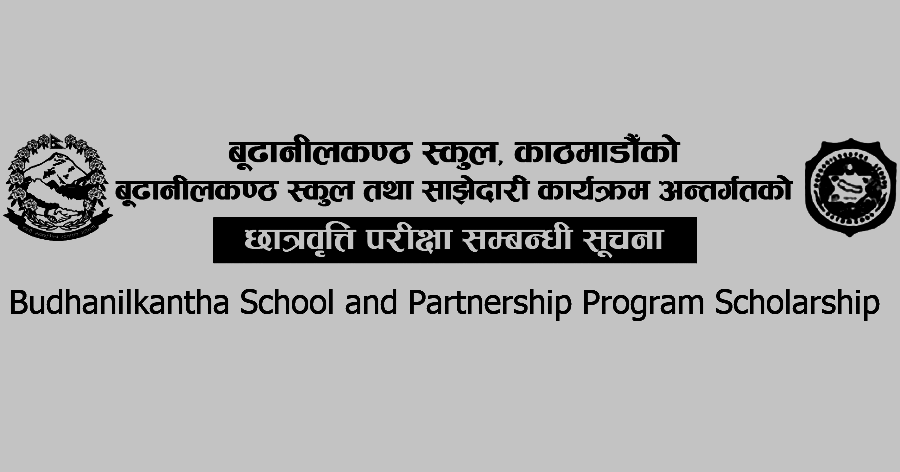 Budhanilkantha School and Partnership Program Scholarship Examination: Notification and Details
Budhanilkantha School, Kathmandu, and Marfdari schools have recently issued a notice regarding the selection of scholarship recipients from underprivileged communities for free or subsidized study from class 5 onwards. The Ministry of Education, Science and Technology has organized the scholarship program, and interested students can participate by following the guidelines outlined below.
Basis of Selection:
The scholarship exam is open to students born between 2069/01/01 and 2070/12/30 who have regularly attended public schools and completed class 4 in the academic session 2079. Candidates will be selected based on the merit order of the results of the written competitive examination and the interview.
Form Submission:
Students can download the application form from www.bnks.edu.np or www.cehrd.gov.np. Forms should be completed, recommended, and verified, and submitted to the designated examination center in their district along with necessary documents. The form submission deadline is Monday, 12/27/2079, from 1:00 pm to 4:00 pm and Tuesday, Chait 28, 2079, from 8:00 am to 10:00 am. Scanned copies of the form and documents can also be sent to [email protected] before the exam, but complete documents must be submitted to the examination center.
Written Exam:
The written exam is scheduled for Tuesday, 28/12/2079, at 11:00 am. The syllabus includes subjects taught in Class 3 and 4, such as Nepali, English, Mathematics, Science, Social Education, and General Knowledge. The exam will be 40% objective and 60% subjective.
Number of Seats:
A total of 42 seats are available for Budhanilkanth School, with 50% reserved for female students. 40 students will be selected, with no more than one from each district. The remaining 20 seats are reserved for students from Adivasi Janajati, Dalit, Muslim, Madhesi, Tribal/Tribal, Backward Area, and Conflict Victim communities. Two seats will be reserved for students from Budhanilkanth municipality.
Partnership Schools:
Under the partnership program, a total of 77 students will be selected without repeating the district, subject to availability. The participating schools in the program are Sheetladevi Secondary School Dhankuta, Navjeevan Secondary School Jutapani, Sarlahi, Kuleshwar Housing Secondary School, Kuleshwar, Kathmandu, Bal Mandir Secondary School, Lumley, Caskey, Janata Secondary School, Palpa, and Birendra Vidyamandir Secondary School, Tikapur, Kailali.
Application Fee:
The application fee for the scholarship exam is Rs. 100/- (one hundred only).
In conclusion, this scholarship program by Budhanilkanth School and Partnership Program aims to provide underprivileged students with opportunities for free or subsidized study. Interested candidates should carefully follow the guidelines and submit their applications before the deadline.
9) Examination Centers:
Exam Centers, Address, and Districts Eligible to Participate in Exam Centers:
1) Ilam Education Foundation, Ilam: Ilam, Jhapa, Panchthar and Taplejung
2) Hille Secondary School, Hille, Dhankuta: Dhankuta, Bhojpur, Tehrathum and Sankhuwasabha
3) Janata Secondary School, Itahari: Sunsari, Morang, Jhapa, Khotang, Solukhumbu and Bhojpur
4) Sagarmatha Janata Secondary School, Okhaldhunga: Okhaldhunga, Solukhumbu, Khotang, and Udaipur
5) Pashupati Adarsh Secondary School, Lahan, Siraha: Siraha, Udaipur, Khotang and Saptari
6) Yajnavalkya Sanskrit Secondary School, Gyankripa, Janakpur, Dhanusha: Dhanusha, Sarlahi, Mahottari, and Udayapur
7) Janjyoti Secondary School Chandranigahpur, Rautahat: Rautahat, Parsa, Bara, and Salahi
8) Janjyoti Secondary School, Golanjor, Khurkot, Sindhuli: Sindhuli, Ramechhap, and Dolakha
9) Modern National Secondary School, Hetauda, Makwanpur: Makwanpur, Parsa, Bara, Ghading, Nawalparasi (Bardghat Susta East) and Chitwan
10) Sanjeevani Secondary School, Dhulikhel, Kavrepalanchok: Kavrepalanchok, Dolakha, Ramechhap, Bhaktapur and Sindhupalchok
11) Budhanilkanth School, Kathmandu: Kathmandu, Sindhupalchok, Bhaktapur, Lalitpur, Nuwakot, Rasuwa and Dhading
12) Pavitra Secondary School, Nahala, Dumre, Tanahun: Tanahun, Gorkha, Manang and Lamjung
13) Sanskrit High Secondary School, Pokhara: Kaski Kaski, Syangja, Lamjung and Mustang
14) Rudrepeepal Secondary School, Baglung: Baglung, Mustang, Parbat and Myagdi
15) Kalika Humanities Secondary School, Butwal, Rupandehi: Rupandehi, Palpa, Kapilvastu, Nawalparasi (Bardghat Susta East), Nawalparasi (Bardghat Susta West), and Arghakhanchi
16) Rastriya Secondary School, Bhaluwang, Deukhuri, Dang: Dang, Salyan, Pyuthan, Rolpa, Rukum East and Arghakhanchi
17) Saraswati Secondary School, Nepalgunj, Banke: Banke, Bardiya, Dolpa, Mugu and Humla
18) Sheetal Secondary School, Chaurjahari: Rukum West, Rukum East, Jajarkot, Salyan and Dolpa
19) Nepal National Secondary School, Birendranagar-6, Surkhet: Surkhet, Humla, Kalikot, Mugu, Dolpa, Dailekh and Jajarkot
20) Janata Secondary School, Mahat Village, Jumla: Jumla, Humla, Mugu, Dalpa and Kalikot
21) Janakalyan Secondary School, Sanfebagar, Achham: Achham, Bajura, Doti, Bajhang and Mugu
22) Durgalaxmi Model Secondary School, Attaria, Kailali: Kailali, Kanchanpur, Doti, Dandailghura 2 Bajhang
23) Shrikrishna Secondary School, Patan, Baitadi: Dadeldhura, Baitadi: Doti, Darchula and Bajhang
10) Documents to be attached along with duly signed and attested application form:
Letter of recommendation recommended by the concerned ward office or local level for the Aadhaar opening scholarship for the poor.
A copy of the student's birth registration certificate issued by the local registrar.
Class 3 pass certificate from a community school and a letter from the school stating that if the final certificate of class 4 has not been issued.
Copy of Nepali citizenship certificate of both father and mother of the student. If a person other than parents is the guardian, a certificate from an official body revealing the relationship with the student and a copy of his Nepali citizenship certificate.
If the person who wants to apply for the reserved seat has his surname in the list published by the Government of Nepal, a letter of recommendation issued by the relevant district administration office or the relevant official body to prove that he belongs to the relevant community.
In the case of backward and remote areas, a letter of recommendation from the concerned ward office or local level stating that the person has a permanent residence in the same place until now and that his son or daughter has studied in a local public school.
In the case of a conflict victim, a certificate is issued by the district administration office to reveal evidence that the father or mother is a conflict victim.
2 passport-size photographs taken recently showing both ears.
Note:
(1) If one child of the concerned parent is studying in Budhanilkanth School on a scholarship, the other child will not be given a scholarship in Budhanilkanth School.
(2) The scholarship selection committee may approve or reject the form subject to the income limit of the parents of the students participating in the examination.
(3) As per Serial Number 9 above, the examination will not be given from any examination center other than the designated examination center for the districts.
(4) Application forms that are not properly filled, all details are not verified and the required documents are not attached will be automatically canceled.
(5) Contact No. : 01-4370248 / 01-4371637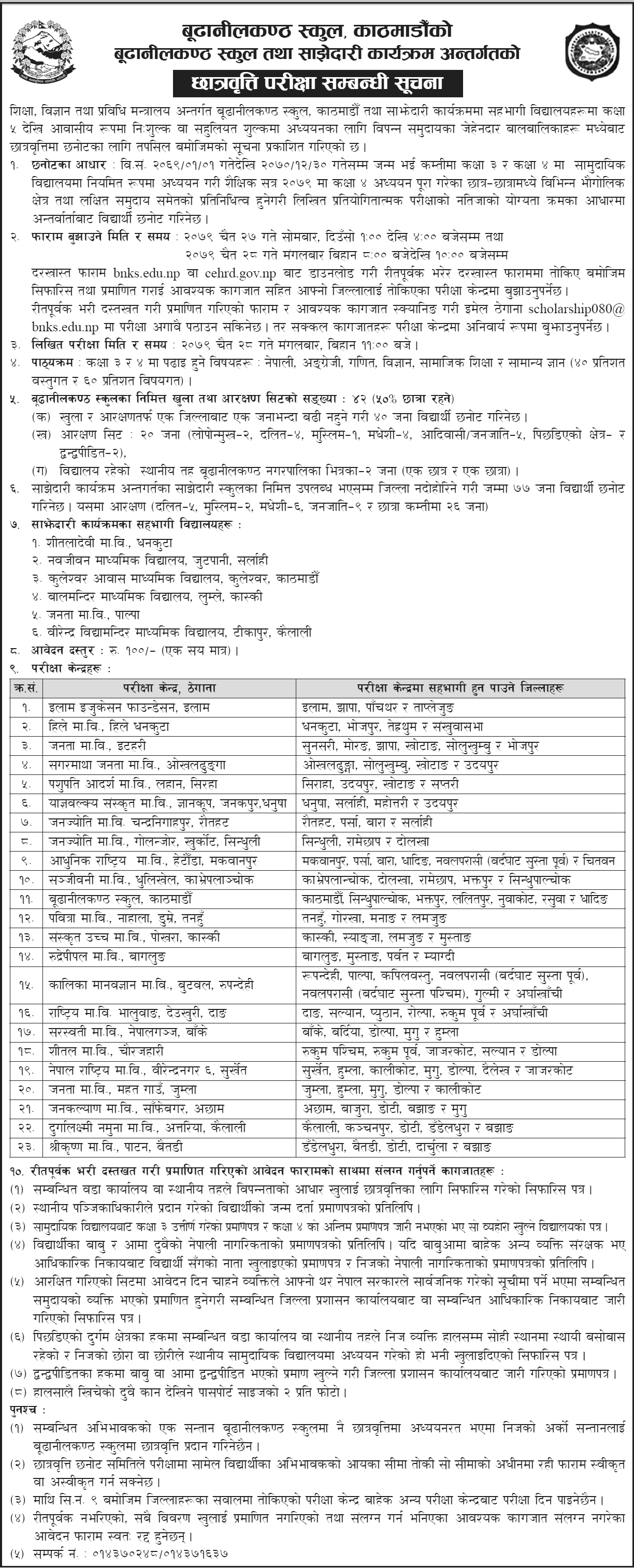 Notice
Scholarship in Nepal