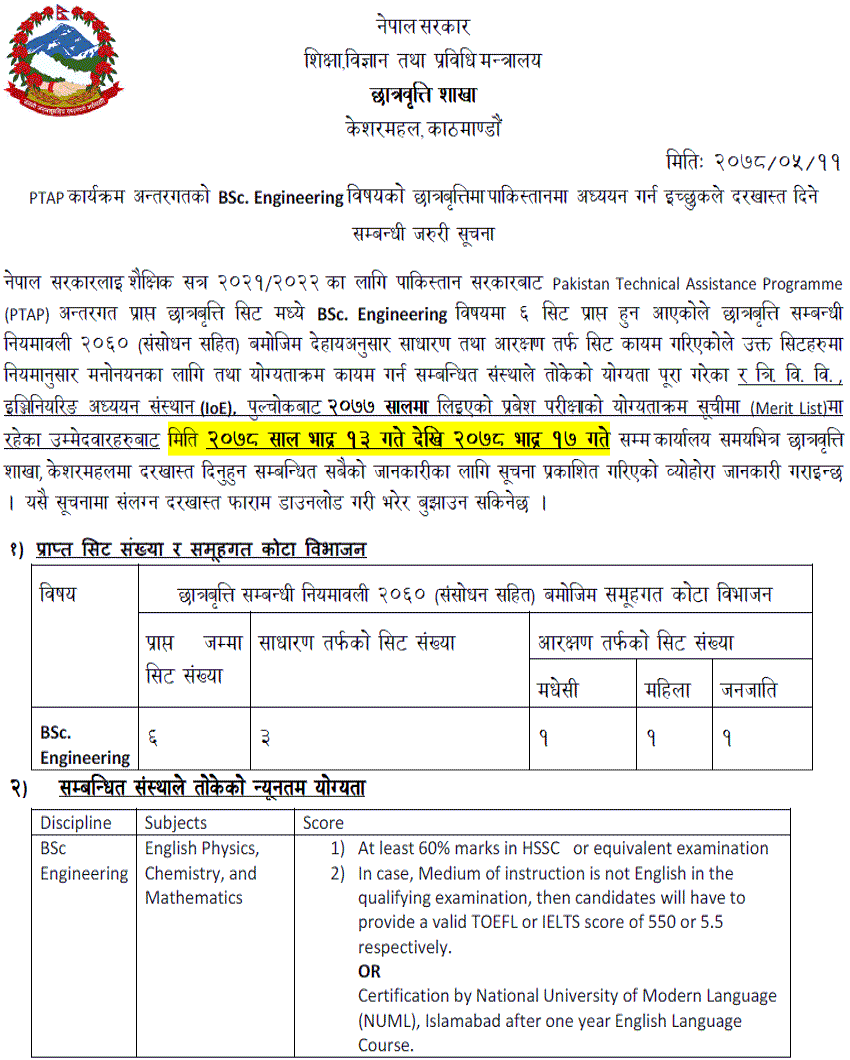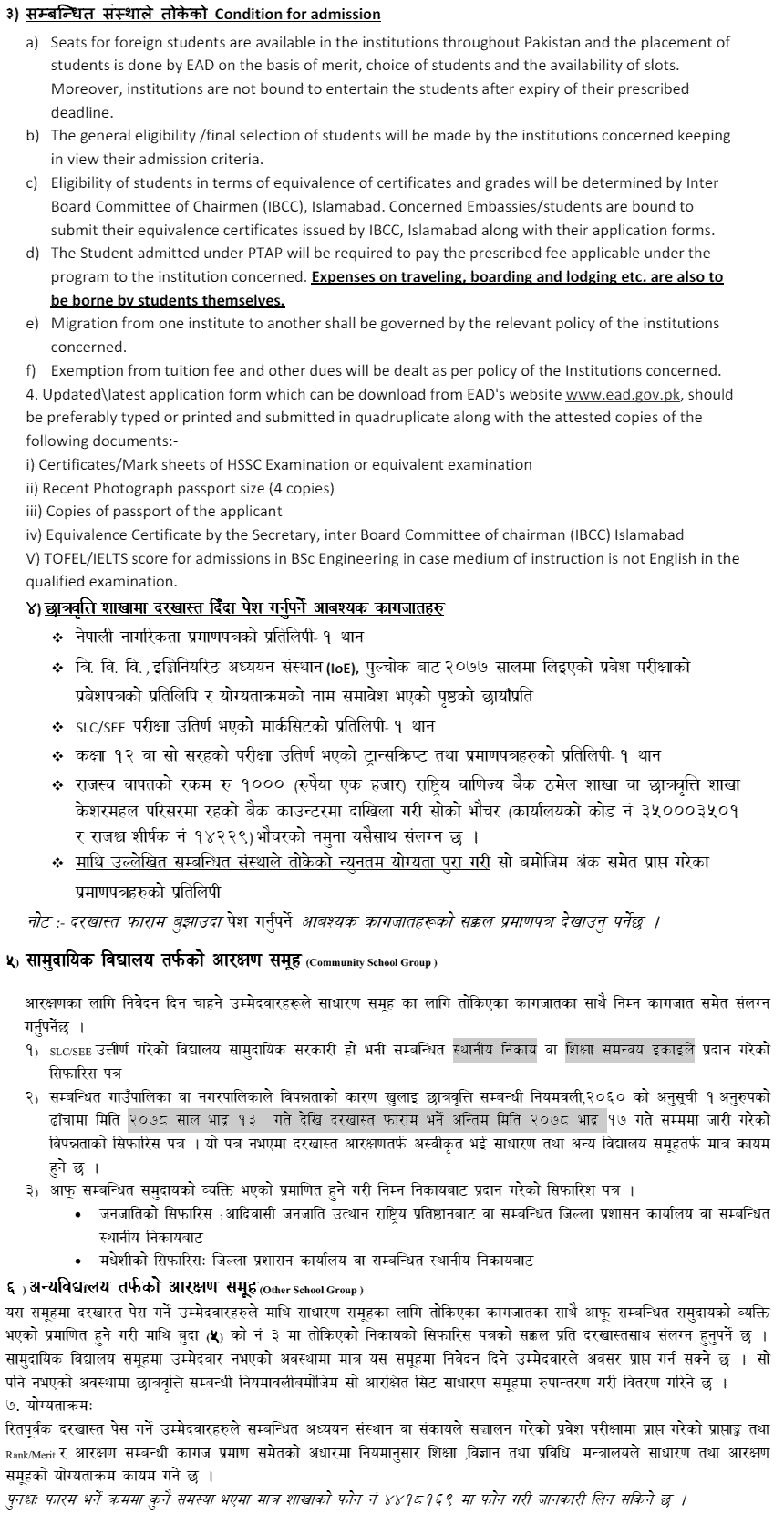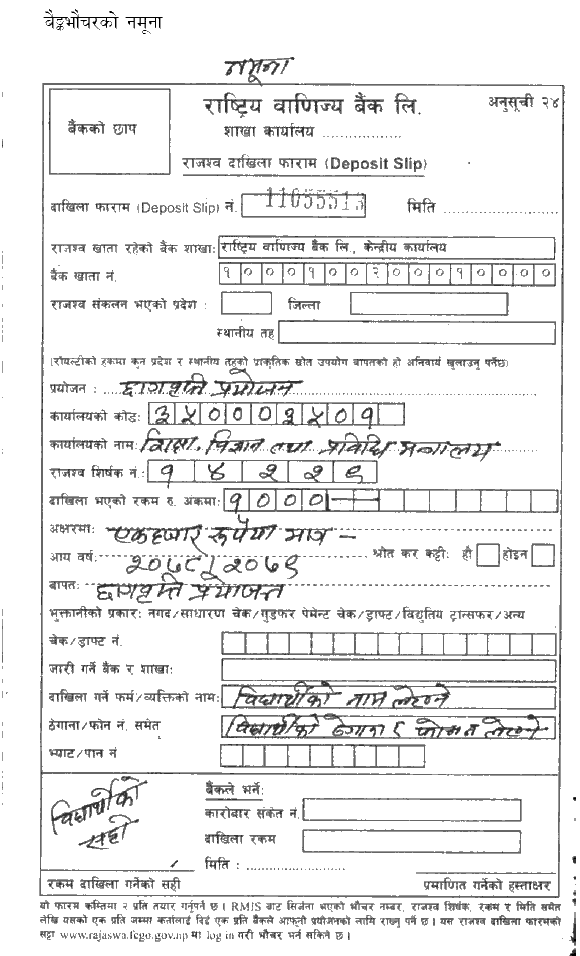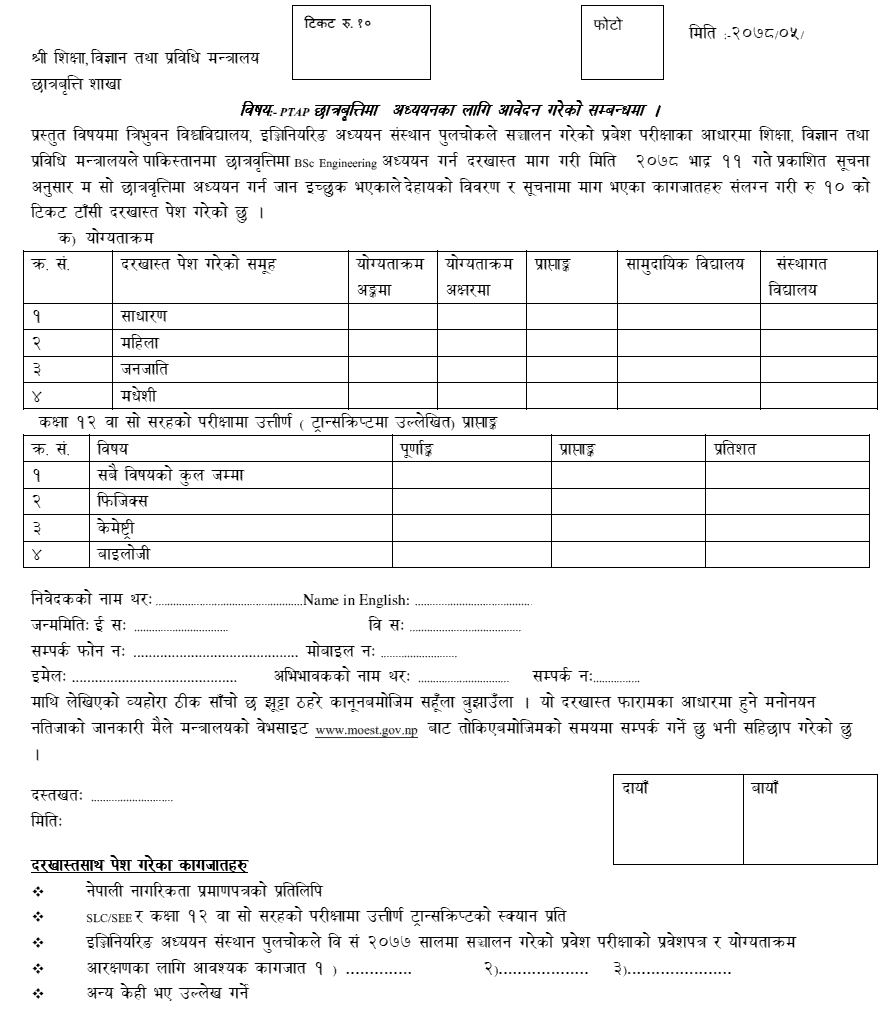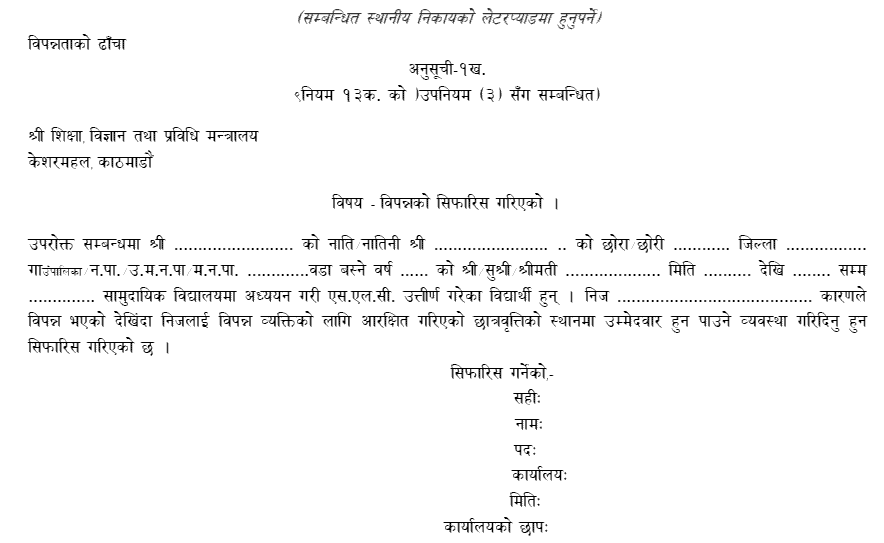 Government of Nepal, Ministry of Education, Science and Technology, Scholarship Branch, Keshar Mahal, Kathmandu Urgent notice regarding the application for BSc Engineering subject scholarship under PTAP program.
Since the Government of Nepal has received 6 seats in BSc Engineering out of the scholarship seats received from the Government of Pakistan under the Pakistan Technical Assistant Program (PTAP) for the academic session 2021/2022; As per the following rules as per the Scholarship Rules 2060 (with amendments) general and reserved seats have been established.
Information has been published for the information of all those who have fulfilled the qualifications prescribed by the concerned institution for nomination as per the rules and to maintain the qualification order in the said seats and to apply in the merit list of the entrance examination taken in 2077 BS from TU Institute of Engineering (IOE), Pulchowk. The application form attached to this notice can be downloaded and filled.
1) Number of seats obtained and group quota allocation
| | |
| --- | --- |
| Course | BSc. Engineering |
| Total Seats | 6 |
| General Seat | 3 |
| Reservation Seat for Madheshi | 1 |
| Reservation Seat for Women | 1 |
| Reservation Seat for Janajati | 1 |
Eligibility Criteria:
Discipline
BSc. Engineering
Subject
English Physics, Chemistry, and Mathematics
Score:
1) At least 60% marks in HSSC or equivalent examination
2) In case, Medium of instruction is not English in the qualifying examination, then candidates will have to provide a valid TOEFL or IELTS score of 550 or 5.5 respectively.
OR
Certification by National University of Modern Language (NUML), Islamabad after one year English Language Course.
Condition for admission
Seats for foreign students are available in the institutions throughout Pakistan and the placement of students is done by EAD on the basis of merit, choice of students, and the availability of Moreover, institutions are not bound to entertain the students after expiry of their prescribed deadline.
The general eligibility /final selection of students will be made by the institutions concerned keeping in view their admission
The eligibility of students in terms of equivalence of certificates and grades will be determined by Inter Board Committee of Chairmen (IBCC), Islamabad. Concerned Embassies/students are bound to submit their equivalence certificates issued by IBCC, Islamabad along with their application forms.
The Student admitted under PTAP will be required to pay the prescribed fee applicable under the program to the institution Expenses on traveling, boarding, and lodging, etc. are also to be borne by students themselves.
Migration from one institute to another shall be governed by the relevant policy of the institutions
Exemption from tuition fees and other dues will be dealt with as per the policy of the Institutions concerned. Updated\latest application form which can be download from EAD's website www.ead.gov.pk should be preferably typed or printed and submitted in quadruplicate along with the attested copies of the following documents:-
Certificates/Mark sheets of HSSC Examination or equivalent examination
Recent Photograph passport size (4 copies)
Copies of passport of the applicant
Equivalence Certificate by the Secretary, inter Board Committee of Chairman (IBCC) Islamabad V) TOFEL/IELTS score for admissions in BSc Engineering in case medium of instruction is not English in the qualifying examination.
Download:
Scholarship Details and Application Form.Pdf
Date: 2078-05-11
International Scholarship