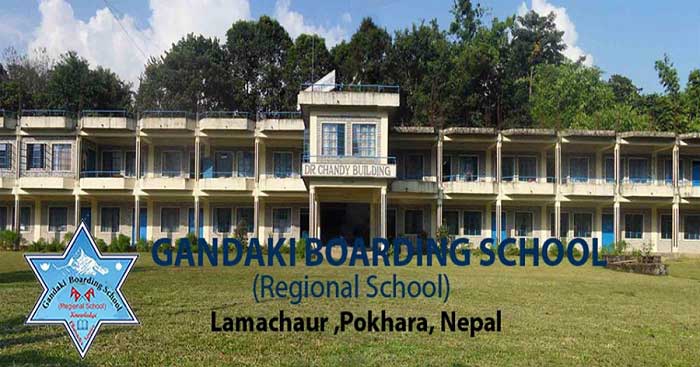 Gandaki Boarding School, (National School), Lamachaur, Pokhara published a notice to apply for the scholarship entrance exam. As the entrance examination for the students wishing to study in class 4 under the scholarship facility for the academic session 2079 at Gandaki Boarding School will be as per the details; This information has been published for the information of all concerned.
1) Students should be studying in class 3 and not exceeding 10 years till 2078 Chaitra end.
2) The application form should be accompanied by 2 copies of the photo, a letter of recommendation given by the school stating the age of the poor and needy, a mark sheet/grade sheet, and a photocopy of the birth certificate along with the monthly annual income disclosure document.
3) Entrance examination will be in Nepali, Mathematics, and English subjects.
4) Scholarship Entrance Examination will be conducted in the following centers on Saturday 21st of Falgun 2078. The application form will be distributed from the concerned center from 8:00 am on the same day and a written test will be conducted from 11:00 am. The application form can also be downloaded and filled out from www.gbs.edu.np.
1) Basanta Secondary School Basantapur, Tehrathum 9842288678
2) Janata Madhyamik Vidyalaya Bardiwas, Mahottari 9804807157
3) Rudrepipal Secondary School, Baglung Bazaar, Baglung 068-522609, 9857625534
4) Shrikrishna Sanskrit and General Secondary School, Birendranagar, Surkhet 083-520418, 98440858000
5) Durgalaxmi Secondary School Attariya, Kailali 091-550040, 9848426528
6) Shiv Madhyamik Vidyalaya Kawasoti, Nawalpur 078-540133, 9855061573
7) Sarvashanti Secondary School, Kurintar, Chitwan 9845156803
8) Nepal National Secondary School, Bhaluwang, Dang 9857840100
9) Gandaki Boarding School, Lamachaur, Pokhara 061-440398, 061-441719
5) Preference will be given to the most backward castes, classes, and communities, and a maximum of 4 students who have reached the minimum qualification will be given the opportunity to study on scholarship through the special student selection (Head Hunting) process.
6) Eligible students will be able to participate in any of the above-mentioned examination centers.
7) This scholarship facility will be provided only to the students who meet the criteria set by the poor and needy schools. The scholarship will be canceled at any time if the details submitted are found to be false. All rights related to scholarship will be vested in the school.
8) Parents who are permanently residing in Pokhara Metropolitan City Ward Nos. 16 and 12, if they wish to appear for the local scholarship entrance examination, they should submit the proof of permanent residency in the area along with the application form from the concerned head office.
Note: The application form will be distributed from 1st Chaitra 2078 for the students who want to study in class 4 by paying the full fee.
Contact Details:
Gandaki Boarding School, (National School), Lamachaur, Pokhara
Phone No: 061-440398, 440414
Email: [email protected]
Website: www.gbs.edu.np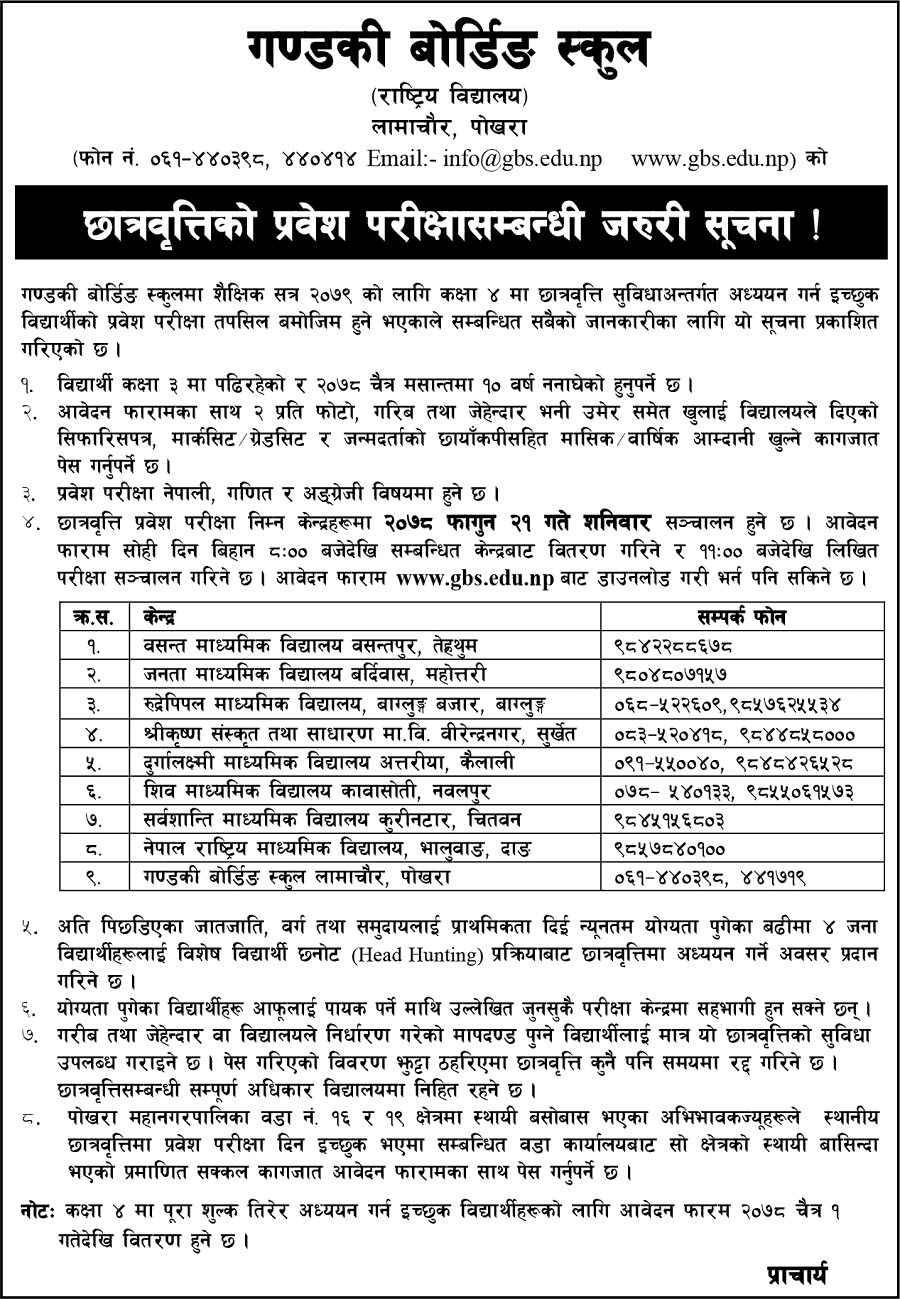 Notice
Scholarship in Nepal
Pokhara