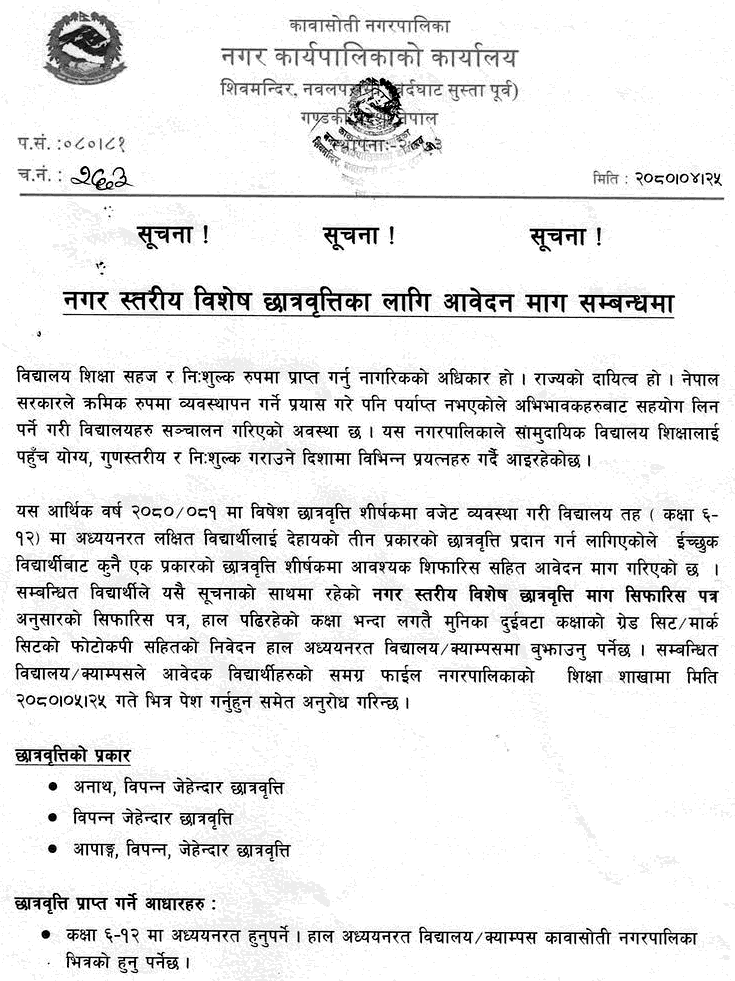 Kawasoti Municipality Call Application for Special Scholarships
In the pursuit of accessible and quality education, the Kawasoti Municipality in Nawalparasi, Gandaki Pradesh, Nepal, recognizes the fundamental right of every citizen to receive school education easily and free of charge. This responsibility, vested in the Province, emphasizes the importance of enabling education for all. While the Nepalese government has been making efforts to facilitate education, the need for comprehensive support remains evident, often compelling schools to seek assistance from parents. Kawasoti Municipality has taken proactive measures to ensure equitable, accessible, and high-quality public school education.
Enhancing Educational Opportunities
In the fiscal year 2080/081, Kawasoti Municipality is taking a remarkable stride by offering special scholarships to students within grades 6 to 12. These scholarships are designed to alleviate financial barriers, enabling deserving students to continue their education with minimal financial stress. The municipality has earmarked a budget for this purpose, underscoring its commitment to empowering education for all.
Types of Scholarships Available
There are three distinctive types of scholarships being offered, each catering to specific needs and circumstances:
Orphan, Destitute Jehendar Scholarship: Aimed at providing support to orphaned and destitute students, this scholarship recognizes the unique challenges they face. It serves as a beacon of hope, helping these students overcome financial hurdles and pursue their academic aspirations.

Destitute Jehendar Scholarship: This scholarship extends a helping hand to students facing destitution, acknowledging the hardships they encounter. By offering financial assistance, it seeks to ensure that economic constraints do not hinder their educational journey.

Handicapped, Disadvantaged, Jehendar Scholarship: Addressing the needs of physically challenged and disadvantaged students, this scholarship embodies inclusivity. By removing financial barriers, it empowers these students to access education and contribute to society.
Application Process and Requirements
Interested students seeking these scholarships should submit a letter of recommendation, aligning with the city-level special scholarship demand recommendation letter. This letter, along with a photocopy of the student's grade sheet/mark sheet for the two immediate classes below their current grade, should be submitted to their respective school/campus. It is essential for the school/campus to compile and submit the entire application file of eligible students to the municipality's education branch by 2080/05/25.
Criteria for Eligibility
To qualify for these scholarships, students must meet the following criteria:
Be enrolled in classes 6 to 12.
Attend a school/campus within Kawasoti Municipality.
The initiative taken by Kawasoti Municipality to provide city-level special scholarships underscores its commitment to education as a cornerstone of societal progress. By addressing financial barriers and recognizing the unique needs of various student groups, the municipality is fostering an environment where education truly becomes accessible, equitable, and empowering. As education continues to be a driving force in personal and communal development, these scholarships pave the way for a brighter future for students within the municipality and beyond.
Published on 2080/04/25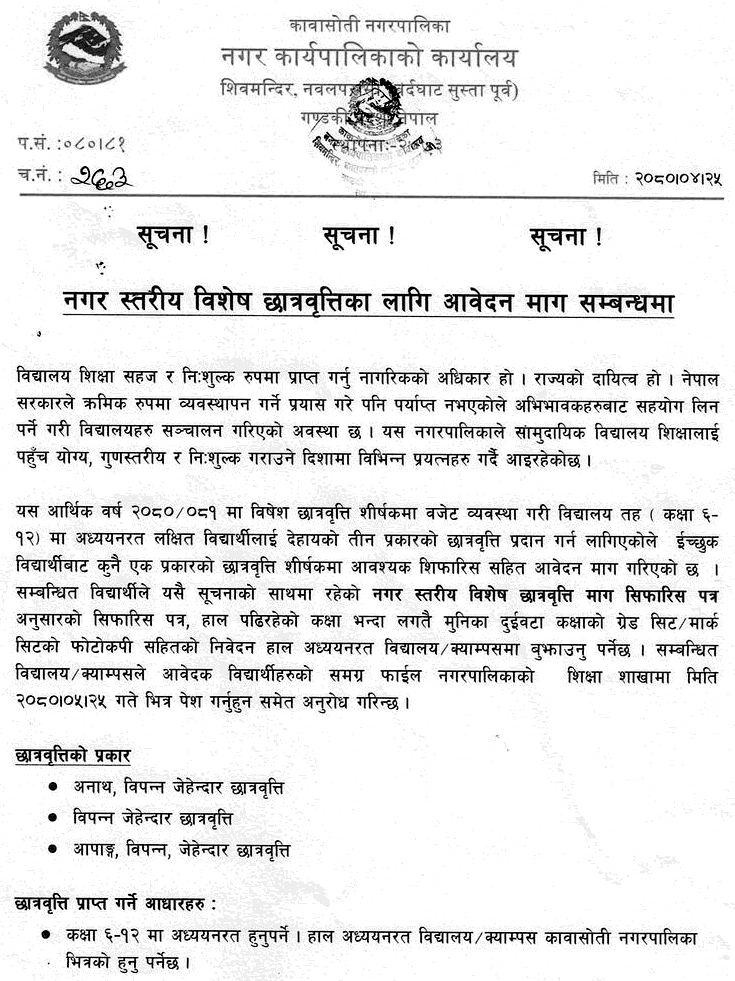 Scholarship in Nepal
Nawalparasi
Gandaki Pradesh