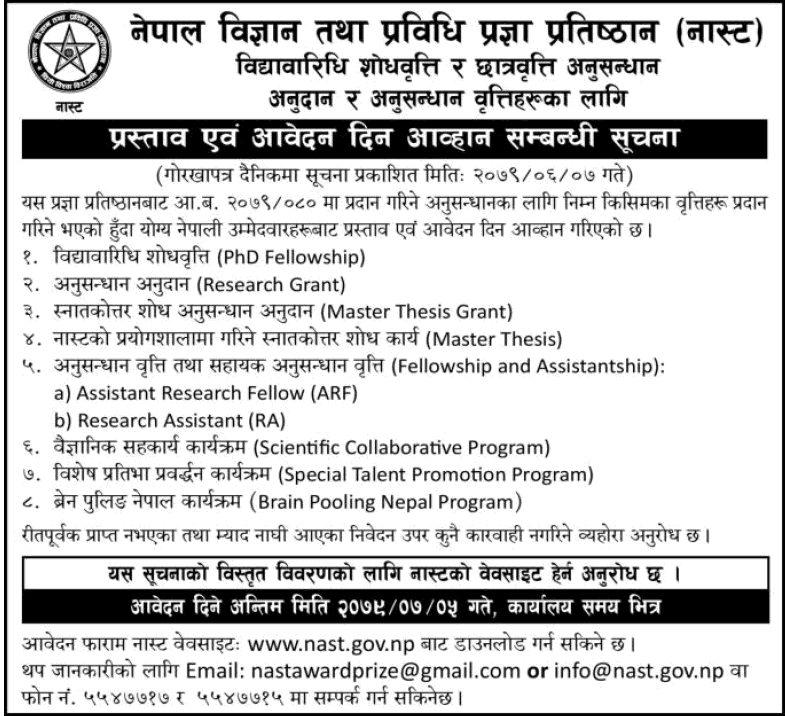 Nepal Academy of Science and Technology (NAST) Scholarly Dissertation and Scholarship Research For NAST grants and research fellowships
Since the following types of scholarships will be provided for research in the financial year 2079/080 from the Nepal Academy of Science and Technology (NAST). Eligible Nepali candidates are invited to submit proposals and applications.
1) Ph.D. Fellowship
2) Research Grant
3) Master Thesis Grant
4) Master Thesis to be done in the laboratory of NAST
5) Fellowship and Assistantship:
a) Assistant Research Fellow (ARF)
b) Research Assistant (RA)
6) Scientific Collaborative Program
7) Special Talent Promotion Program
8) Brain Pooling Nepal Program
There is a request that no action will be taken on applications that are not received appropriately and after the deadline.
Please refer to NAST's website for detailed information on this notification.
The last date of application is 2079-07-03, within office hours
The application form can be downloaded from the NAST website: www.nast.gov.np.
For more information: [email protected] or [email protected] or
Phone no. 01-5547717 and 01-5547715 can be contacted.
(Notification published date: 2079-06-07)
Government Scholarship
Scholarship in Nepal