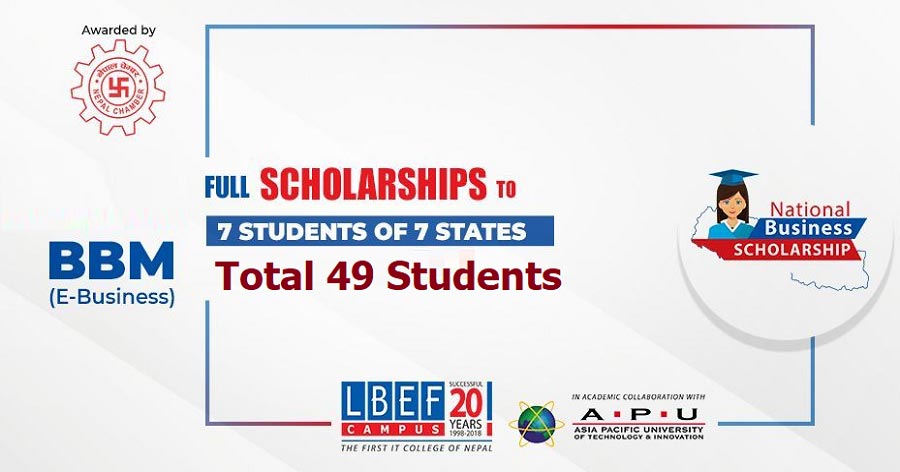 Nepal Chamber of Commerce Announces 2nd National Business Scholarship:
The Nepal Chamber of Commerce, in collaboration with the Lord Buddha Education Foundation (LBEF) Campus, will provide National Business scholarships to study BBM, e-business. The Nepal Chamber of Commerce will provide a Business scholarship of Rs. 117.95 million. Under the scholarship, 49 students have been provided full and partial scholarships.
The needy students of the disadvantaged class will benefit from this. Under the 2nd Nepal Chamber Business Scholarship, they will get the opportunity to study for a Bachelor in Business Management (BBM). Established in 1998, the Lord Buddha Education Foundation, affiliated with the International Educational Institution, has been teaching the latest subjects such as information technology, business management, and biotechnology in a cheap and easy way in Nepal.
The organization has adopted the concept of a new type of employment-oriented programs with special importance. Students studying BBM, e-Business will be able to build their careers in the fields of online business, marketing, human resources, product branding, etc. after the study. According to the college, students studying BBM e-business can apply directly to the University of Western Sydney in Australia from the second year if they want.
The Nepal Chamber of Commerce has invited one student from each province to apply for scholarships for Bachelor level students.
The purpose of the Scholarship Scheme is to provide employment-oriented education to the hardworking students who are deprived of higher education due to the poor economic condition of the country.
Students who have studied +2 pass or equivalent will be able to apply for this scholarship. Women students will be able to benefit from this scheme as the major scholarships under this scheme are reserved for female students.
If a student who wants to study this subject gets a scholarship, a scholarship of Rs. 665,000 will be provided.
Details of the scholarship are published on the Chamber's website at https://www.nepalchamber.org/ and at Lord Buddha's http://www.lbef.org/. Interested female students can fill their form through the district chamber of the chamber or directly online, the chamber said.
Interested female students can fill up their forms through the Chamber's District Chamber or directly online.