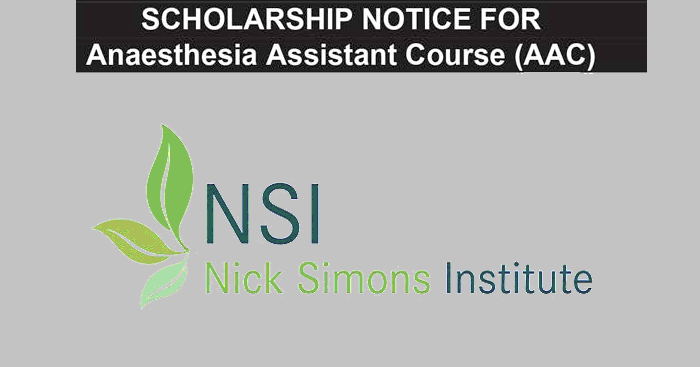 Nick Simons Institute Scholarship (NSI) for Anesthesia Assistant Course (AAC) 2023
The Nick Simons Institute (NSI) calls for applications among qualified Staff Nurses (SN) and Health Assistants (HA) for scholarships in the Anesthesia Assistant Course (AAC) under the National Academy of Health Sciences (NAMS).
Total Sponsored Seats — 8
Successful candidates will be provided with full tuition cost (includes stipend according to NAMS norms) for 1 year.
Upon graduation, AAs will be bonded for two years with an NSI-supported Government Hospital in rural Nepal.
To be eligible for this scholarship you must have:
Nepalese citizenship
Age not above 35
Valid registration with the Nepal Nursing Council/Nepal Health Professional Council
2 years working experience after registration in respective councils (District Hospital / Operating room preferred)
To be selected for this scholarship you must:
Be willing to serve in rural Nepal.
Pass the academic entrance exam set by NAMS.
Please apply with
1. Formal Application letter
2. Updated Bio-data
3. Experience Letter
4. Recent Passport size photo
5. HA/SN Course certificate copy
6. Professional council registration copy
Apply to:
Nick Simons Institute Sanepa, Lalitpur
E-mail: [email protected]
Closing Date: 32 Jestha 2080, Thursday (15 June 2023)
Scholarship in Nepal