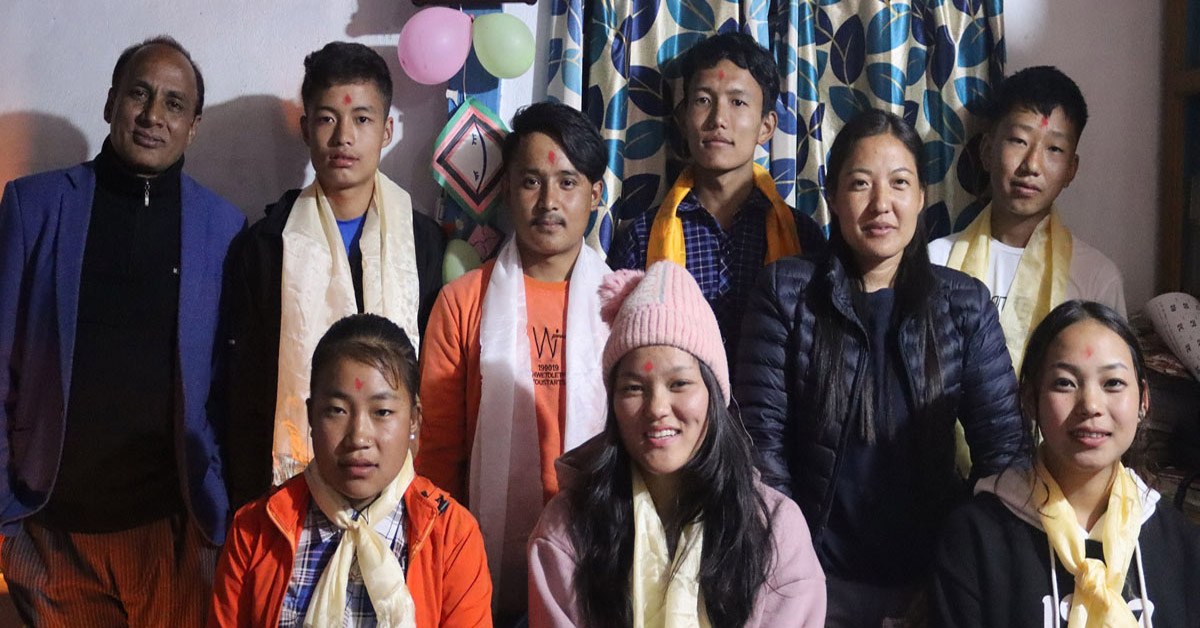 The George Wand Memorial Scholarship, which is being given to Jehendar students studying higher education from the remote and mountainous areas of Taplejung, has been distributed to 7 people this year.
Established in 2013, the scholarship has been awarded to 80 people so far, said Taplejung Manager of Rural Education and Environment Development Center (REED) Nepal, Rajendra Pant.
According to REED Nepal's education development officer, Roma Mawo Limbu, the scholarship distributed this year is worth 768,000 rupees. 3 out of 7 people will get regular scholarship for 3 years and 4 people will get scholarship for 2 years continuously.
According to Mavo, Sajna Limbu and Bikendra Limbu of Phaktanglung Rural Municipality Ward No. 5 Tapethok, who are studying civil engineering, will receive a scholarship worth 180,000 rupees each in 3 years at an annual rate of 60,000 rupees. Sajna is studying at Mohanmaya College Jhapa and Sinam Secondary School located in Ward No. 1 of Bikendra Sirijunga Rural Municipality.
Similarly, she received a scholarship of 96,000 rupees studying at Nar Bahadur Karmacharya Memorial Institute in Jhapa for an 18-month course of civil engineering. He will get this amount within 2 years. Similarly, Yangla Sherpa of Ward No. 6 Lelep of Paktalung Rural Municipality and Dipesh Limbu of Ward No. 5 Tapethok, who are studying in the Faculty of Science, will receive a scholarship of 84,000 rupees in 2 years at the rate of 42,000 rupees per annum for the 2-year course.
He is studying at Yangla Kumari Boarding School Kathmandu and Damak Multipurpose Campus. Similarly, Sanjiv Tamang of Phaktanglung Rural Municipality Ward No. 4 Ikhabu Khani and Ayush Rai of Sirijunga Rural Municipality Ward No. 8 Yamfudin will get a scholarship of Rs. Sanjiv Bhanu is studying in Jan Secondary School Phungling and Ayush Ilam.
REED Nepal's district program manager Pant informed that according to the provision that REED Nepal will continue to provide scholarships for the entire year of study, some will receive scholarship money for 2 years and some for 3 years. In view of the lack of technical manpower at the local level, REED Nepal has informed that the scholarships received by talented students within the field of study have been distributed to those studying technical subjects.
REED Nepal considers Ikhabu, Lelep, Tapethok, Olangchungola of Paktanglung Rural Municipality and Yamfudin, Khewang and Mamankhe of Sirijungha Rural Municipality as its working area. So far, Ridley has awarded such scholarships to 80 students. According to Pant, so far, 57 lakh 68 rupees have been distributed for the scholarship amount.
With the financial support of the Himalayan Trust UK, REED Nepal has been working for the educational promotion of the remote and Himalayan regions of Nepal. George Wand is his name, who was the first person to set foot on Kanchenjunga, the third highest peak in the world. Himalayan Trust UK is an international non-governmental organization founded and led by the same George Wand. George Wand has passed away. REED Nepal is run by the Himalayan Trust UK Financial Management.
About REED Nepal Scholarship:
REED Nepal launched its scholarship program in 2013 aiming to ensure quality education in a mountainous region with an award of financial and non-financial aid for the 570 students to continue and further their school education.
Scholarships are awarded based on various criteria which usually reflect the values and purposes of the donors. Its awards are distributed directly in the schools on the basis of primary data collected by the facilitators, key teachers, and head teachers to improve learning achievement, regularity, and a pass rate of students in align with completion and survival rate ensuring access to high-quality education after engaging in meaningful work to contribute as citizens in diverse societies in a long run. It is equally intervened to foster a culture of student involvement and participation in classroom and ECA activities of a school.
Taplejung