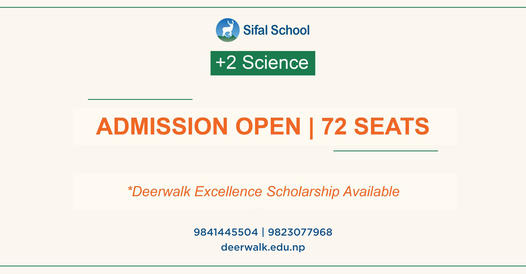 Sifal School (Deerwalk Sifal School, DSS) calls the SEE students to apply for the Deerwalk Excellence Scholarship (DES). With this scholarship, students can study +2 Science at DSS. The prospective students can earn DES by appearing in the Deerwalk Aptitude Test (DAT). DAT is the 1.5 hours-long test where the students are asked objective questions on English, Science, & Mathematics from the Grade 10 course books. To know more about the opportunity to earn the scholarship, kindly Apply Now.
Why +2 Science at DSS?
DSS is a 1 to 12 school where our graduates after (+2 Science) go to the range of Universities in Abroad and Nepal. Influenced by the historic experience of deerwalk in Software and IT, 60% of our graduates are pursuing Computer Science/ IT and Engineering courses and are equally doing excellent in the Medical Science.
Despite these, our graduates also choose to go into the Liberal Arts, Law, Management schools and many more. If you wish to grab the scholarship and study +2 Science in such an academic institution, kindly apply now to begin the process by filling the online form.
Deerwalk Excellence Scholarship,
DSS +2 Science Scholarship
Contact at 9823077968, 9851115622.
Scholarship in Nepal