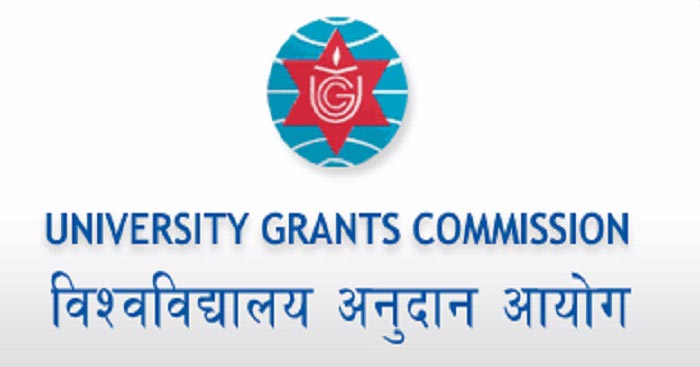 University Grants Commission (UGC), Sanothimi, Bhaktapur Urgent notice regarding scholarship for providing higher education to the children of the families of martyrs and conflict victims
All the people's movements for democracy in Nepal, the children of martyrs during the armed struggle and revolution, the dependent children of those who died during the armed conflict, and the children of the disabled and physically challenged due to the conflict As there is a scholarship program in the Fiscal Year 2078/79; Scholarship applications are invited from aspiring students studying in the first year/semester of graduation level who fulfill the minimum qualification basis as per the guideline 2076 regarding scholarship provided to the children of martyrs and conflict victims for higher education.
The interested applicant should fill out the application form in the format as per schedule 1 of the guideline placed on the website of the Commission and submit it along with the required documents to the studying campus/department by 2079-03-14.
If the Campus / Department deems it necessary to be clear about such applications after receiving the application as per Schedule 1, it should send the form as per Schedule 2 along with the required documents to the Commission by 5:30 pm on 2079-03-20.
List of documents that students need to attach:
(1) Certified copy of Nepali citizenship,
(2) Evidence attested by the Government of Nepal or a body designated by the Government of Nepal to be a martyr and a conflict victim during the period from 2052 BS Falgun 1 (2052-11-01) to 2063 Mangsir 5 (2063-08-05).
(3) Certificate of Martyrdom declared by the Government of Nepal for the family of the martyr.
(4) Evidence of relief/compensation received from the District Administration Office for Martyr / Death / Disappearance / Disability,
(5) Evidence of at least fifty percent disability or mutilation during the conflict in the case of the dependent family of the disabled or mutilated,
6) Proof of admission in the concerned higher education institution,
7) Evidence that a person who has not been reinstated in government service and is receiving a salary from the state treasury has no children,
8) Proof of relationship with the parent,
9) Marksheet / Dvanscript / Certificate passed 10 + 2 or equivalent,
10) Student's digital bank account details,
10) Recommendation letter of the studying educational institution.
12) Must have not reached 30 years of age till the last date to get the scholarship.
Key Dates:
Application Start Date: 2079-2-22
Last Date to Application Submission: 2079-3-14
For more information, please contact:
University Grants Commission
Sanothimi, Bhaktapur
Phone no. 01-6638548 / 01-6638549 / 01-6638550, Extension no. 105
Fax no. + 977-1-6638552
Website: www.ugcnepal.edu.np
Email: [email protected] or [email protected]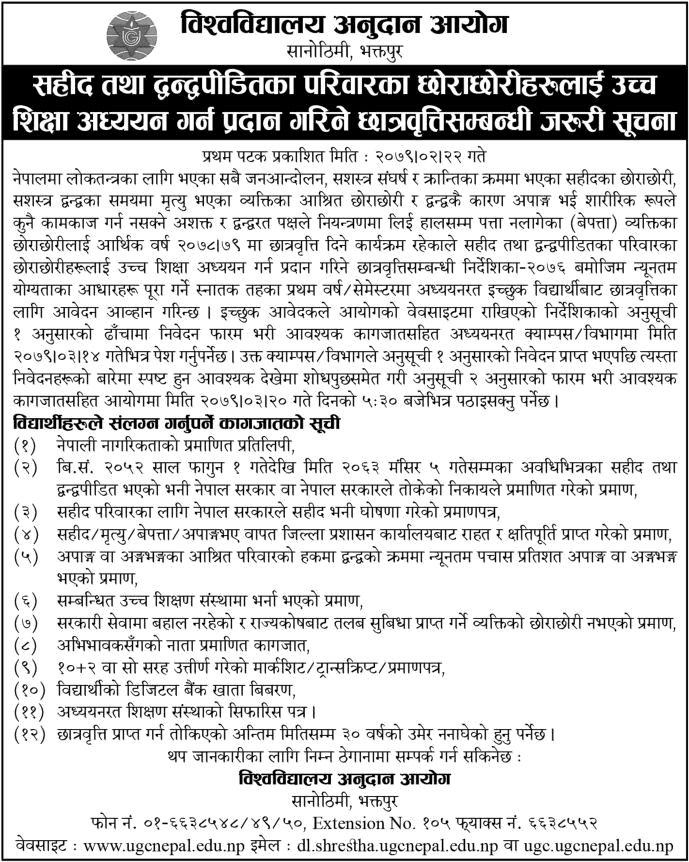 Government Scholarship
Scholarship in Nepal