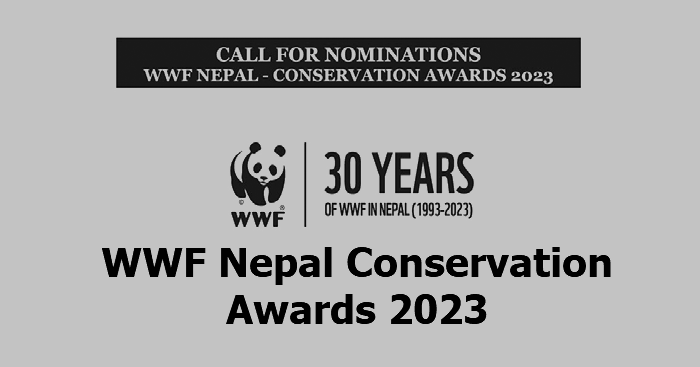 WWF Nepal Call For Nomination of Conservation Awards 2023: Recognizing Outstanding Contributions to Biodiversity Conservation
WWF Nepal has been leading international efforts for a living planet, and in recognition of the significant contributions made by individuals and organizations at the grassroots level, it instituted the WWF Nepal Conservation Awards in 1995. These awards aim to honor and celebrate the efforts of those who work tirelessly to protect Nepal's rich biodiversity.
Nominations are now open for the WWF Nepal Conservation Awards 2023, and Nepali individuals and/or organizations registered in Nepal and working in the field of conservation and natural resource management are encouraged to apply. The nominations should showcase outstanding accomplishments and innovations in the areas of biodiversity conservation, climate change and pollution, sustainable development, environment education and youth engagement, environmental crime control, and media and journalism.
The final recipients of the Conservation Awards will be selected by an independent panel of experts from diverse sectors, and they will receive citations and cash prizes - Rs. 50,000 for individuals and Rs. 100,000 for organizations.
To apply, download the nomination forms and detailed information from www.wwfnepal.org. The nominations titled "WWF Nepal - Conservation Awards 2023" can be submitted either in hard copy or electronic copy. The last date for submitting nominations is 21 April 2023.
If you are working towards protecting Nepal's biodiversity, this is an excellent opportunity to showcase your work and gain recognition for your efforts. Apply today and contribute towards creating a sustainable future for our planet.
Contact Details:
Email: [email protected]
WWF Nepal, PO Box: 7660
Baluwatar Kathmandu, Nepal,
Telephone: +977-1-4534820
Terai Arc Landscape — Program Office
Kohalpur Municipality, Ward to, Kalikanagar, Banke,
Telephone: 081-541752/081-541753
Scholarship in Nepal