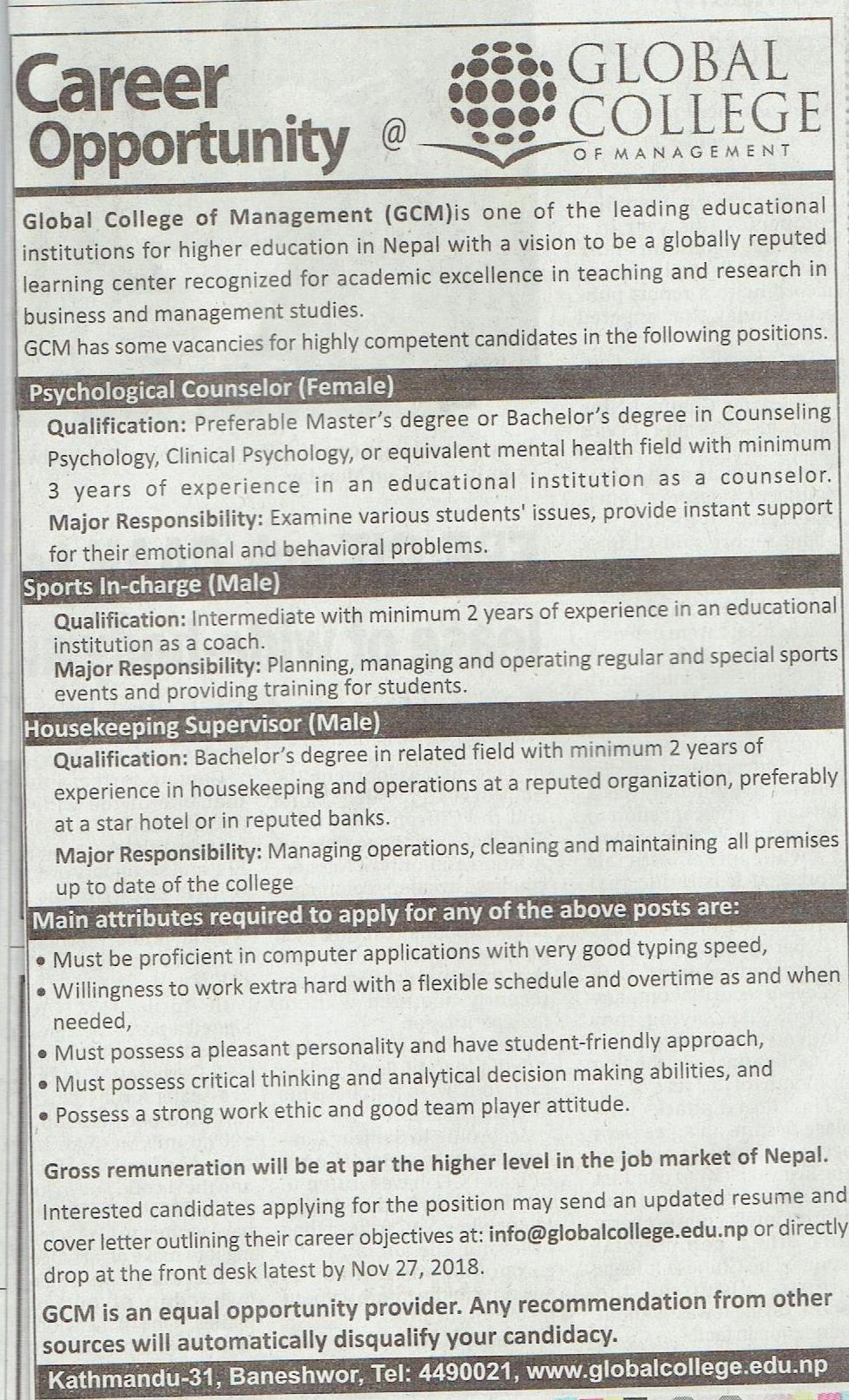 Global College of Management (GCM) is one of the leading educational institutions for higher education in Nepal with a vision to be a globally reputed learning center recognized for academic excellence in teaching and research in business and management studies.
GCM has some vacancies for highly competent candidates in the following positions.
Psychological Counselor (Female)
Qualification: Preferable Master's degree or Bachelor's degree in Counseling Psychology, Clinical Psychology, or equivalent mental health field with minimum 3 years of experience in an educational institution as a counselor.
Major Responsibility: Examine various students' issues, provide instant support for their emotional and behavioral problems.
Sports In-charge (Male)
Qualification: Intermediate with minimum 2 years of experience in an educational institution as a coach.
Major Responsibility: Planning, managing and operating regular and special sports events and providing training for students.
Housekeeping Supervisor (Male)
Qualification: Bachelor's degree in related field with minimum 2 years of experience in housekeeping and operations at a reputed organization, preferably at a star hotel or in reputed banks.
Major Responsibility: Managing operations, cleaning and maintaining all premises up to the date of the college
Main attributes required to apply for any of the above posts are:
Must be proficient in computer applications with very good typing speed,
Willingness to work extra hard with a flexible schedule and overtime as and when needed,
Must possess a pleasant personality and have a student-friendly approach,
Must possess critical thinking and analytical decision making abilities, and
Possess a strong work ethic and good team player attitude.
Gross remuneration will be at par the higher level in the job market of Nepal.
Interested candidates applying for the position may send an updated resume and cover letter outlining their career objectives at [email protected] or directly drop at the front desk latest by Nov 27, 2018.
GCM is an equal opportunity provider. Any recommendation from other sources will automatically disqualify your candidacy.
Kathmandu-31, Baneshwor, Tel: 4490021, www.globalcollege.edu.np