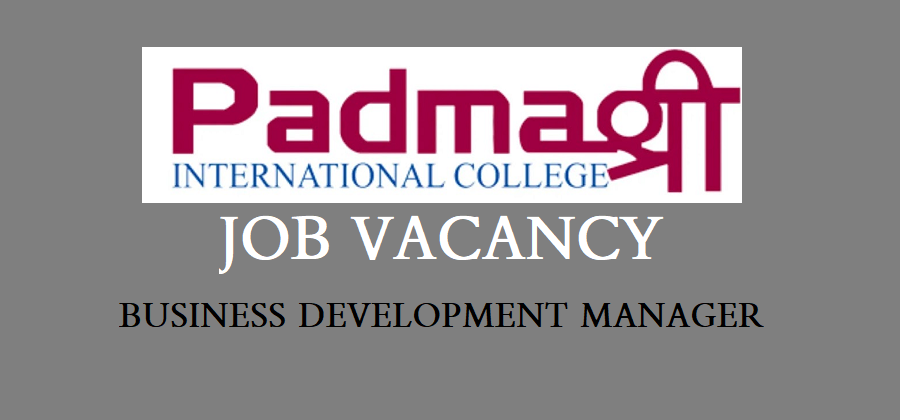 Padmashree International College, Tinkune, Kathmandu, Nepal invites applications for the below-mentioned vacancy position.
1. Designation: - Business Development Manager -1 (One)
General information
At our institution Business Development Manager (BDM) is responsible to identify new business opportunities (i.e enrollment of students in every new academic session) to meet yearly organizational objectives. Further, BMD is equally responsible for establishing smooth relationships with respective stakeholders (ie. academia & industry).
Effective and efficient communications skills (English, Nepali), realistic strategic planning and implementation, critical analysis, and pleasing personality are key to success in this designation.
Job Requirement
Must have a minimum of 2 years of experience in a relevant field.
Must pass minimum qualification of Master's degree or equivalent.
Must have excellent communication skills both written and verbal in English and Nepali.
Must possess a smart and positive attitude. Should be able to establish a good rapport with +2 colleges, Hotels (domestic and international), IT companies and food industries.
Must be excellent in digital marketing.
Job Responsibilities
Must be able to develop and implement business and marketing plans to meet organizational yearly objectives.
Must be able to brand college by identifying must suitable sales and marketing approaches and must be excellent in media communication like managing college social media, (Facebook, youtube, Instagram, etc) press releases, advertisements, marketing collaterals, and website.
Must be able to analyze the current and past budget to provide recommendations for business growth.
Must be able to develop and implement marketing strategies to attract BIT, BHM, BCA, and B. tech (food) students from suitable colleges wherever applicable.
Able to conduct orientation and seminar programs for the enrollment of new students wherever applicable.
Must able to establish a smooth relationship with Hotels/IT sector/ Food Industries for the opportunity for internships, implantation training and job placements to the graduates of our college.
Salary and Benefits
Salary and benefits are based on the company's rules and regulations. Rewards and incentives will be provided for meeting the yearly business target.
Interested candidates can drop their CV along with the latest academic qualification certificate, citizenship, and PP size photographs to [email protected] and mark CC to [email protected] before March 30, 2022.
College Job
Job Vacancy