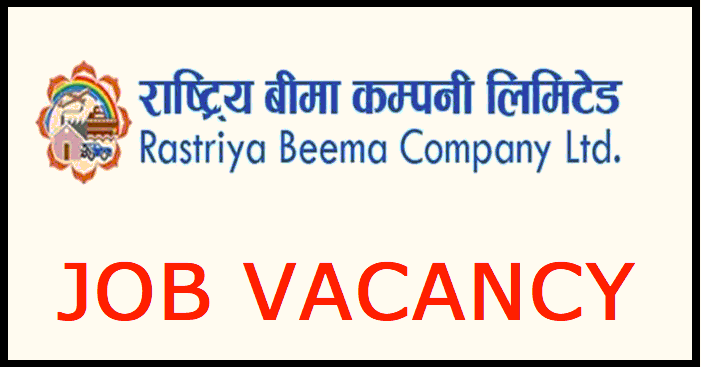 Rastriya Beema Company Limited Vacancy for CA and Semi-qualified CA: Rastriya Beema Company Limited, Ramshahpath, Kathmandu, Nepal is in need of the following employees for contract services; Nepalese citizens who have qualified according to TAPSIL must submit the application form, two copies of recent passport-sized photographs, certified by a notary public of their educational qualifications, work experience, and Nepali citizenship, within 21 days from the date of publication of this notice. This notification is published to apply to this company along with its gross voucher application form deposited at No action will be taken on late or late applications.
More information regarding this can be obtained from the central administration department of the company located at Ramshahpath, Kathmandu during office hours.
Minimum educational qualification, experience required and age:
1) Chartered Accountant – CA (7th Level Administration)
Graduated from a recognized teaching institution, gaining CA / CPA / ACCA or a title from recognized bodies.
Age: 21 years completed and not exceeding 35 years for men and not exceeding 40 years for women
2) Semi-Qualified – CA (5th Level Assistant Administration)
Graduation from a recognized educational institution, CAIntermediate/CAPII or equivalent from a recognized institution.
Age: 21 years not exceeding 35 years for men and not exceeding 40 years for women
Additional Terms
Type of Service: Contract.
Contract period: currently 6 months (can be renewed).
Exam Fee: Rs.800 for Level 7 Chartered Accountant-CA Posts
For Level 5 Sem Qualified – CA Posts Rs. 500
Services and facilities: According to the contract.
Type of Exam: Presentation and Interview for Level 7 Chartered Accountant-CA Posts and Interview for Level 5 Semi Qualified – CA Posts
Last date for submission of application: 23-06-2079 and if there is a public holiday on the last date of submission of application, the next day.
Application Fee: Rs. 100 (one hundred). Even in the case of downloading from this company's website www.rbcsl.com.np, the fee will have to be collected accordingly.
(Published date: 2079-06-03)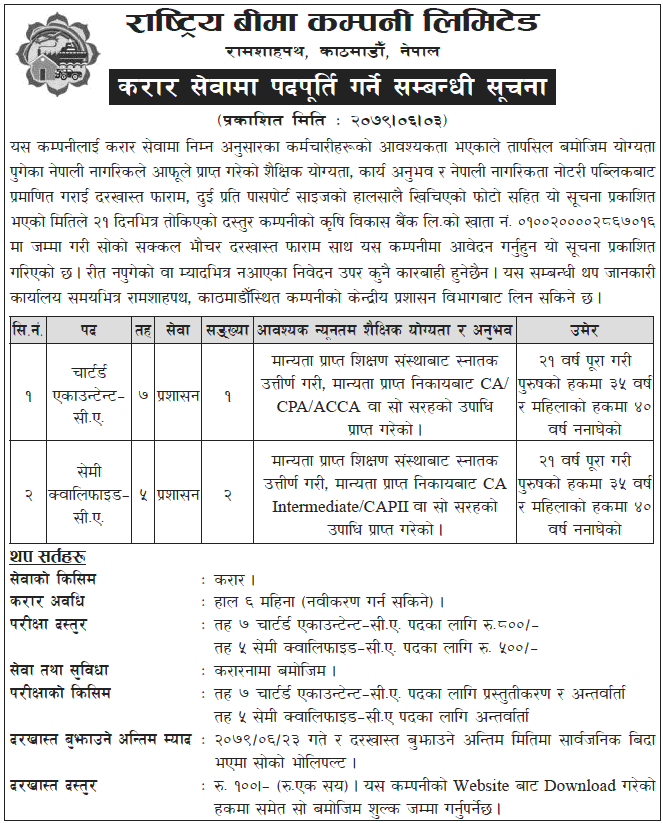 Insurance Job Vacancy
Job Vacancy