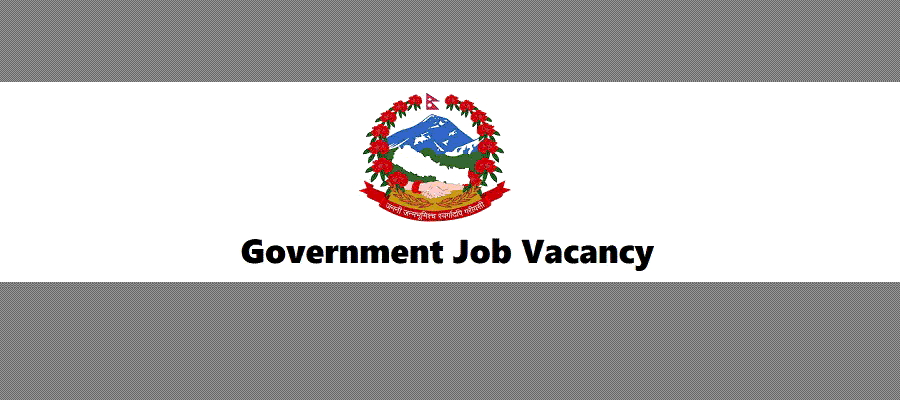 Government of Nepal, National Planning Commission, Central Bureau of Statistics, Statistics Office, Kipalvastu invites job application for the position of Enumerator (Ganak) on contract service.
According to the letter received from the Central Bureau of Statistics (Trade Statistics Branch) to the Statistics Office, Kipalbastu, for the fieldwork of the Distributive Trade Survey 2078 to be conducted in the fiscal year 2078/079, to collect data in Kapilvastu, Rupandehi, and Arghakhounchi districts.
Submit the required documents and handwritten application to the Statistics Office, Kipalbastu Administration Branch within 15 days from the date of publication of this notice by the eligible Nepali citizens. This notice has been published for the information of all concerned. No action will be taken on the applications which are overdue or under due process.
Vacancy Details:
Position
Enumerator (Ganak)
Level
Non-Gazetted Second Class (Kharidar)
Required No.
For Kapilvastu District-1 (One)
For Rupandehi District-4 (Four)
For Arghakhanchi District-1 (One)
Qualification
Passed at least 10 2 or equivalent examinations in Statistics or Mathematics or Commerce or Population subject from a recognized educational institution.
Type of Selection
Interview
Contract Duration
4 Months (From 2078 Falgun 1 to end of Jestha 2079)
Documents required to submit the application:
1) Certified copy of required minimum educational qualification certificate and character certificate
2) Certified copy of Nepali citizenship
Other information:
1) Interview: The contact date will be fixed.
2) Contact date: The day after the last day of application.
3) Contact place: Statistics Office, Kapilvastu, Taulihawa
4) Job Description: Fieldwork of descriptive business survey 2078 should be done in Rupandehi, Kapilvastu, and Arghakhanchi districts.
5) Age limit: 18 years on the last day of application and not exceeding 35 years in the case of men and not exceeding 40 years in the case of women.
6) Remuneration / Salary: Non-Gazetted Second Class (Kharidar) post according to starting salary scale (tax will be deducted as per rules).
7) Special priority will be given to those who have worked in calculations or surveys related to economic statistics.
8) After studying the applications received, based on the experience and educational qualifications of the candidate, the office may call for an interview by making a certificate.
Phone: 076-560061
Email: staoffkapilvastu2017@gmail.
Published Date: 2078-10-12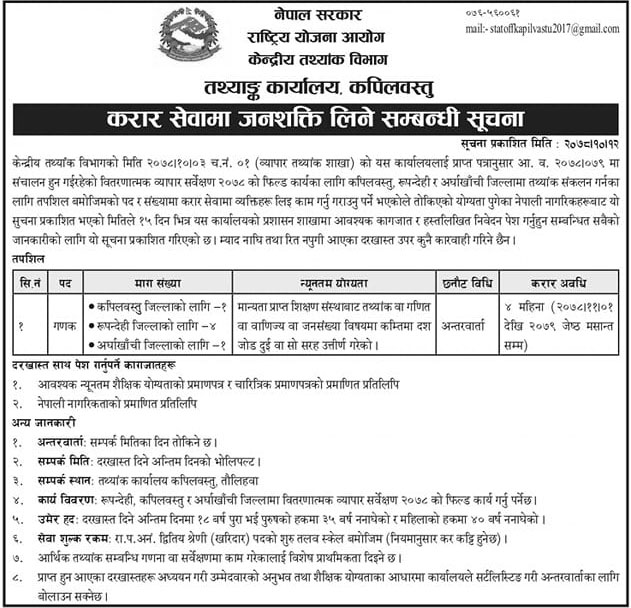 Kapilvastu
Rupandehi
Arghakhanchi
Lumbini Pradesh
Job Vacancy
Government Job