Overview
College of Nursing - Nepalese Army Institute of Health Sciences (NAIHS-CON) was established in September 2010 and has succeeded in developing a unique environment and infrastructure to deliver an education of truly global standards.
The College of Nursing is currently running Proficiency certificate level (PCL Nursing) under the affiliation of the Council of Technical Education and Vocational Training (CTEVT), Bachelor of Science in Nursing (B.Sc. Nursing), Bachelor in Nursing Science (BNS) with the affiliation of Tribhuwan University Institute of Medicine (TU-IOM) with an annual intake of 40 students in each program per year.
The Master of Nursing in Women and Health Development with an annual intake of 5 students in the year 2075 and the College of Nursing has also started Master of Nursing in Women and Health Development - 6, Adult Nursing- 2, and Child Health Nursing-2 with an intake of 10 students from the academic year 2076/2077. The total intake of students in all the programs has reached 1021 over the past ten years of which 635 students had already passed out and 386 (MN-15, B.Sc. Nursing-147, BNS-102 & PCL Nursing-122) students are currently pursuing their studies.
MESSAGE FROM THE PRINCIPAL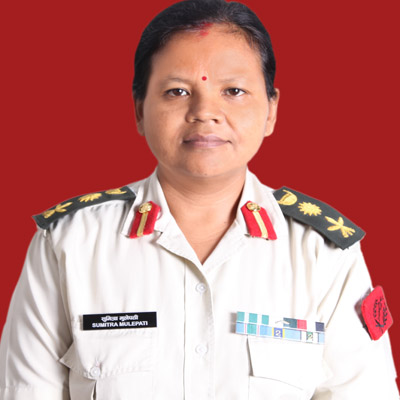 Dear NAIHS Students and Families,
It is with great excitement that I write this letter of introduction to you as the new Principal of NAIHS College of Nursing. I am honored to have the opportunity to lead an institution with such persevering students, an extremely dedicated staff, and a supportive college community. I feel very fortunate to be part of this college and to support the students and families. This institution was established in the year 2011 and it has succeeded in developing a unique environment and infrastructure to deliver standard education.
Nursing, as an integral part of the health care system, encompasses the promotion of health, prevention of illness, and care of physically ill, mentally ill, and disabled people of all ages, in all health care and other community settings. This college is fully aware of the importance of providing supportive, stimulating, and motivating learning. This also involves using innovative teaching and learning strategies and technologies. NAIHS College of Nursing is committed to ensure the improvement of both the standards and intelligence of overall development of the students. Here, we will ensure that we will deliver a truly global standard education.
As the principal of the College of Nursing, I would like to express my earnest appreciation to the faculty and management team for devoting their precious time and expertise toward this institution. I look forward to working with each of you to provide the best possible education for the students. As partners in education, together, we will make our world a better place for all people.
Tech. Col Sumitra Mulepati
Principal CON-NAIHS
Contact Details:
Nepalese Army Institute of Health Sciences- College of Nursing
Bhandarkhal, Sano Bharyang, Nagarjun-2, Kathmandu, Nepal
Phone: 01-4880067, 01-4880352
Fax: +977-1-4881263
Email: [email protected]