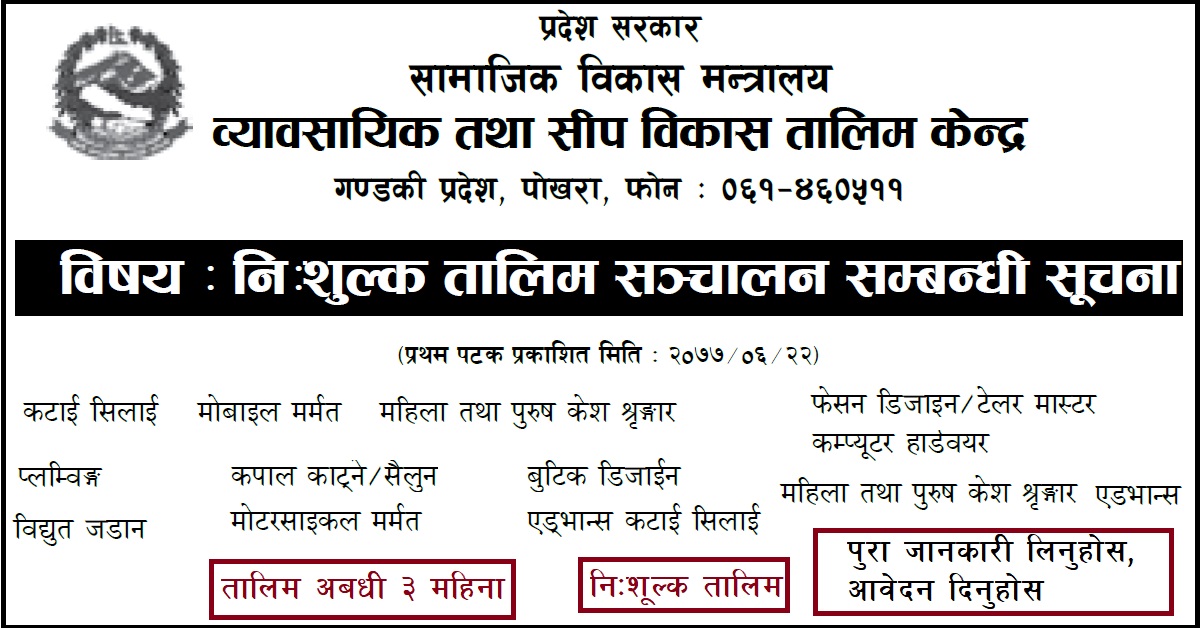 3 Months Free Vocational and Skill Development Training Programs at Gandaki Pradesh:
Province Government, Ministry of Social Development, Vocational and Skill Development Training Center, Gandaki Pradesh, Pokhara, notice regarding conducting free training program:
Vocational and Skill Development Training Center, Gandaki Pradesh will conduct the following skill development training free of cost in the first and second four months of the current Fiscal Year 077/078. This notice has been published for the information of all concerned to submit the application within 15 days from the date of publication of the notice for the first time.
Training Course:
Silai Katai (Tailoring)
Mobile Repairing (Mobile Marmat)
Male and Female Hair Dressing
Plumbing
Electricity Repairing (Bidyut Jadan)
Saloon
Motorcycle Repairing
Advance Tailoring
Computer Hardware
Advance Male and Female Hair Depressing
Required No. 20 for each group
Training Duration: 3 Month (390 Hours)
Age Limit: 18-40
Educational Qualification: Class 8 Passed and relevant skills.
Documents to be attached:
1) To fill the trainee application form, one copy of Nepali citizenship, one copy of a photo, and a copy of the certificate of educational qualification should be attached and the application form should be submitted to this center by 2077-07-06.
2) Special priority will be given to Dalit, disabled, martyr's family, Kovid affected, returnees from foreign employment, destitute, victims, conflict, and single women.
3) Trainee selection will be done through interviews.
Note: Training can also be given at the local level on the basis of justification and budget as per the demand of the local level. If you need to understand other things, you can contact on Phone No. 061 460511.
Contact Details:
Vocational and Skill Development Training Center (Byabasayik Tatha Sip Bikas Talim Kendra),
Gandaki Pradesh, Pokhara,
Phone: 061-460511