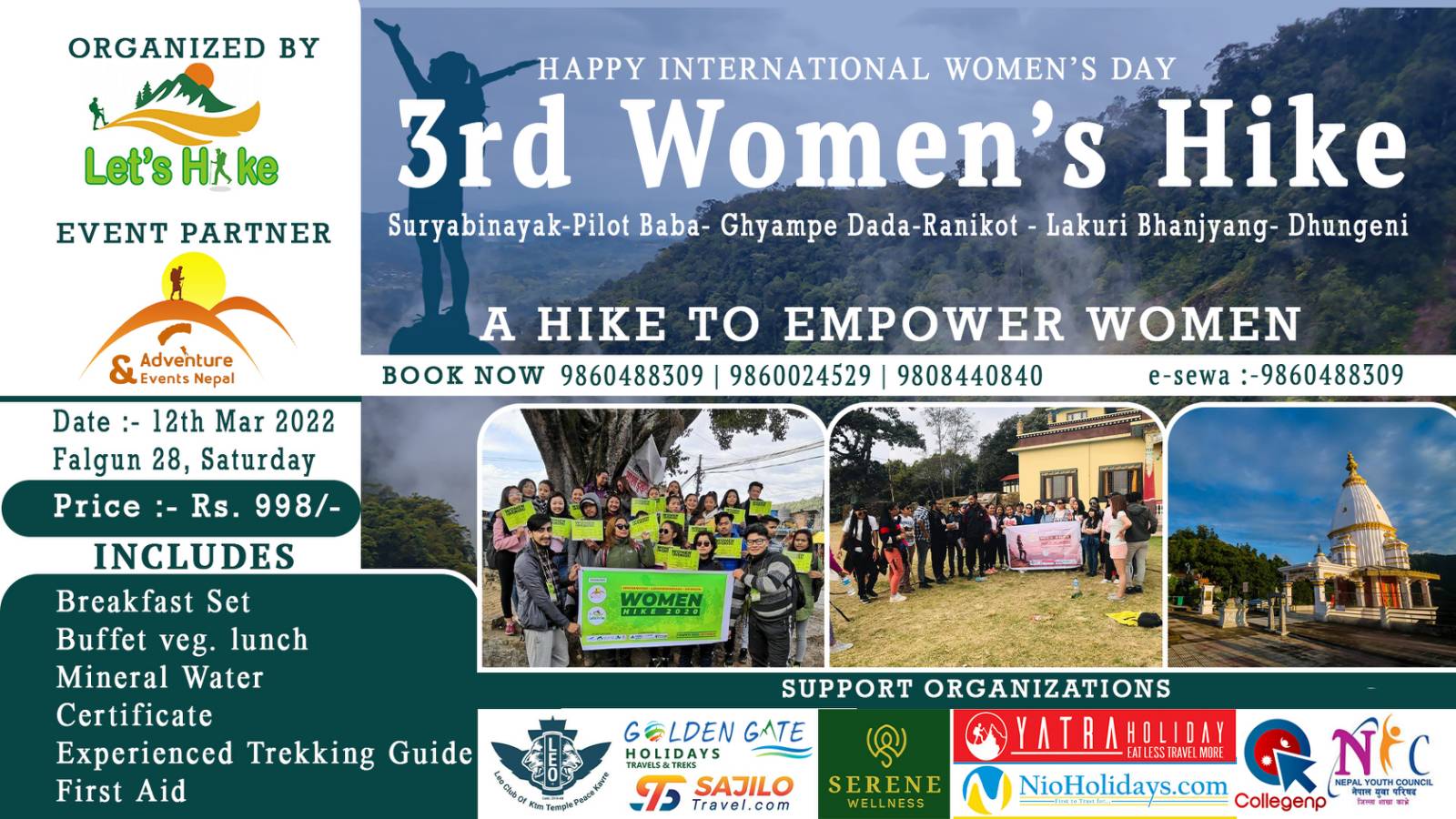 Let's Hike is organizing the third Women's Hike 2021 program on the occasion of International Women's Day. The hike will be started from Suryabinayak-Pilot Baba-Ghampe Danda-Ranikot-Lakuri Bhanjyang-Dhungeni. The slogan of the program is "Hike to Empower Women". The main objective of the program is to empower women in all aspects of their life.
Event Details:
Organizer: Let's Hike
Destination: Suryabinayak-Pilot Baba-Ghampe Danda-Ranikot-Lakuri Bhanjyang-Dhungeni
Event Date: 12th March 2022, Saturday [28th Falgun 2078, Saturday]
Fees for Participation: Rs. 998
Fees include Breakfast, Buffet Veg. Lunch, Mineral Water, Certificate, Experienced Trekking Guide, and First Aid
Contact Details: 9860488309, 9860024529, 980844840 [eSewa ID: 9860488309)
Why Hiking?
Hiking is a journey from one place to another. Hiking is also considered an adventure trip. Hiking is very important from a health point of view. When walking, the body is healthy and blood circulation in all the organs of the body is done properly. Weight and blood pressure come under control.
Hiking to keep the body healthy is also providing entertainment to the person. Whether it is with close friends or family members, the wave of hiking once a month is increasing among the people of the valley.
Nowadays, friends and family members are found hiking together in different areas of hiking. Hiking has become a way of life. Some even consider hiking as a hobby.
Environmentalists say that hiking brings closer ties between humans and the environment. When a person takes some time out from a busy and hectic life and goes hiking, feels great peace and relief in life. Hiking can also be a great way for leisure people to spend time. Hiking is considered to be less expensive than other travel programs. Doctors say that a person can be extremely beneficial for himself /herself by hiking at least once a month.