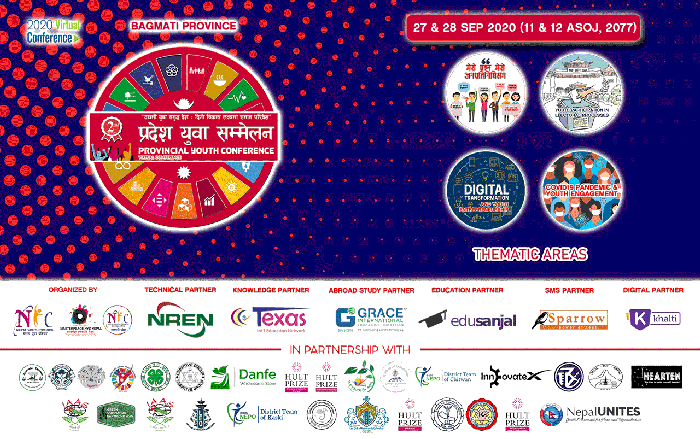 Bagmati Pradesh Provincial Youth Conference - September 27 & 28:
Preparations for the Second Provincial Youth Conference 2020 have reached the final stage after concluding the National Youth Conference 2020 with grandeur.
The National Youth Council, which has already held provincial level conferences in all the six provinces under the slogan 'Entrepreneurial Youth, Prosperous Country, Similar Environment for Sustainable Development', is planning to organize a provincial level youth conference in Bagmati on the occasion of World Tourism Day on September 27.
In light of the Corona epidemic, the council has been organizing a virtual conference online. According to Sudarshan Bidari, coordinator of the two-day Bagmati Pradesh Youth Conference, only about 200 youths from 13 districts of Bagmati Pradesh have been selected to participate in the two-day Bagmati Pradesh Youth Conference.
The conference has four thematic areas in which various speakers will share their experiences on "Covid-19 and the role of youth"; The people's representatives from the local level, Province Assembly, and House of Representatives of Bagmati province will interact with the participating youths on the topic "My question to my people's representative".
Similarly, Deputy Secretary of the Election Commission Komal Prasad Dhamala will give a presentation on "Role of Youth in Elections" and interact with the participating youth. Various speakers who have acquired thematic expertise on "Digital Transformation and Youth Entrepreneurship" will give their presentations as well as training on personality development, leadership development, and youth motivation will be imparted by various eminent personalities.
Apologizing for not being able to accommodate all the applicants interested in participating in the conference, the conference can be viewed live on the official Facebook page of Nepal Youth Council-Bagmati Pradesh https://www.facebook.com/NYCBagmatiProvince, said Council Chairman Saroj Baniya.