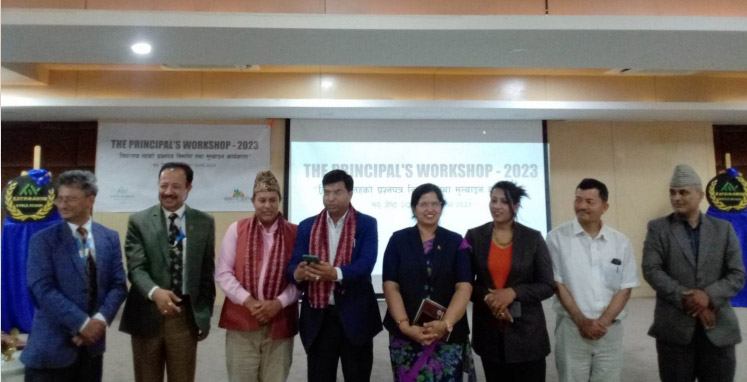 Educationists' Recommendations for Crafting High-Quality Question Papers
In a recent workshop held in Bhaktapur, educationists emphasized the significance of producing high-quality question papers for school-level examinations. The workshop, organized jointly by Bhaktapur's Suryavinayak Municipality, Kathmandu World School, Gundu Bhaktapur, and Khabar Education Media, highlighted the need for training in order to ensure the production of top-notch question papers.
Dr. Mahashram Sharma, the Chairman of the National Examination Board, presented a comprehensive work paper during the workshop, emphasizing various aspects of school management. He stressed that accurate assessment of students can only be achieved through the preparation of quality question papers. Dr. Sharma expressed the view that if the question paper itself lacks quality, the evaluation process cannot yield accurate results.
During his presentation on graded examination and question creation, esteemed educationist Prof. Dr. Ramesh Prasad Awasthi emphasized the importance of designing questions that provide students with comprehensive information. He pointed out that adequate time and effort should be dedicated to the preparation of question papers, rather than rushing the process. Prof. Awasthi also highlighted the issue of some individuals merely copying questions from books to create question papers, which compromises their quality.
Keshar Bahadur Khulal, the principal of Kathmandu World School, delivered a paper on effective teaching and learning methods, emphasizing the need for teachers to employ clever techniques in the classroom.
Sarita Bhatrai, the Deputy Chief of Suryavinayak Municipality, informed the participants during the seminar's inauguration about the municipality's various initiatives and its special emphasis on the education sector. She mentioned that a rule had been implemented for the first time, requiring the president of government schools to be a public representative.
Prominent figures present at the event, including Rabindra Sapkota, the Ward President of Suryavinayak Municipality Ward No. 7, where Kathmandu World School is located, Dr. Mithilesh Kumar Jha, President of Kathmandu World School, Engineer Dr. Mithilesh Kumar Jha, and Sridhar KC, Head of the Education Branch of Suryavinayak Municipality, unanimously expressed the view that the development of education should be a top priority. The program was attended by over 100 principal teachers from community and private schools within the Suryavinayak municipality area, highlighting the widespread interest and commitment towards improving the educational landscape.
Bhaktapur