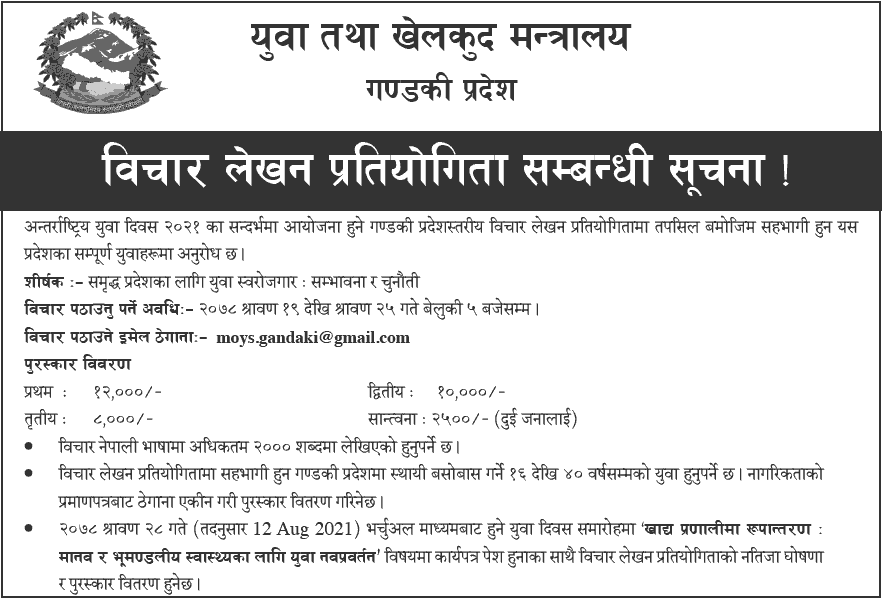 Ministry of Youth and Sports, Gandaki Pradesh notice for Essay Writing Competition. All the youths of Gandaki are requested to participate in the Gandaki state-level Essay Writing Competition to be organized in the context of International Youth Day 2021.
Title: Youth Self-Employment for Prosperous Provinces: Possibilities and Challenges
Period for sending Essay: 19th Shravan 2078 to 5 pm Shravan 25.
Email address for sending ideas: [email protected]
Award details:
First: 12,000
Second: 10,000
Third: 8,00
Fourth: 2500 (for two)
The essay should be written in Nepali language in maximum 2000 words.
To participate in the idea writing competition, a person between the ages of 16 and 40 who is a permanent resident of Gandaki Pradesh has to be present. Prizes will be distributed after confirming the address from the citizenship certificate.
A working paper on 'Transforming the Food System: Youth Innovation for Human and Global Health' will be presented at the Virtual Youth Day celebrations on Shrawan 28, 2078 BS and the results of the opinion writing competition will be announced and prizes will be distributed.
Gandaki Pradesh
Pokhara