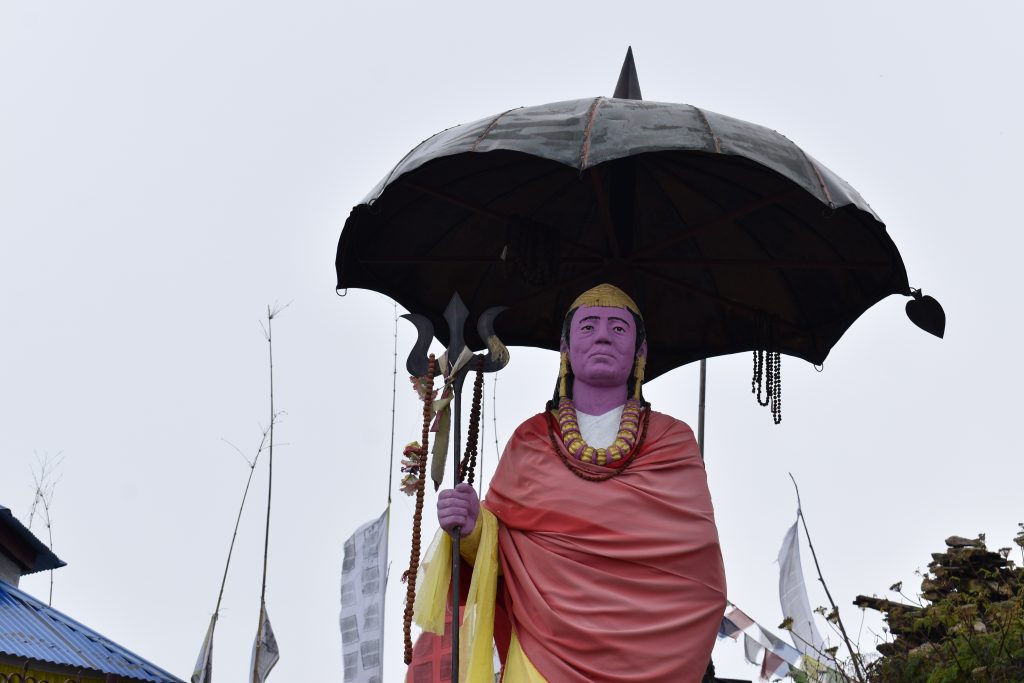 "Mang Ningware Mang Abong, Hang Ningware Hang Abong, Yok Ningware Ameklo" (If we think of God, we become God. Good thinking makes us a good person. Bad thinking destroys us) Philosopher Kirant Dharmadarshan Guru, Great Social Reformer and National Vibhuti of Nepal Phalgunanda After completing 137 years of Lyngden's birth, Kartik is entering 138 years from 25th.
Falgunanda Lingden was born in the Kirant community to revive the Kirant philosophy, language, script, rituals and culture, which were in an endangered state at that time, and to guide the Kirant community which was indulging in bad culture. Mahaguru Falgunanda's philosophy of truth, peace and non-violence, who preached sattahar, satvihar and satkarma, has recently started to be followed in the world. He is worshiped by all as the founder of truth, peace and non-violence. Kirant devotees worship him as Muhingum Angsimang.
For social reform, on 24th Baisakh, 1988, Mahaguru called a gathering of prominent Limbuwan residents like Subba, Suwangi, Karwari and intellectuals to build the Satya Dharma Muchulka.
Mahaguru, who spent his whole life in the social reform campaign, was accused by the state of trying to be a traitor, traitor and the king of former Limbuwan all his life and only arrested him and caused a lot of pain and suffering.
Falgunanda's Childhood:
He was born on Sunday 25th Kartik 1942 in Chukchinamba village, Mangsebung rural municipality-2, Ilam district. Mahaguru Phalgunanda was born in an ordinary farmer's family and his father married a second time after his mother died in his childhood. Then he grew up under the care of his mother. His childhood was spent grazing cows and goats in forests, rivers and mountains. In his childhood, he was a quiet, solitary lover, less talkative.
He lived with his uncle and aunt for some years. Later, Lechebung started living separately by making a small cut in the garden. Due to poor economic conditions, he started earning his living by eating Bhyakur and Tarul.
When he was eight years old, when he was sleeping, a divine man beckoned him, so Mahaguru got up and got up after the divine man, took him to bathe in a river, took him to a Khatrakpa's shell, stood him at the foot of a Lampate tree, planted his feet on the ground next to him, and pretended to plant a bean seed. It has been mentioned in Mahaguru's biography that when the Divine Purusha pointed to the mother's mouth and asked for forgiveness from his mother, Mahaguru's body became light and the wave wrapped around him disappeared.
Mahaguru Phalgunanda lived as a celibate all his life. Mahaguru Phalgunanda used to walk around dressed in women's clothes and jewelry. Phalgunanda, who spoke less, had a soft voice, ate vegetarian food, always walked, shared knowledge, and lived a simple life all his life. Khaura slippers, Mahaguru's hair, tweezers, Trishuls and Khurmis used by him are still preserved in the Manghims of Mahaguru's time.
The surname of Mahaguru:
Mahaguru Falgunanda's Nwaran name was Nardhoj. However, since babies die at birth, Mahaguru was given an iron bangle because it is believed that if one wears an iron bangle to protect his life, he will live longer. Because of this, his calling name became Falamasingh.
Mahaguru's Contribution:
Mahaguru Phalgunanda guided the Kirants to the Satmarg as a Kirant Dharma philosophy and codified social harmony and built a cultured society for the sake of the Kirant community. He revived the endangered Kirant script by spreading it.
In this way, he showed the path of truth, peace, and non-violence, proclaiming the doubt of world peace and human unity. He emphasized on the need to end caste, class, and gender discrimination in society. Mahaguru had always guided him to adopt a simple lifestyle and always be productive, and skill-oriented, for change and development, for identity and civilization, by giving priority to mother tongue education.
Mahaguru Falgunanda, who was born as the light of the Kirant civilization, dedicated his life to making the Kirant society civilized and well-cultured when its religion, language, script, literature, and culture of the Kirantis were about to disappear.
Falgunanda, who was revered by all as the founder of truth, peace, and non-violence, spent his whole life building a civilized society by reaching various places in the country and abroad.
Installation of Falgunanda statue:
Statues of Falgunanda have been built in different areas. Although it has been installed individually in different places, institutionally, the statue of Mahaguru Phalgunanda was first installed on the same day in Damak in Jhapa and in Bhanjyang in Mangsebung in Elam on 25 Kartik 2061. After that, Mahaguru's statue was built in Chokmagu Labrekuti, located in Phidim Municipality of Panchthar, his own Karmabhoomi. Likewise, Mahaguru's statue has been constructed in Atharai Sankranti Bazar of Tehrathum, Beldangi in Damak Municipality of Jhapa, and Shantinagar in Buddha Shanti Rural Municipality.
His statue has also been installed in Ravibazar and Tumbeva in Miklajung Rural Municipality of Panchthar, Feden in Panther, Arjundhara in Jhapa, Pathibhara area (Mukkumlung), a religious pilgrimage site in Taplejung and Tandi in Miklajung Rural Municipality in Morang. Similarly, in Kerabari and Letang of Morang, as well as in Bharaul of Sunsari, the statue of Mahaguru Falgunanda has been installed in Tagera Ningwabhu Kopiyak Manghim of Taplejung's Paktanglung Rural Municipality-6 Sangu and in Khezenim of Paktanglung Rural Municipality.
On the occasion of Phalgunanda's 138th birth anniversary, Mahaguru Phalgunanda's Shalik Muhingum Angseemang Lingden Atmanand Seing and Muhingum Angseemamang Samba are being unveiled at Pavitrihang, which was established at Fungling Bazar, the headquarters of Taplejung.
Honors from the State:
Mahaguru Falgunanda Lingden has been honored by the state as a national hero.
The state has released postage stamps of Rs 15 in the name of Mahaguru Falgunanda. In the name of Mahaguru Falgunanda, a brief biography has also been published in the Nepali curriculum, and on 16th November 2066, the Government of Nepal has declared him a national monument. Kirant religious organizations had declared Mahaguru's birth anniversary on 24th Baisakh 2071 as Kirant festival.
In honor of Mahaguru, Kartik 25th birth anniversary, Chaitra 22nd Memorial Day and Baishakh 24th Social Reform Day are also celebrated every year. From Damak in Jhapa through Mangsebung in Ilam to Chishopani Panchami in Panchthar, the road section connecting Ravi has been declared as Phalgunand Marg.
Muhingum Angseemang Lingden Falgunanda passed away on Monday afternoon, 2005 Chaitra 22, at the age of 63 years at the age of 63 in Hangyak under the Silouti of Panchthar.