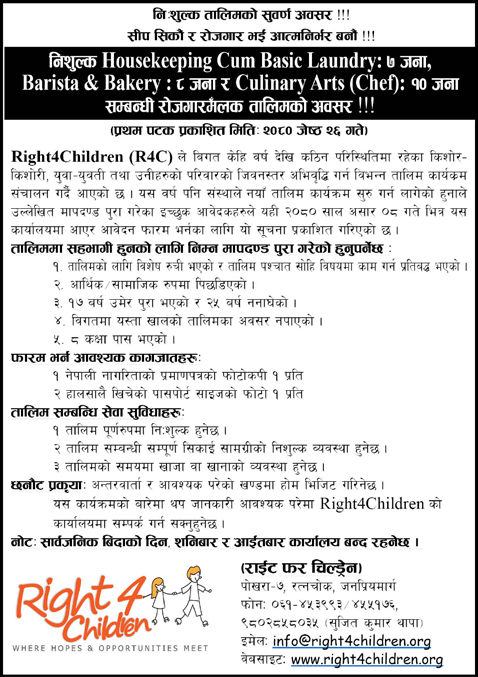 Golden Opportunity for Free Training: Learn Skills and Become Self-Employed Under Right4Children's Training Program
Right4Children (R4C), a renowned institution dedicated to improving the living standards of teenagers, young women, and their families, is pleased to announce a new training program for this year. The program aims to provide free training in various skill sets, offering participants the opportunity to become self-employed. If you meet the specified criteria, we encourage you to apply before June 8, 2080. This notification serves as an invitation to visit our office and complete the application process.
Training Opportunities Available
Right4Children offers free training in the following areas:
Housekeeping cum Basic Laundry: 7 positions available
Barista & Bakery: 8 positions available
Culinary Arts (Chef): 10 positions available
Eligibility Criteria
To participate in the training program, interested applicants must fulfill the following criteria:
Special Interest and Commitment: Applicants should have a genuine interest in the chosen training field and a strong commitment to pursuing a career in that field after completing the training.
Economic and Social Backwardness: Preference will be given to individuals from economically or socially disadvantaged backgrounds.
Age Requirement: Applicants must be between 17 and 25 years old.
Lack of Past Training Opportunities: Priority will be given to those who have not previously had access to similar training programs.
Educational Qualification: Applicants should have passed at least the 8th grade.
Required Documents
To complete the application form, applicants are required to provide the following documents:
Photocopy of Nepali Citizenship Certificate: 1 copy
Recent Passport Size Photographs: 1 copy
Training-Related Service Facilities
Right4Children is committed to providing a comprehensive learning experience to all participants. The following facilities will be provided:
Free Training: The entire training program will be provided free of cost.
Learning Materials: All necessary learning materials related to the training will be provided without any charge.
Meals: Lunch or food arrangements will be made for all participants during the training period.
Selection Process
The selection process will involve an interview, and in some cases, a home visit may be required. This is to ensure that the selected candidates meet the eligibility criteria and are genuinely interested in the training program.
Contact Information
For further information regarding the training program, please contact the office of Right4Children:
Organization: Right4Children Address: Pokhara-7, Ratnchok, Janpriyamarg Phone: 061-453993 / 455176 Mobile: 9802858035 (Sujit Kumar Thapa) Email: [email protected] Website: www.right4children.org
Please note that the office remains closed on public holidays, Saturdays, and Sundays.
Free Training
Pokhara
Training