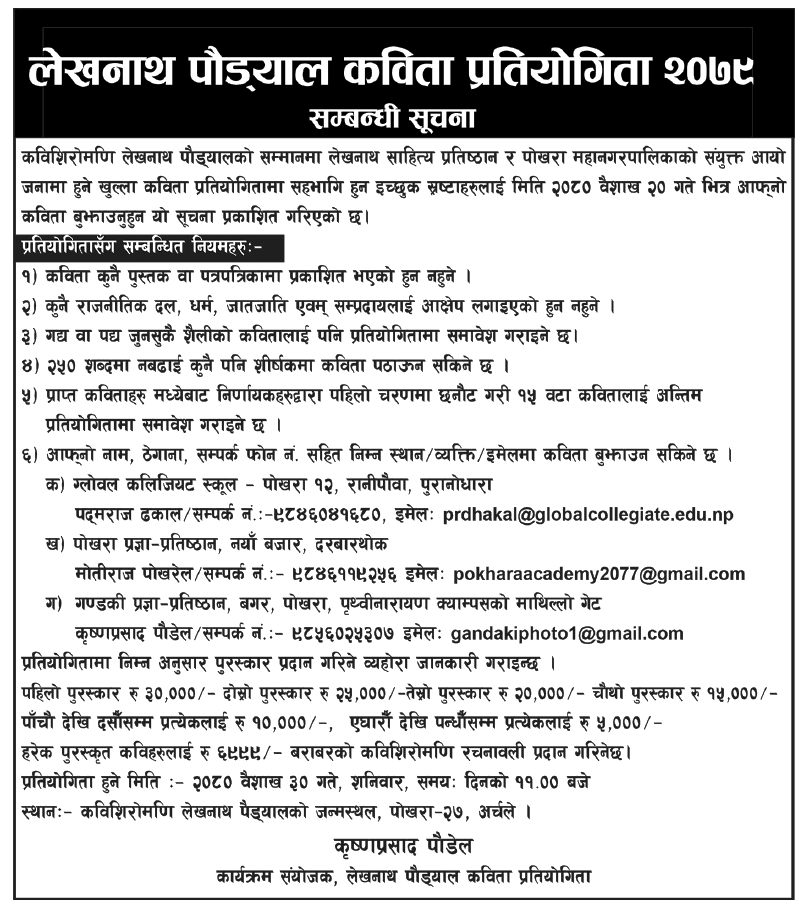 Lekhnath Paudyal Poetry Competition 2079: Rules, Guidelines, and Prizes
The Lekhnath Literary Foundation and Pokhara Metropolitan City are jointly organizing an open poetry competition in honor of Kavishiromani Lekhnath Paudyal. Here are some rules related to the competition that all interested authors should know:
The poem should not have been published in any book or newspaper.
Any political party, religion, caste, and sect should not be objected to.
Poetry of any style, prose or verse, will be included in the competition.
Poems can be sent on any title not exceeding 250 words.
To participate, authors can submit their poems along with their name, address, and contact information to the following places/persons/email:
Global Collegiate School Pokhara 12, Ranipauwa, Puronadhara - Padmraj Dhakal / Contact No.:- 9846041680, Email: [email protected]
Pokhara Pragya-Pratishthan, New Bazaar, Darbarthok Motiraj Pokharel/ Contact No.: 9846114256 Email: [email protected]
Gandaki Pragya-Pratishthan, Bagar, Pokhara, Prithvinarayan Campus Upper Gate Krishna Prasad Paudel / Contact No.:- 1856025307 Email: [email protected]
The judges will select 15 poems in the first stage and include them in the final competition. The prizes for the competition are as follows:
First Prize Rs.30,000/-
Second Prize Rs.25,000/-
Third Prize Rs.20,000/-
Fourth Prize Rs.15,000/-
Fifth to Tenth Rs.10,000/- each
Eleventh to Fifteenth Rs.5,000/- to every awarded poets will be awarded Kavishiromani Rachnavali worth Rs.6444/-.
The date of the competition is 30th Baisakh 2080, Saturday, Time: 11.00 a.m., and it will take place at the birthplace of Kavishiromani Lekhnath Padyal, Pokhara 27 Archale. Krishna Prasad Paudel is the program coordinator for the Lekhnath Paudyal Poetry Competition.
If you are an aspiring poet, this is an excellent opportunity to showcase your talent and get recognized. Don't miss the chance to participate and be a part of this prestigious competition.
Competition
Pokhara