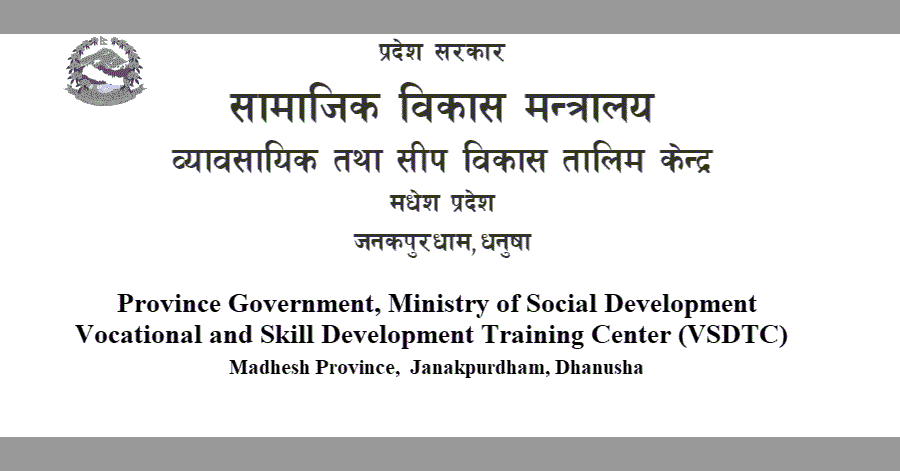 Province Government, Ministry of Social Development, Vocational and Skill Development Training Center (VSDTC), Madhesh Province, Janakpurdham, Dhanusha Notice of Call for Applicants for Skill Development Training.
According to the approved annual program of this training center for the year 078/079, 3 months (390 hours) basic vocational and skill-based training programs in the following subjects will be conducted from 2078 Falgun month.
This information has been published in the trainee application form distributed by the Vocational and Skill Development Training Center for Nepali citizens who wish to take the training, along with two passport size photographs.
Training Details:
| | | |
| --- | --- | --- |
| Training Programs | Training Duration | Qualification |
| 1) Electronics (including mobile repair) | 3 months | Passed 10th class |
| 2) Computer (Basic Course) | 3 months | Passed SLC |
| 3) Passed General Mechanics | 3 months | Passed 8 Class |
| 4) Entrepreneurship development | 5 days | Doing business and wanting to do |
Documents to be submitted and conditions to be followed:
Documents to be submitted by the aspiring candidates for training at the Center and related organizations and the conditions to be followed:
1) The trainees will have to affix a ticket of Rs. 10 in the application form, attach a copy of the certificate of Nepali citizenship and educational qualification, and submit it to this center by 2078-10-24. Information regarding the interview will be published on the contact date 2078-10-25 and on the contact date.
2) The disabled and the target group (Dalit, Janajati, Adivasi, families of martyrs, poor women, conflict victims) and those who have failed the entrance examination will be given first priority while participating in the training.
3) The trainees participating in all the above training should have completed 18 years of age and not exceeding 35 years of age. The trainee selection process will be done through interviews. An average of 15 to 20 trainees will be involved in a group.
(For more details contact 041-522637 / 9844053939.)
First published on 2078-10-10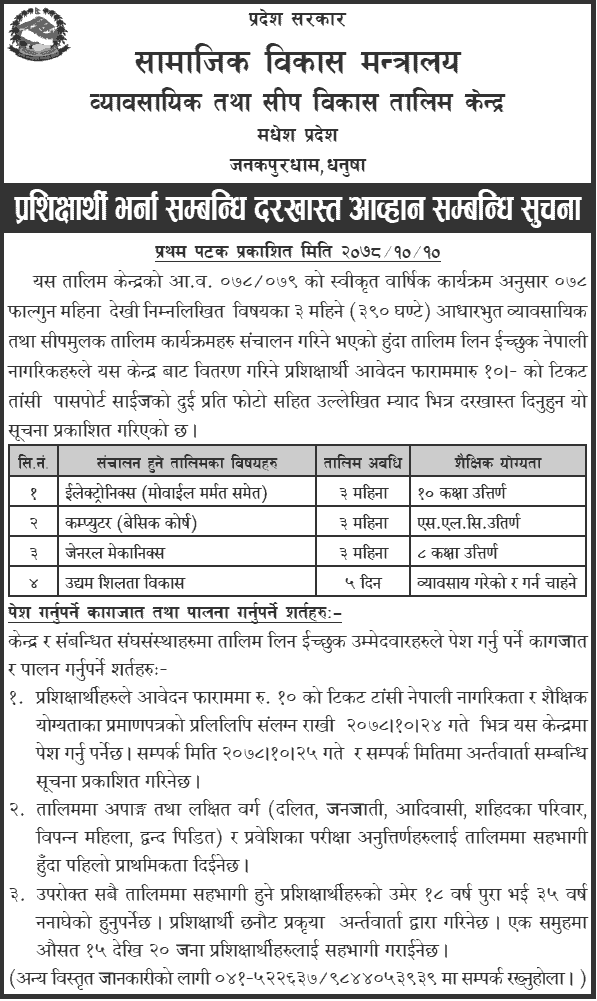 Free Training
Janakpur
Madhesh Pradesh
Training