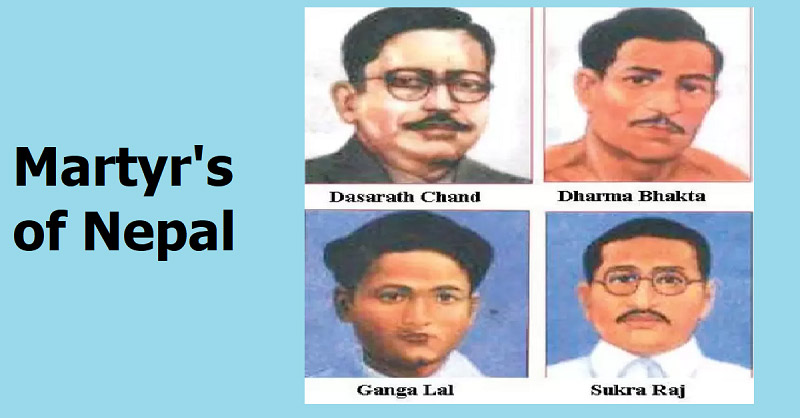 Martyrs' Day is being celebrated today in honor of those who sacrificed their lives for the rights of the country and the people. On t day, all the martyrs, known and unknown, who sacrificed their lives for the country to bring a new system of governance in Nepal, including various movements at different times, are commemorated as Martyrs' Day to commemorate their sacrifices.
Martyr's Day is celebrated every year on the 16th of Magha in the memory of Shukraraj Shastri, Dharma Bhakt Mathema, Dasharath Chand, and Gangalal Shrestha who sacrificed their lives fighting against the Jahaniya Rana rule. In recent years, on the day of Martyr's Day, warriors who sacrificed their lives in other people's movements are also honored.
The word martyr refers to those immortal people who sacrificed their lives for the protection of the various rights, country, culture, and existence of the people and for freedom to remain forever in the mind of every patriotic citizen. Martyr's Day has been celebrated on the 16th of Magha every year since 2012 BS under the coordination of Kathmandu Metropolitan City.
In the memory of the heroic martyr who sacrificed life against the autocratic Jahaniya Rana regime, 'Martyr's Week' has been celebrated from 10 to 16 Magha in association with Kathmandu Metropolitan City since the year 2012 BS. The Martyrs' Day Main Ceremony Committee has organized a special program at the Martyrs' Memorial in Lanchaur today.
Shukra Raj, who had established the Nepal Praja Parishad against the autocratic Rana regime and inspired the people to make a revolution for their rights, was hanged on a Kharibot in Teku on Magha 10, 1997. Similarly, Dharma Bhakt was hanged in Sifal on the 13th of Magha in the same year while Dasharath Chand and Ganga Lal were shot dead in Shobha Bhagwati on the 15th of Magha. Lakhan Thapa is considered to be the first martyr of Nepal.
Although the government has announced to celebrate Martyrs' Day with a special program, it has not given a public holiday.