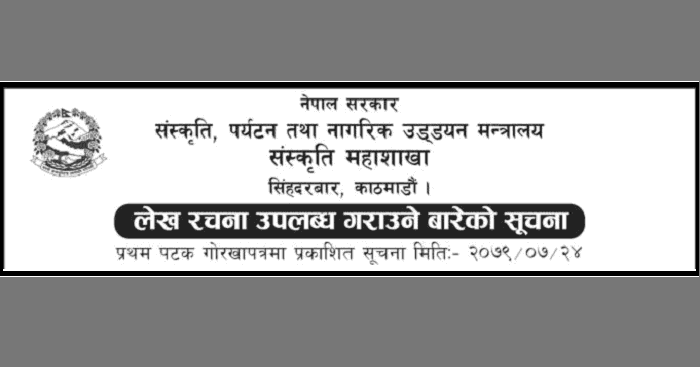 Ministry of Culture, Tourism and Civil Aviation for Essay Writing Competition 2022: Government of Nepal, Ministry of Culture, Tourism and Civil Aviation, Culture Division, Sinha Durbar, Kathmandu Notice for articles
Under the Culture Promotion Program of this Ministry, In the approved annual program of 2079, 50, there is a program to publish ICH (Intangible Cultural Heritage) Journal. Five types of intangible cultural heritage of all castes and communities within Nepal: (According to the Convention on Protection of Intangible Cultural Heritage 2003).
a) Oral traditions and expressions including language,
b) Acting Arts,
(c) social behavior rituals and festive celebrations,
(d) Knowledge and practices related to nature and the universe
(e) Research articles, compositions related to traditional arts and crafts Drmail [email protected] / [email protected] / Soft Copy This notification has been published to be made available within 30 (thirty) days from the date of publication of the notification in the Culture Division of this Ministry. The information can also be viewed on the Ministry's website www.tourism.gov.np. For more information contact the ministry no. Can be reached from 01-4211596 and 01-4211909.
Basics of Essay Composition Selection:
It should be a research article focusing on one of the above-mentioned genres related to any caste "community" within Nepal.
The article must be original and not previously published by any other means.
Search, investigative and analytical writing will be given priority.
Articles can be written in English or Nepali language. The language style should be refined and excellent.
Nepali articles should be 3000 to 5000 words in Preeti font 16. Also, the English article should be 3000 to 5000 words in Times New Roman font 14.
The remuneration amount for the selected articles will be provided according to the decision of this Ministry.
When providing the article composition, pictures related to the article should also be attached.
One copy of the passport-size photo along with the identity of the author, contact number, bank account number, and permanent account number (Pan Number) must also be provided!
The reference list of the article should be in APA format.
The submitted articles will be published in the journal only after being selected by the editorial board.
Notice the date published in Gorkhapatra for the first time:- 2079-07-24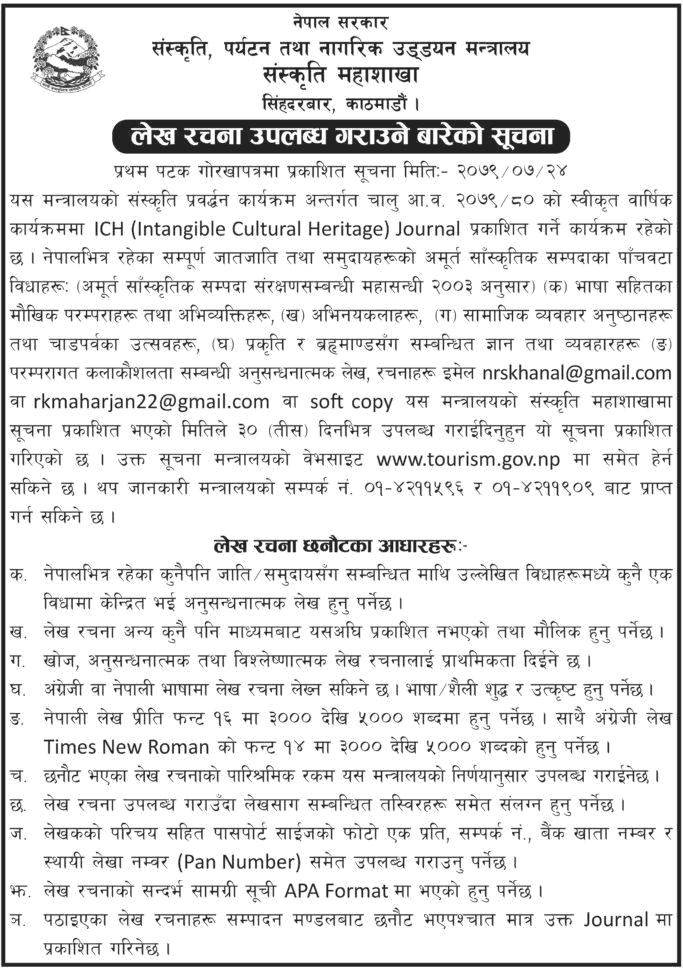 Notice